Travelers is the largest insurance company by value in the United States. The company sells various forms of insurance, including car insurance. Travelers has become such a major player that it is now one of the select stocks on the Dow Jones Industrial Average. It seems like Travelers writes every kind of insurance, both imaginable and unimaginable.
However, in the Maryland auto insurance market, Travelers Insurance is less of a major player. It ranks 20th, 31st and 54th on Maryland's ranking of market share for passenger cars and trucks. It holds three spots, because there are so many related companies in its family of insurance companies.
Settlement with Travelers Insurance in Car Accident Cases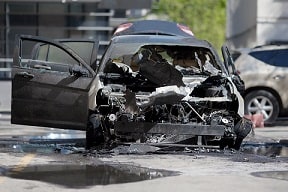 Our attorneys find it hard to make blanket generalizations dealing with Travelers in regards to settlement. It really depends on the individual adjuster. Auto accident claims with Travelers seem to vary more from claims adjuster to claims adjuster. Some Travelers adjusters are eager to try to settle accident claims for what the value of the case would be at trial. Other adjusters are more difficult and our attorneys invariably expect these cases will require a lawsuit, and maybe a trial, to get the client the money they deserve for their injuries.
Still, this company is more reasonable on auto tort cases than most insurance companies. However, if you have a claim against Travelers, keep in mind one sobering fact before you get too excited: Travelers is an insurance company. Therefore, their goal is to pay you either nothing or as little as possible.
When we are talking about comparing insurance companies, it is all relative. They are one of the nicer tigers at the zoo. But they may still eat you. Insurance companies sometimes require pressure to look hard and realistically at the situation. The value of many of these claims often rise dramatically as the courthouse steps get closer. In this sense, it is every other insurance company.
At least in Maryland, Travelers attorneys are not racing to the courthouse steps to try cases. Not a lot of Travelers cases go to trial. As with many insurance companies, they don't always make it easy. Sometimes you have to go a few rounds in litigation with them to get the right settlement offer.
Verdicts and Settlements
Below are some sample settlements with Travelers in Maryland.
2019, Maryland: $7,483,254 Verdict. A construction materials supply company supervisor was driving in a gas station in Bryantown. An electric company-owned truck rear-ended him as he approached a gas pump. An ambulance took him to the hospital, where the staff diagnosed him with a traumatic disc herniation at the L5-S1 and the aggravation of a formerly asymptomatic degenerative disc disease. He was also diagnosed with post-traumatic cervical radiculopathy. For the next two years, he underwent physical therapy and pain management. He then underwent a lumbar discectomy, which failed to treat his condition. Following the procedure, the man resumed periodic treatment. Two years later, he underwent a revision lumbar surgery, which was also unsuccessful. The man was now left with permanent residual impairment. His injuries made him unable to seek employment and affected his expected lifelong earnings. He sued the driver for negligence and his employer for vicarious liability. Crum & Forster and Travelers insured the electric company's vehicle. The man testified that he saw the vehicle move towards his and he tried to accelerate as to avoid impact. The defense counsel contended that the man's vehicle only sustained minor property damage. Their bioengineering expert testified that the impact's force was not enough to injure the man to the degree he claimed. The Prince George's County jury awarded him $7,483,254.
2019, Maryland: $190,000 Settlement. A 47-year-old welder was struck head-on by a newspaper carrier's vehicle (insured by Travelers) at an intersection in Montgomery Township, Pennsylvania. An ambulance took him to the hospital, where the staff diagnosed him with a fractured sternum. He was then diagnosed with a meniscus tear as well as contusions to his lung and heart. He underwent physical therapy on his knee for eight weeks. The man was out of work for over six months and sought orthopedic treatment during that time. He also underwent a steroid injection to his left knee. His counsel claimed that he did not have surgery because he could neither afford it nor afford to miss more time at work. This case was filed in Maryland because all involved parties were Maryland residents. The man sued the driver and his employer for vicarious liability. He alleged that the driver drove the wrong way in the opposite travel lane, which caused him to strike his vehicle head-on. The case settled for $190,000.
2017, Maryland: $100,000 Verdict. A 40-year-old man was T-boned at an intersection in Baltimore after another vehicle ran a red light. An ambulance took him to an emergency room, complaining of lower back pain. He underwent X-rays and was discharged. The man ultimately received a soft-tissue lower back injury diagnosis. He underwent physical therapy twice a week for two months. The man also claimed residual pain and limitations in performing daily activities. His treating orthopedist testified that the accident caused the man's injuries. He sued the driver for negligence and the driver's owner, Carmax, for vicarious liability. Travelers insured Carmax. An independent witness testified on behalf of the man, claiming that he saw the other driver run a red light. The tortfeasor denied negligence, claiming that he had a yellow light. A Prince George's County jury ruled in favor of the man and awarded him $100,000.
2016, Maryland: $28,366 Verdict. A Travelers-insured delivery truck struck a 52-year-old man's Honda Accord while he was on his way to Union Station in Washington, D.C. He alleged that the impact threw him inside the vehicle, causing him to lose consciousness. The man did not immediately seek medical treatment and took a train to New York for a job interview. He sought treatment near his home in Virginia hours later. The man was diagnosed with soft-tissue neck, lower back, and shoulder injuries. He was also diagnosed with right knee internal derangement and a concussion. The man underwent an arthroscopy on his right knee. He also underwent physical therapy for several months. In his videotaped trial testimony, the treating orthopedist testified that the collision caused his injuries. The man continued to complain of residual pain to his knee, neck, and lower back. He sued the driver for making an excessively wide turn and failing to keep a proper lookout. The defense lawyer contested the man's injuries, claiming pre-existing arthritis caused his knee pain. A Prince George's County jury ruled in favor of the victim and awarded him a $28,366 award.
2015, Maryland: $126,717 Verdict. A chemist lives in a third-floor apartment. One morning when she was exiting the bathroom, the ceiling suddenly collapses and debris falls on her. The sudden falling debris causes injuries to her neck and back, in addition to significant property damage. She presents to her internist and has to undergo physical therapy for a few months. No surgery is ordered, but she does have to consult a neurosurgeon. The woman sues the apartment complex management, claiming that they failed to adequately maintain the facilities. She alleged that much of the maintenance was never attended to and that if it would have been, the ceiling collapse could have been avoided. Travelers insured the apartment management company and ultimately had to pay $126,717 in damages to the plaintiff after a jury determines that the apartment complex was liable for the ceiling.
2012, Maryland: $415,370 Verdict. A Travelers' insured defendant driver is operating a vehicle owned by Delta Installation Group. He is riding on I-70, when he starts to drift into the right lane. Attempting to straighten out, he over-corrects and swerves into the opposing lane. He runs directly into the sixteen-year-old plaintiff. Plaintiff suffers tibia and fibula fractures that result in her losing her college lacrosse scholarship. Defendants admit liability, but dispute the extent of the damages. A Baltimore County jury awards $415,370 to the injured plaintiff.
2012, Maryland: $8,451 Verdict. Sister plaintiffs are operating an automobile when they are struck by a negligent defendant. They receive cervical and lumbar strains as well as emotional distress. They bring suit against the driver and also their underinsured carrier, Travelers. Defendants deny liability and a Montgomery County jury awards $8,451.
2010, Maryland: $1,763,067 Verdict. Plaintiff is walking down a sidewalk when a Travelers' insured defendant backs up into him. The plaintiff suffers permanent disabilities due to a brain injury—including memory, concentration, and behavioral difficulties. He is unable to return to work and files suit against the driver and his underinsured carrier. Travelers, the plaintiff's carrier, settles for an undisclosed amount. The defendant driver does not show up for trial and a Prince George's County enters a default judgment of $1,763,067 against him.
Here are a few in other jurisdictions:
2015, Florida: $1,200,000 Settlement. The plaintiff rides his motorcycle in Broward County, Florida. When driving towards an intersection, an SUV suddenly darts out in front of him to make a left turn. He strikes the SUV and lands on the street. He is taken by ambulance to the local ER, where he is diagnosed with a femur fracture and other fractures to the legs and fingers. He receives screws in his fibula and must undergo one year of physical therapy. He sues the other driver, who was insured by Travelers, claiming that she was negligent when making a left turn. Liability is pretty clear, but Travelers disputes the amount of damages, insisting that the injuries were not as severe as they were made out to be. In the end, though, the parties settle for $1,200,000.
2015, Ohio: $202,500 Settlement. A 29-year-old property manager is operating a vehicle within the course of her employment. As she is driving along, another car collides into her, causing a significant impact. Unfortunately, the other driver only has a $25,000 policy limit on his insurance, but the extent of the woman's injuries are somewhat severe. For example, she suffers a lacerated spleen, fractured pelvis, and sacrum. As a result, she settles with the other driver for his policy limits and makes an underinsured motorist claim against Travelers. Travelers suggests that the woman is entitled to worker's compensation benefits, so they would be unable to provide coverage. However, she ultimately settles with them for $177,500, giving her a net recovery of $202,500.
2014, South Carolina: $1,433,000 Verdict. A motorcyclist in his mid-40s is traveling on a South Carolina highway when his bike suddenly goes down. He dies from the injuries. Investigators try to assess the cause of the accident, speculating that he may have attempted to swerve to avoid debris. After an unsatisfactory investigation, the man's family brings suit against their own insurance carriers, Progressive and Travelers for underinsured motorist benefits. The family contends that an SUV driver was making a sudden lane change actually caused the accident even though there were no witnesses. While Progressive pays the limits of its underinsured policy, Travelers declines coverage, prompting the family to sue. They sue a "John Doe" defendant with Travelers being the real party in interest. The family contends that circumstantial evidence from the scene provides the inference that an SUV caused the accident. In the end, the jury determines that the phantom driver was 55% responsible for the accident, awarding over a million dollars in compensatory damages and $330,000 in punitive damages.
2014, Virginia: $60,000 Verdict. A cyclist is riding on a residential street when suddenly someone yells at him. He is then struck by a vehicle and falls to the ground. After the impact, the cyclist goes to the hospital where he is diagnosed with a wide range of injuries including a fractured vertebrae, closed head injuries, cuts, scrapes, and road rash. The car sped off after the crash, meaning the victim has no idea who hit him. As a result of his injuries, he misses eight months of work. The man files a claim against his uninsured motorist carrier, Travelers, who then files a federal case relating to the man's policy. Specifically, the federal case alleges that the man did not give the required notice under the policy to the insurance company. That case settles along with the Virginia case for a total of $60,000.
2014, Virginia: $8,341,366 Mediation Award. A family is returning home from their vacation to Myrtle Beach. They approach an intersection and a tractor trailer runs flashing red lights. As the truck crosses the intersection, he collides with the family's car head-on. The mother is instantly killed by the impact, while the rest of the family suffers severe injuries, including the father, who is paralyzed. A second car is also involved in the crash, the driver of which sustains a broken leg. The estate of the deceased victim sues the truck company, who is insured by Travelers. The parties enter mediation, where the ultimately agree on a gross settlement award of $8,341,366.
2013, Washington: $2,000,000 Settlement. A young boy, on the day before his sixteenth birthday, is attending his high school wrestling practice. The team is understaffed, and a single brand-new coach is supervising sixty children. While preparing to unstack some mats, the plaintiff accidentally falls partway through a glass window. The shattered glass "guillotines" his arm, nearly severing it. Despite many surgeries, plaintiff has no feeling in his hand or fingers. Plaintiff sues his school district for negligence, citing the many athletic and safety codes that were violated. Travelers, the school's insurance carrier, settles with the victim for $2,000,000.
2013, South Carolina: $73,830 Verdict. Plaintiff is a passenger in a vehicle traveling on Highway 123. He slows to stop at a red light and is rear-ended by defendant driver. The impact causes another four vehicles to run into each other. Plaintiff suffers chronic and permanent chest wall pain and requires physical therapy. The victim sues the negligent driver as well as Travelers, his UIM carrier. Plaintiff argues that the defendant operated his vehicle at an unsafe speed and failed to stop in time to avert the collision. Plaintiff also points out that defendant had received six additional speeding tickets since the accident. Defendant denies the extent of plaintiff's injuries and the accusations that he is a habitual speeder. An Anderson County jury awards the injured $63,830, plus an additional $10,000 of punitive damages for the defendant's constant speeding.
These verdict summaries are a mix of our cases, cases our colleagues have handled, and verdict reports. The important thing to keep in mind is that these may not be reflective of your outcome, even if your facts appear similar. Why? Because there are so many other important tangible and intangible factors involved in a settlement or verdict that are not included in these short summaries. So, the take home message is read these and use them in your evaluation of the value of your claim. But, take them with a grain of salt too.
How Do I Make a Claim with Travelers Insurance?
You can make a car or truck accident claim Travelers at 800-252-4633. You can also fill out a claim report online. It is fine to report your own claim in a small accident with no injuries. But if you have a serious injury or wrongful death case, call a personal injury lawyer and get a free consultation with a personal injury lawyer. You can talk to our trial attorneys 24/7 at 800-553-8082.
How Does Travelers Calculate the Settlement Value of Motor Vehicle Accident Claim?
Travelers uses Colossus to determine the settlement value of car and truck accidents and other tort claims. This is a computer program designed to calculate claim value systematically. Unfortunately, it does not work very well and is typically unfair to victims.
Is Travelers a "Good" Defendant If You Want to Settle a Car Accident Claim?
Again, good is relative. We have had to file more than our fair share of lawsuits against Travelers. But if you are going to draw an insurance company, this is not necessarily a bad draw. The chances our lawyers are going to settle a case without a lawsuit with this insurer is much higher than it is with Allstate, Geico, State Farm or many of the other major players in Maryland.
Still, most serious vehicle crash injury claims with this insurer are going to end in a lawsuit if the client's goal is to get the largest settlement or final result possible.
Is Travelers Eager to Litigate and Take to Trial Personal Injury Cases?
Travelers reaches an out-of-court settlement in most personal injury cases in Maryland before trial. Travelers has good lawyers who will put Maryland personal injury lawyers through the paces. But at the end of the litigation process and before trial, their lawyers typically make settlement offers that are more than reasonable.
Who Defends Travelers' in Maryland and Washington, D.C. in Personal Injury Lawsuits?
The Travelers has in-house lawyers who work for the insurance company. It sounds like a normal law firm — the Law Offices of Joseph M. Jagielski – but it is actually made up of lawyers that are employees of Travelers. Their office is in Baltimore on St. Paul Street.
Who Defends Lawsuits Against Travelers?
Most Travelers lawsuits in Maryland are defended by the Law Offices of Joseph M. Jagielski. The firm is located on St. Paul Street in Baltimore.
The name of the law firm would lead you to believe they are private counsel but the lawyers in this law firm are Travelers employees. The attorneys at Jagielski's office are particularly good lawyers compared to most motor vehicle insurance companies. Why? It is probably because they need better lawyers as this insurer has a large number of commercial cases, which tend to be bigger claims, if for no other reason that commercial vehicles tend to be larger.
Our Lawyers Can Help You with Your Accident Claim Against Travelers
Our firm has handled many auto accident claims involving Travelers and have obtained many favorable outcomes for our clients. Call us at 800-553-8082 or get a free online consultation.
More Information on Dealing with Travelers