McKenzie v. Holy Cross
This is a negligence case filed on by a doctor in Montgomery County. This case was filed in Health Claims Arbitration on August 2, 2016. It is the 377th medical malpractice case filed in Maryland in 2016.
Summary of Plaintiff's Allegations
Plaintiff is a Laurel obstetrician/gynecologist with privileges to treat patients at defendant Holy Cross Hospital. She is in the middle of a patient examine when she is entering information about the patient's medical records in the hallway. Suddenly, defendant shoved a food service train down the hallway, strike plaintiff and resulting in her injuries. The impact caused plaintiff to fall to the ground.
She files a claim, alleging injuries to her tendons, ligaments, and bones in her thumb, hand, and wrist. These injuries required hospitalization and medical/surgical care as well as physical therapy.
Additional Comments
The doctor is suing the hospital for injuries she suffered at the hospital. It is a strange dynamic. We resolved a wrongful death lawsuit in West Virginia last year against a hospital on behalf of the family of an OB/GYN who died as the result of the negligence of the doctors and nurses. It is hard to turn your back on your own. But these hospitals seem to find the resolve to do just that.
The doctor is not an employee of the hospital. If she were a hospital employee, the doctor's only recourse would be filing a workers compensation lawsuit. The possible damages recoverable in a workers' compensation case would be a small fraction of the possible value of a tort claim. We assume the Plaintiff brought a workers' compensation case because the Holy Cross has already subpoenaed the workers' compensation file (and the doctor would be foolish not to bring a comp claim first).
Plaintiff is bringing a claim against Holy Cross but the target is Sodexo, a Maryland-based food services and facilities management company with an international presence. They have plenty of money to pay a settlement with or without Holy Cross.
I'm assuming the defendants think they have a pretty good contributory negligence case. In our experience, when the patient is also an employee of the hospital, there is a great deal of desire from the hospital to pay fair value to avoid a lawsuit. That same logic would apply to a doctor with privileges at the hospital.
You may be asking if this is really a medical malpractice lawsuit. But plaintiffs' lawyers are going to file anything that even remotely smells of malpractice in health claims to take away the defense that the claim should have been filed in health claims arbitration first.
Jurisdiction
Defendants
Sodexo Operations, LLC
Holy Cross Health, Inc.
Ratnawani Singh
Hospitals Where Patient Was Treated
Negligence
Negligently maneuvered the food services cart at excessive speeds
Failed to observe the plaintiff
Failed to yield the right of way
Failed to operate the cart in a safe and reasonable manner.
Specific Counts Pled
Negligence
Loss of consortium
Agency
Negligent hiring
Getting a Lawyer for Your Malpractice Claim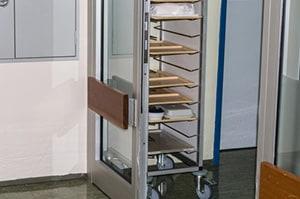 If you or a loved one have been made to suffer from a mistake made by a doctor, nurse or hospital, Miller & Zois can help you get justice and monetary compensation for the harm done to you. Miller & Zois has a history of getting results in medical malpractice and nursing home cases in Maryland, earning large verdicts and settlements. Call today to speak with a Maryland malpractice lawyer at 800-553-8082. You can also get a free online case review at no cost or obligation.
More Malpractice Claim Information
Trying to put the pieces of the settlement value of a medical malpractice claim in Maryland? Learn more about how these claims are valued by lawyers, insurance companies, and ultimately, juries.
Lasix eye surgery cases (with settlements and verdicts)
CALL 410-779-4600 or get a free online Maryland nursing home claim evaluation