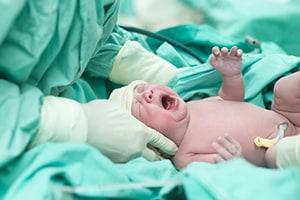 It is painful for a parent to watch the child they love dearly have a seizure. Thankfully, most seizures to not cause harm to the child and children typically respond well to medications to control seizures. Seizures in infants or newborns are often an indication of neurologic damage from hypoxic brain injury during birth. This page will examine and discuss infant seizures; how they relate to neurologic birth injuries; and how they are commonly treated.
Infant Seizures and Birth Injuries
Seizures occur when abnormal electrical patterns in the brain cause a sudden surge of movement or activity in the brain. You can think of seizure as sort of a short circuit in a computer. Brain activity is dramatically altered because of unwanted electrical activity. Normally, there is a balance of cells in the brain that control excitement of inhibition of messages being sent to brain cells. However, when there is too much or too little activity within the brain cells, the imbalance from these chemical changes lead to sudden surges in the brain causing seizures.
Seizures in newborns are unique from seizures in older children and adults. Seizures in the newborns or infants are fragmented and short because the brain has yet to develop fully. Although some infant seizures are related to genetic conditions such as epilepsy, many infant seizures are symptoms of brain damage during childbirth from trauma or oxygen deprivation. Common birth injuries or complications that can result in infant seizures include
Different Types of Infant Seizures
There are different subtypes of infant seizures that are classified by the location of the electric activity in the brain, the severity of the brain interruption, and the body's response to the seizure.
Focal (Partial) seizure: a focal seizure or partial seizure occurs when there is sudden electrical activity in a limited area of the brain. Secondary symptoms can include muscle contractions, visual or smell changes, hearing abnormalities, sudden fear/anxiety or euphoria, mental confusion. The focal seizures itself usually last between a few seconds to 2 minutes. There are 2 types of focal seizures:

Simple: a simple focal seizure only affects an isolated muscle group that controls the motor function of the body. This includes fingers, arms, legs, eyes etc. They do not affect the memory or awareness. Often times the infant or child could shows symptoms of sweating, nausea, or becoming pale. However, they will not lose consciousness.
Complex: a complex focal seizure affects the area of the brain that controls emotion and memory. During this seizure, the infant or child will stop being aware of their surroundings. Some symptoms include passing out, sudden gagging, lip smacking, running, screaming, crying, or laughing. After the seizure, the child could experience postictal period and will often be tried or sleepy.

Generalized seizure: a generalized seizure occurs when there is sudden abnormal electrical activity in both sides of the brain. Unlike focal seizures, the infant or child will experience a loss of consciousness and a postictal state after the seizure occurs. There are different types of generalized seizures:

Absence (petit mal) seizure: this seizure causes a change in state of consciousness and staring usually lasting for only 30 seconds but occurring frequently. This type of seizure is very rare for infants and usually only occurs in children 4-5 years old.
Atonic seizures: with an atonic seizure, the infant or child will experience a sudden loss of muscle tone and may fall from a standing or drop his or her head. During this time, the infant or child will become limp and unresponsive.
Generalized (grand mal) seizures: during this seizure the infant or child may experience five distinct phases: body, arms, and legs will (1) contract or flex, (2) extend or straighten out, and (3) tremor and shake, (4) followed by the clonic period where the muscles will contract and relax, and finally (5) the postictal period where the person may be sleepy, have problems with vision or speech, and may experience a headache, fatigue, or body aches. Note that not everyone experiences all these phases. This type of seizure is also called a tonic-colonic seizure and it is the most common seizure in children with cerebral palsy.
Infantile Spasms: this is a rare type of seizure that occurs in infants under six months. Infantile spasms generally occur when the infant is awakening or going to sleep. The infant will show brief movements of the neck, trunk, or legs that lasts for a few seconds. These can occur throughout the day and result in serious long-term complications that can affect the growth and development.
Febrile Seizures febrile seizures are different than other seizures because they are triggered by high fevers and infections. They are not necessarily related to neurologic issues. However, infants with brain damages are not susceptible to febrile seizures when they get fevers.
Causes of Infant Seizures
Seizures in infants and children can be caused by many things. A common reason is birth defects, infection, or trauma during birth, which can cause brain damage.
Brain Injury During Birth: Infant seizures often indicate underlying neurologic issues. Frequently, when the infant is deprived of oxygen during labor and delivery or experienced reduced blood flow they can experience permanent or long-term health issues. These injuries can occur from the use of birth instruments such as forceps or vacuum extractors during natural birth, or prolonging a difficult birth. When there is brain injury or trauma to an infant, seizures are often one of the first and strong indicators. Nearly 80% of neonatal seizures are attributable to oxygen deprivation.
Infection: Neonatal infections that can cause seizures include group B strep, herpes encephalitis, meningitis, cytomegalovirus, and toxoplasmosis. These infections can occur after or during delivery. Often times, the mother can transmit untreated infection to the baby through the birth canal. If the infection is diagnosed early it can be easily treated and prevent it from being passed to the baby.
Infant Seizures & Cerebral Palsy
Cerebral palsy is permanent movement disability that is usually the result of a birth injury involving oxygen deprivation. Infant seizures are strongly associated with cerebral palsy because when a newborn experiences seizures there is a very high likelihood that they have cerebral palsy. Seizures are one of the leading clinical symptoms of most types of cerebral palsy and are often the starting point for diagnostic efforts.
Certain types of infant seizures such as grand mal (tonic-clonic) or petit mal seizures are very strong early indicators of spastic cerebral palsy in infants. Seizures are also one of the leading co-occurring conditions suffered by children with cerebral palsy. Depending on the severity of the disorder, cerebral palsy can lead to a number of other medical conditions.
Seizure Medications
Anti-seizure medications are effective for 70% to 80% of patients. Seizure medicines dampen nerve impulses in your brain and throughout the body. Anti-seizure drugs are often used in patients who don't have seizures to improve other nerve functions or nerve symptoms.