Whaley v. Family Foot and Ankle Care, PC
This is an orthopedic surgery medical malpractice lawsuit against a podiatrist and his medical practice filed on February 8, 2016. It was the 59th medical malpractice lawsuit filed in Maryland in 2016.
Summary of Plaintiff's Allegations
This is a surgical error case on a woman's toes.
A woman presents to the Defendant doctor at Defendant Family Foot and Ankle Care with complaints of a one-year history of foot pain, specifically, pain in both the second and fourth toes of her right foot. Family Foot and Ankle Care is a podiatry medical practice carrying on business throughout the State of Maryland.
The Defendant doctor diagnoses the woman with "hammertoe deformities" and recommends surgery. The woman only asks for her second toe to be corrected, but the Defendant doctor recommends surgery on all four toes together.
Defendant doctor performs surgery on the woman at Greater Baltimore Medical Center (GBMC). In addition to correcting the woman's second toe, the Defendant doctor performs arthroplasties of the fourth toe proximal interphalangeal joint and fifth toe proximal joint, capsulotomies of the second and third metatarsophalangeal joints and de-rotation with rearrangement of the skin on the fourth and fifth toes.
A month later the woman calls the Defendant doctor. The pins in her second toe have fallen out and she complains of worsening pain in her foot. The woman decides to give the foot several months to heal and see if the pain goes away. It does not. The woman experiences increased pain, has difficulty placing weight on her foot, has balance issues, and experiences significant discomfort caused by the bones on her first and fourth toes rubbing against any footwear.
After the woman's pain eventually becomes intolerable, she presents to a new doctor. She complains of pain in her right second, third, fourth, and fifth toes. The new doctor performs an arthroplasty of the second through fifth toes on her right foot. However, the surgery is ineffective in relieving her pain. She presents to the new doctor again, a month after surgery, with continued pain and crooked and swollen toes. To date, the woman continues to suffer significant pain, discomfort, and balance problems.
The woman files a medical negligence lawsuit against the Defendant doctor and Family Foot and Ankle Care in Baltimore County. She alleges that the standard of care was violated when the Defendants failed to perform the proper surgical procedure and were negligent in the procedure that the Defendant doctor ultimately performed. As a result, the Defendant doctor has suffered permanent and disabling injuries.
The woman also files an informed consent claim, alleging that the Defendants failed to disclose the material risks associated with the surgical procedure. Additionally, the woman's husband files a loss of consortium claim.
Additional Comments
It is easier to bring a claim against a podiatrist than an orthopedic surgeon. Sure, there are some great podiatrist who excellent surgeons. But juries do not give the same halo to a podiatrist as they give to medical doctors (which is why this Seinfeld joke works).
Orthopedic cases have a lot of upside but they it is often very difficult to establish liability. This is particularly true in foot/toe and ankle surgery cases. Often, the best cases are when the doctor should never have performed the surgery in the first place as opposed to cases where malpractice lawyers are getting into the weeds of how the surgery was performed.
In this case, the Plaintiff's medical malpractice lawyers did not file the required expert report with the Complaint and filed a motion to extend time to provide one.
Jurisdiction
Defendants
The podiatrist who performed the surgery
Family Foot and Ankle Care, PC
Hospitals Involved in Treatment
Greater Baltimore Medical Center
Negligence
Failed to perform the proper surgical procedure
Failed to properly perform surgery
Specific Counts Pled
Negligence – Podiatrist
Informed Consent – Podiatrist
Agency – Family Foot and Ankle Care
Loss of Consortium – Podiatrist and Family Foot and Ankle Care
More Malpractice Claim Information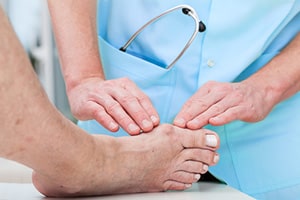 Getting a Lawyer for Your Malpractice Claim
If you have suffered as a result of the negligence of a doctor, nurse or hospital, Miller & Zois can help you. Our firm has a very long history of results in medical malpractice cases in Maryland, earning large verdicts and settlements, including at $10 million verdict in 2016 in a wrongful death case. Call today to speak with a caring medical malpractice attorney who will help you at 800-553-8082 or get a free online case review.