Do you like the elderly? We all do.
But we can't hide from the facts. Elderly drivers who do not belong on the road are causing motor vehicle crashes at an unacceptable rate. The elderly driver accident problem will only get worse. We have approximately 48 million licensed drivers over the age of 65 and 29 million licensed drivers over the age of 70.
Do Elderly Drivers Cause More Motor Vehicle Accidents?
Elderly drivers cause fewer motor vehicle accidents than other drivers because they drive less. Still, there is no question that elderly drivers cause more car accidents than the average driver if you bake the number of miles driven into the calculus. The risk of elderly driving increases at an exponential rate as the driver ages.
We already have more than 8,000 drivers over the age of 65 killed in motor vehicle accidents annually on our roads. This is 1 in 6 fatal crashes. In addition, over 250,000 additional drivers visited the emergency room for collision-related injuries.
Every day, about 20 older adults are killed, and an additional 700 are injured in motor vehicle crashes.  Yes, this is no part because the elderly are more vulnerable in a crash.  But these numbers are just too high. Too many elderly drivers are imposing a risk on themselves and everyone else. Per mile traveled fatal car accident rates rise abruptly starting at age 70-74. Statistics show fatal accidents per mile traveled are highest among drivers 85 and older.
Senior Drivers are Nearly as Dangerous as Teen Drivers
Elderly drivers, drivers 65 years of age or older, statistically have the second-highest accident rates, ranked just behind teen drivers. The NHTSA reports that motor vehicle fatalities involving elderly drivers increased 32 percent from 2010 to 2019. Age-related research has shown that senior drivers face an increased risk of being involved in a multi-vehicle crash, particularly at intersections.
Mistakes that are common among elderly drivers are just what you think they would be:
poor judgment while making left-hand turns,
decreased ability to quickly react to an unexpected situation (such as a child running across a street to catch a ball),
drifting into lanes of traffic
These mistakes are usually negatively correlated with the general health of the elderly driver who might have conditions such as dementia, arthritis, vision loss, or hearing loss. Also, many medications, whether prescribed or over the counter, impair driving abilities.
The other problem the elderly sometimes have that causes havoc on our roads is that they have impaired vision. They are also not as likely to see things that are not at eye level and in the line of sight. So cluttered arrangements or other things in the background will make it more difficult for them to pick out objects.
The designs of newer vehicles do not make it easier for these drivers as well. For example, some are designed with smaller windows that limit outward visibility while others are now designed with more complicated control systems that can be difficult to understand, especially while operating the vehicle. But you can't blame the car manufacturers. Ultimately, you are either still fit to operate a motor vehicle, or you are not.
It is the legal responsibility of any driver to drive safely. If their mental and/or physical competence is impairing their ability to adhere to this, they must find other modes of transportation. Yes, we should help them, and we talk about that more below. But this is not always about logistics – it is difficult to adjust to the concept of aging, and giving up the privilege to drive can be emotionally difficult.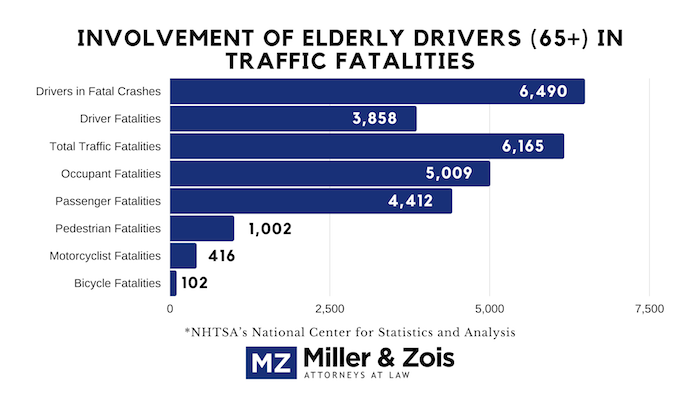 Family members can help find alternative methods for their older loved ones to get around. This could be as easy as simply looking up local public transportation and helping to create a daily schedule that won't prevent their loved ones from doing what they need to do around town.
Why Is It So Hard to Get Unsafe Elderly Drivers Off the Road?
You already know why it is hard to get these unfit elderly drivers off the road. It means conceding that a big part of your life and mobility is over. That is a tough pill to swallow. Everyone gets that. But our failure as a society to force our elderly who are not fit to drive off the road is an unswallowed pill that is just causing too many people – both young and old – to die.
Sure, 28 states have special guidelines for older drivers when it comes to renewing their licenses. Some require more frequent renewals, vision or road tests, or adult driving classes. For example, the Transportation Committee of Massachusetts is attempting to pass a bill that would require drivers over the age of 85 to pass a driving test to renew their license.
But to do what we need to do – real testing to figure out fitness beyond just some eye tests and a little parallel parking, is not going to do the trick. Ultimately, the elderly driver's license renewal process is just fatally flawed because we don't seem to have the stomach to do what has to be done.
There is even a lot of blowback against the feeble laws we have already. Mandatory and potentially mandatory requirements for license renewals have been protested on multiple occasions by senior lobbying groups who argue the tests are ageist, and that if seniors are forced to take mandatory road tests, other age groups should be as well. Well, yes, it is ageism. But it is discrimination that would save thousands of human lives. That should mean more than it does.
There is more we can do to find transportation alternatives for seniors. A woman who lost her 3-year-old son after he was struck by an elderly driver founded the Independent Transportation Network (ITN) America; a program that provides door-to-door driving services to seniors. CarFit, a program sponsored by AARP holds events throughout the country to help elderly drivers assess such things as seat positions, mirror settings, and controls to help adjust to more appropriate safe-driving preparation.
The Federal Highway Administration has also made the move to improve conditions for elderly drivers by making signs more reflective and increasing the distance between signs and exits to help give drivers more time to react.
Verdicts and Settlements Involving Elderly Drivers
2021, Kentucky: $35,514 Verdict. A 60-something woman was struck head-on by an elderly driver who suffered from dementia. She suffered soft-tissue shoulder injuries. The woman underwent physical therapy for three years. She alleged that the at-fault driver's negligence caused her shoulder injuries. The jury awarded $35,514.
2021, Missouri: $95,000 Settlement. A woman was struck by an elderly driver. She suffered a right shoulder tear. The woman experienced difficulties with sleeping and daily activities. She underwent a rotator cuff procedure. The woman alleged negligence against the at-fault driver. This case settled for $95,000.
2019, Maryland: $3,000 Verdict. A 26-year-old pedestrian was struck by an elderly woman. He initially lost consciousness at the scene. The man also fractured his tibia and fibula. He received $3,000.
2018, Indiana: $600,000 Verdict. A man was sideswiped by an elderly driver on an icy bridge. He suffered a concussion, rib fractures, a punctured lung, shoulder fractures, and a flail chest. The man underwent multiple hardware procedures. He alleged negligence against the at-fault driver. The man claimed he failed to control his vehicle in icy conditions. He received $600,000.
2017, Idaho: $30,000 Settlement. A pedestrian was struck by an elderly driver at a crosswalk. She was knocked over. The woman suffered a right clavicle fracture and spinal strains. The woman underwent physical therapy and chiropractic care. Her fracture left her with a bump. The woman alleged negligence against the at-fault driver. She claimed he failed to yield to a pedestrian. This case settled for $30,000.
2016, Mississippi: $13,000 Verdict. A 24-year-old man was struck by an elderly man who reversed into traffic. He suffered soft-tissue injuries. The man underwent treatments at the ER. He alleged negligence against the elderly driver. The man claimed he failed to maintain an appropriate lookout. A jury awarded $13,000.
Getting an Advocate to Fight for You
Have you or someone you love been injured or killed in a motor vehicle crash with an elderly driver who was not safely operating his vehicle? If so, please contact our elderly driver car accident lawyers at 1.800.553.8082 or get a free consultation online.
Sources for This Article