Advanced Radiology is the biggest medical imaging provider in Maryland. It provides x-rays, MRI, MRA, digital mammography, ultrasound, bone density tests, PET, CT/CTA, PET/CT, and nuclear medicine tests. At last count, Advanced Radiology has 32 independent locations, with six of their locations located within a hospital. They have the cache of providing radiological services for the Baltimore Ravens. Advanced Radiology was born small. In 1995, radiology providers merged and, later, two smaller shops joined Advanced to make the mega-radiology provider there is today.
Because we are talking about medical malpractice claims against Advanced Radiology, you are probably expecting a diatribe about how they are a poor health care provider who frequently commits malpractice. However, that is not our contention.
Our lawyers think Advanced Radiology generally does a competent job of treating its patients, taking the images patients need and properly interpreting them. Advanced Radiology is also pretty reasonable, with giving car accident victims a chance to wait for their personal injury settlements, before advancing collection efforts.
But like any large-scale health care provider, Advanced Radiology makes mistakes, gets sued, and pays out settlements and jury verdicts to malpractice victims. Radiologists can make errors of perception, knowledge, and judgment and any one of these mistakes can be medical malpractice.
Venue of Advance Radiology Claims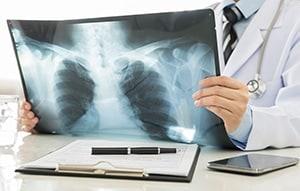 Interestingly, Advanced Radiology has 17 locations in Baltimore County and none in Baltimore City. Although, Advanced Radiology is located in two Baltimore City hospitals. In the past, Advanced Radiology has submitted affidavits to the court underscoring its limited contacts in Baltimore City.
Why? The goal was to get lawsuits filed against Advanced Radiology out of the City, and into one of the surrounding counties, where the juries are more favorable in medical malpractice lawsuits.
Those same arguments are harder to make now with Advanced Radiology physically located in two Baltimore hospitals. But the appropriate venue for any medical malpractice lawsuit in Maryland is going to depend on the unique facts of the claim.
Lawsuits Against Advanced Radiology
Below are recently filed lawsuits against Advanced Radiology and, where available, the nature of the claims against it.
Basciano v. Advanced Radiology. (2019): Failure to provide adequate care
Wadsworth v. Advanced Radiology (2018): Failure to diagnose breast cancer
Narowanski v. Advanced Radiology (2018): Failure to diagnose a brain bleed
Savage v. Advanced Radiology (2017): Delayed diagnosis of kidney cancer led to man's death
Sturgill v. Advanced Radiology (2017): Interpreted scan showing pre-metastatic pancreatic cancer as a large lymph node.
Henson v. Advanced Radiology (2017): Misinterpreted evidence of an ischemic stroke on a head CT scan.
Blake v. Advanced Radiology (2015): Misdiagnosis of tumor on MRI.
Pettiford v. Advanced Radiology (2015): Misdiagnosis of fetal nuchal edema (swollen fetal cervical region). It is unclear whether the allegations are of a false positive or a false negative result.
Hall v. Advanced Radiology (2014): Lung cancer misdiagnosis.
Wandell v. Advanced Radiology (2014): Misdiagnosis of a hematoma.
Advanced Radiology Verdicts and Settlements
Below are recent verdicts and publicly reported settlements from medical malpractice cases in which Advanced Radiology was a defendant:
Ward v. Advanced Radiology (Maryland 2022) $2,400,000: A 40-year-old woman was diagnosed with breast cancer after a tumor was detected in her right breast. She received chemotherapy followed by a nipple sparing double mastectomy at GBMC. However, after the surgery, the defendants failed to recognize that the tumor had not been completely removed from the right breast. As a result, there was a delay in her cancer treatment, which decreased her chance of survival. The woman required additional treatment, including five weeks of radiation therapy, which caused skin loss, burning, scarring, and the formation of contractures.
Burton v Advanced Radiology (Maryland 2019) $2,582,529: Female patient in her mid-50s has annual mammogram done at Advanced Radiology. The staff radiologist at Advanced Radiology interprets the mammogram as normal. She has another mammogram 16 months later that identifies a large tumor. She is diagnosed with advanced stage, triple negative breast cancer. Despite extensive treatment,she dies two years later. Her estate brings a wrongful death case against Advanced Radiology claiming that the original mammogram was misinterpreted causing a delay in diagnosis of her breast cancer. A jury in Baltimore County awards $2.5 million.
Rabkin v Varma (New Jersey 2019) $2.3 million: Advanced Radiology was one of several defendants in this failure to diagnose case. Decedent came to emergency room with severe abdominal pain and other symptoms. The emergency room doctor ordered a chest CT angiogram to rule out aortic dissection. The chest CT was performed and interpreted by a radiologist from Advanced Radiology. Although the radiologist later claimed that he identified signs of aortic aneurysm on the CT report, this was apparently never communicated to the emergency room doctor. As a result decedent was put on observation status overnight. The following morning another CT test finally revealed the problem and decedent was immediately transferred to another hospital for emergency surgery, but then it was too late and he died. Advanced Radiology was allegedly negligent in failing to timely communicate the CT findings and ensure proper treatment. Case settled before trial for $2.3 million with Advanced Radiology contributing $750k.
Palmer v Souweine (Maryland 2018) $461,862 Verdict: Decedent, 79-year-old male with history of smoking, underwent CT scan of his chest interpreted as normal by defendant Advanced Radiology. 2 years later he was diagnosed with lung cancer and eventually died. His estate sued the radiologist and other doctors alleging that they negligently misinterpreted the results of the CT scan causing a 2 year delay in diagnosis. After a 9 day trial in Baltimore County the jury awarded $435k in damages.
Ragan v. Advanced Radiology (Maryland 2017) $465,000: wrongful death action was brought when an adult male patient, reportedly died from clear cell renal cell carcinoma, after it had metastasized to his lungs and bone while he was under the care of defendant Advanced Radiology. Suit alleged that defendant and its employees departed from acceptable medical standards by failing to properly read, interpret and report the findings of chest, abdomen, and pelvis CT scans and failing to report two masses on the decedent's kidney which resulted in delayed diagnosis and treatme
nt. Case went to trial in Baltimore County and jury awarded $465k.
Banas v Advanced Radiology (Illinois 2014) $1.1 million: Plaintiff, 43-year-old male police officer, reportedly suffered an injury to the ulnar nerve in his right elbow, resulting in nerve and muscle ischemia and atrophy, as the result of an embolization procedure performed by defendant Advanced Radiology. Plaintiff claimed that defendant negligently injected an embolizing agent when he knew or should have known it would enter nutritive arteries and then failed to properly diagnose the complications that followed. Advanced Radiology denied wrongdoing and took the case to trial where a jury awarded $1.1 million in damages.
Lenz v St Agnes (Maryland 2007) $7 million: Advanced Radiology was the primary defendant in this breast cancer misdiagnosis case. Plaintiff's OB/GYN found a lump in her breast during an annual exam in 2002. He sent her to Advanced Radiology for a mammogram but it came back negative for signs of cancer and no additional follow up was done. A year later at her next annual exam, the OB/GYN found the lump had grown significantly. This time an ultrasound and biopsy led to a diagnosis of breast cancer which had spread to her lymph nodes. Plaintiff sued alleging that defendants failed to properly diagnose and treat her breast cancer shortening her expected lifespan. Plaintiff settled her claims with everyone except Advanced Radiology who took the case to trial and lost. The jury in Baltimore City awarded $7 million, although the awarded was later reduced by the judge.
Do You Have a Lawsuit?
Diagnostic radiology malpractice claims typically revolve around the patient's medical records and films generated for the patient. If a review of these records leads to the suspicion that a medical mistake has been made, the next step is to find an expert to testify for you that the radiologist deviated from the applicable standard of care required of a prudent radiologist and that the deviation is a cause of harm that was done.
Getting Help from a Lawyer
If you believe you may have a claim against a radiologist for medical malpractice, call us at 800-553-8082 for a free case strategy session or get a free online case review.