Northwest Hospital In Randallstown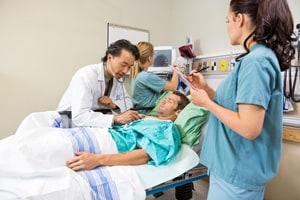 Northwest Hospital is located in Randallstown, Maryland, which is located just outside of Baltimore City in Baltimore County. Throughout its near half-decade of existence, the hospital has gone through a couple different names. The hospital formed in 1962 as Liberty Court Rehabilitation Center, when only a year later it became Baltimore County General Hospital. In 1993, it finally became Northwest Hospital.
Northwest Hospital utilizes what is called the "Friesen Concept" of patient-centered care. Facilities are a little different in this type of facility. Nursing alcoves are placed outside of each patient's room, which encourages nurses to spend more time with their patients. It is a pretty nice concept.
The hospital also uses smaller units than most other hospitals, which house a total of 254 private rooms. Northwest hospital is home to 767 physicians and 1,576 employees. The hospital saw 60,632 emergency room visits in the year 2014. In the same year, nearly 9,000 surgeries took place at Northwest. The LifeBridge Health System, which also operates Sinai and Levindale Hospitals, operates Northwest Hospital.
Northwest does subcontracts to Randall Emergency Physicians for its emergency department doctors. Is Northwest responsible for the negligence of these doctors? It really depends on the facts of the case.
Is Northwest a good hospital? It is like a lot of Baltimore hospitals. It has some very good doctors and nurses and some that are very bad. It is hard to argue that you are not going to get better care at Johns Hopkins or UMMS. These are great, nationally recognized hospitals that are right in Northwest's backyard.
Where to File Northwest Hospital Medical Malpractice Lawsuits
Being right on the cusp of Baltimore City in Baltimore County, there is a battle over where Northwest cases can be filed. In the vast majority of medical malpractice lawsuits, the plaintiff's attorney is going to prefer Baltimore City over Baltimore County. The hospital sits in Baltimore County but Lifebridge conducts systematic business in Baltimore City.
Can plaintiffs get into Baltimore City when filing a claim against Northwest Hospital? Most cases against Northwest Hospital have been in the city. Baltimore County jurors are more skeptical and less generous than their counterparts in Baltimore City. Best believe, Plaintiff's lawyers have spent their fair share of time finding out ways to file their cases in Baltimore City. Of course, the right case should be a winner anywhere.
Northwest Hospital Defense Team
Northwest has been defended by Waranch & Brown, Wharton, Levin, Ehrmantraut & Klein, and Goodell, Devries, Leech & Dann have also appeared as counsel of record in malpractice cases involving Northwest Hospital.
Recent Northwest Hospital Lawsuits
January 11, 2019: Sykes v. Northwest Hospital Center – A failure to diagnose and treat lawsuit was brought against Northwest Hospital when a patient started showing signs of an infection after undergoing knee surgery. Even though the infection was rapidly spreading, doctors failed to diagnose her condition until it had progressed into necrotizing fascitis. As a result, the patient is unable to walk and has gone through 30 operations to fully remove the infection in her leg. The case has recently been dismissed due to her lawyer failing to file a certificate of qualified expert and memorandum of support.
Ordering Medical Records from Northwest Hospital
In every single medical malpractice case, medical records are going to be one of the key pieces of evidence for both sides. A lawyer's first step in a medical malpractice case usually involves obtaining their client's medical records. This is where the critical information is going to be and it is what the medical experts are going to rely upon in contending that Northwest Hospital or its doctors were negligent. Still, if this is something that you would like to do yourself, send correspondence to:
Northwest Hospital, Health Information Management
5401 Old Court Road
Randallstown, MD 21133
Value of Medical Malpractice Cases Against Northwest Hospital
There have been plenty of cases where Northwest was a named defendant in recent years. Each of those cases either settled or had a verdict for the hospital. What does this mean? Well, it leads you to believe, in the absence of other information, that Northwest is not eager to take cases to trial. This is true with most hospitals. The reality of medical malpractice claims in Maryland is that few cases settle before a lawsuit is filed. Even fewer cases go to trial. If you are trying to better understand the settlement value of your case, looking at other claims against this hospital is not a great path, anyway. The better route is looking at malpractice verdicts and settlements in Maryland and the result in the specific type of injury and death cases.
Contact Us
If you believe that you have a medical malpractice lawsuit against Northwest Hospital, or any other health care provider in Maryland, contact our attorneys at 1-800-553-8082 or follow the link for a free online consultation.