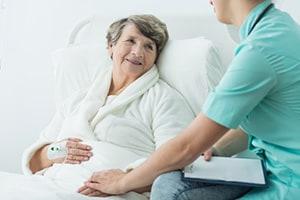 Compartment syndrome occurs when swelling or bleeding in an area creates excessive pressure within a particular muscle compartment area in the body. The compartmentalized bleeding or swelling is typically the result of a recent physical injury. The pressure can prevent blood from circulating to the affected area and require emergency surgery. The failure to see the signs and symptoms of compartment syndrome and the failure to rule out this condition is sometimes results in medical malpractice lawsuits. Our lawyers handle these type of cases.
What is Compartment Syndrome?
Muscles, organs, and other parts within the body are generally separated into areas referred to as "compartments." These compartments within the body are actually separated by internal segment walls of connective tissue known as fascia. When a physical injury occurs fluid and/or blood will often accumulate and trigger swelling within the injured compartment of the body. The fascia tissue which forms the walls separating the various compartments is not capable of expanding very much. As a result, when swelling from an injury pressure within the compartment will often rise significantly. When compartmental pressure gets to a certain point it will actually block the normal circulation of blood to the tissue or organs within the compartment. Without a constant supply of oxygen from blood flow, the organs or tissue within the injured compartment can quickly begin to decay. This can have serious consequences including functional loss or in some cases death. The areas of the body that are most susceptible to compartment syndrome are the arms, legs and abdominal area.
What Causes Acute Compartment Syndrome?
Compartment syndrome comes in 2 different forms: (1) acute compartment syndrome; and (2) chronic (exertional) compartment syndrome. The focus of this page is on acute compartment syndrome which is much more common and normally associated with significant physical injuries. Chronic compartment syndrome is caused by repetitive motions, usually from exercise.
Acute compartment syndrome is something that develops very fast, typically within a few hours or days after the injury or other triggering event. The types of physical injuries or other conditions that can cause compartment syndrome include:
Bone Fracture: broken arms or broken legs are the leading cause of compartment syndrome, accounting for just over 75% of all cases. Compartment syndrome can be triggered by the orthopedic fracture itself (particular severe compound type fractures) and the related swelling from blood and fluid. In other cases, compartment syndrome might not result from the actual bone fracture but rather from casting or orthopedic surgery used to treat the fracture.
Deep Muscle Bruise: compartmental syndrome can sometimes be triggered by deep or severe muscle bruises which result in extensive localized swelling, particularly when they occur in the legs or arms. Deep bone bruises are commonly seen in the legs of riders in low speed motorcycle accidents.
Blood Clots: blood clots in the arms or legs are also capable of triggering compartmental syndrome in some cases.
External Constriction: in rare cases compartmental syndrome can be caused by external constriction on the arms or legs such as from overly tight bandages or overly constrictive clothing that restricts blood circulation.
Anabolic Steroids: people who regularly take anabolic steroids are at an increased risk for developing compartmental syndrome.
What are the Symptoms of Compartmental Syndrome?
Localized pain within the affected area the primary symptom of compartmental syndrome. The pain from compartmental syndrome is often triggered or more acute when the decaying muscle within the compartment is moved or stretched. Symptoms generally include:
Significant pain which seems more intense than normal injury pain. Using or stretching out the affected muscle or area will often trigger an acute burst of additional pain.
Burning or tingling feeling in the skin around the affected area.
Sensation of fullness or tightness within the affected muscle.
In the later stages of compartmental syndrome, symptoms may start to include paralysis or loss of feeling in the affected area. This is an indication that irreversible damage to the muscle or tissue has occurred.
Treatment for Acute Compartmental Syndrome
Acute compartmental syndrome can be a medical emergency requiring immediate intervention. The only way to effectively treat acute compartmental syndrome is surgery. Surgical treatment typically involves a procedure called a fasciotomy. This is basically a surgical incision through the skin and fascia wall of the compartment which is designed to alleviate swelling and hopefully restore blood flow into the compartment. Once the swelling goes away the surgical incision can be closed up.
Compartmental Syndrome Settlements & Verdicts
Compartmental syndrome is frequently a complication resulting from physical injuries suffered in car accidents, slip and falls, workplace incidents and other types of personal injuries that frequently lead to litigation. Compartment syndrome can also be at issue in medical malpractice cases. Listed below reported settlements and verdicts from personal injury and medical malpractice cases in which compartmental syndrome was involved.
Galikas v. Baggot Family Farms Inc (Connecticut 2018) $5 million: Plaintiff was riding his bicycle when he was hit by a box truck being driven by one of the defendant's delivery drivers. The truck ran over and crushed both of plaintiff's legs resulting in lactic acidosis and compartment syndrome which was so severe that the left leg had to be amputated below the knee. The case settled out of court for $5,000,000.
Blatchey v. St. Andrews Medical Center (Colorado 2018) $6.3 million: Plaintiff broke his leg in a snowboarding accident and underwent surgery to repair the fracture at the defendant hospital. Immediately after the surgery, plaintiff allegedly exhibited symptoms of possible compartmental syndrome. It was not until several days later, however, that doctors eventually diagnosed plaintiff's compartment syndrome at which point extensive damage had already been done. Plaintiff had to undergo multiple surgeries including partial amputation of his leg. He sued the hospital and doctors for negligence in failing to timely diagnose his compartment syndrome following the surgery. After a week long trial in Federal Court in Denver, the jury awarded $6.3 million in damages which included $500,000 in loss of companionship damages to plaintiff's wife.
Parker v. Komnick (Illinois 2016) $750,000: Plaintiff underwent orthopedic surgery to repair a broken arm. After the surgery he had intense pain but the orthopedic surgeon discharged him. It was later discovered that plaintiff had compartmental syndrome from the surgery in his arm and suffered permanent nerve and tissue damage as a result. He sued the orthopedic surgeon for failing to diagnose the compartmental syndrome following the surgery.
Cooper v. Danieli Corp (New Jersey 2012) $925,000: Plaintiff, a 46 year old supervisor at a steel fabrication factory, was operating a casting machine when a "dummy bar" clamped down and crushed his lower left leg. The injury left plaintiff with compartmental syndrome in his lower leg re
sulting in partial paralysis. He was left with a significant limp and was not longer able to work. The case settled for $925,000.
Contact Miller & Zois about Compartment Syndrome
The lawyers at Miller & Zois have a well-documented track record of success in both personal injury and medical malpractice cases. If you or a family member have suffered permanent injury from compartment syndrome resulting from the negligence of someone else, contact us today to see if you might be entitled to legal compensation. Call us at 800-553-8082 or get a free online consultation.