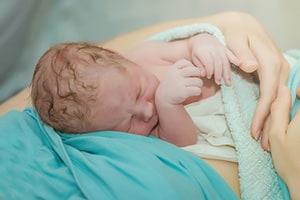 Hypotonia is a medical condition characterized by poor muscle tone. In infants, it is more commonly known as floppy baby syndrome. Hypotonia can be a separate congenital disorder or it can be a symptom of another underlying condition such as cerebral palsy or muscular dystrophy. Hypotonia is typically diagnosed during infancy.
What Causes Hypotonia?
Hypotonia is not a condition of its own, but rather a symptom of a number of different health conditions. It is caused either by birth injuries or conditions related to the brain, spinal cord and nerves. All of those organs have a role in muscle control and development.
Hypotonia in infants may be caused by these, among many other conditions:
In some cases, referred to as benign congenital hypotonia, the cause of the infant's hypotonia is unclear.
What are the Symptoms of Hypotonia in Infants?
Hypotonia is defined as muscle weakness. Your baby may have hypotonia if he or she exhibits the following symptoms:
"Floppy" when picked up
Muscles feel soft
Passive (doesn't respond to stimuli)
Limbs can extend beyond normal limits
Does not reach motor skills and/or speech milestones (e.g. holding up head, rolling over, etc.)
Hip, jaw, or neck dislocate
Mouth hangs open
Difficulty breastfeeding
Shallow breathing
Can Hypotonia be Cured?
Treatment of hypotonia, as well as the success of treatment, depends on the underlying cause. There is no successful treatment for reversing brain damage that happens during birth. The same is generally true for other types of birth injuries, such as nerve damage.
However, treatment can improve the condition and usually involves physical therapy, speech therapy, and/or occupational therapy. The primary goal of these treatments is to improve muscle tone and sensory stimulation.
Is Hypotonia Related to Cerebral Palsy?
Hypotonia is not the same thing as cerebral palsy, but the two conditions are interrelated. Hypotonia is often a symptom of a specific type of cerebral palsy known as hypotonic cerebral palsy.
The more common type of cerebral palsy is hypertonic or spastic cerebral palsy, which involves overly tight and contracted muscles. Hypotonic cerebral palsy is a less common form and is characterized by loose, poorly toned muscles (hypotonia).
Hypotonia Verdicts & Settlements
Below, we summarize verdicts and settlements won by parents whose children suffered a hypotonia injury. Some of these cases involve hypotonia as the primary injury, but hypotonia is often accompanied by other injuries. The severity of the injury and the presence of other injuries influences the value of the case. Every case is unique, and these summaries should be used for informational purposes only.
2019, Washington: $24,000,000 Verdict While delivering a baby, hospital staff allegedly do not notice signs of distress on the fetal heart monitor. When the baby is delivered, the umbilical cord is wrapped around her neck and she has to be resuscitated for 20 to 30 minutes. She is floppy immediately after she is born. She will have severe cognitive and movement problems for the rest of her life. For example, she is unable to walk and cannot communicate with language. A jury awards $24 million.
2019, New York: $1,750,000 Settlement A baby suffers a brain injury during his birth. The doctor allegedly failed to monitor fetal distress. The baby has a brain injury, hypotonia, issues with developmental delays and coordination, seizures, and an eye disorder. A neurological injury that occurred shortly before his birth caused these conditions.
2013, Kansas: $500,000 Settlement The plaintiff sues her OBGYN for negligent C-section delivery based on failure to develop an appropriate delivery plan and failure to recognize the position of the baby in birth canal. She alleges that the doctor's actions resulted in brachial plexus damage, causing permanent hypotonia in her baby's lower body.
2006, Connecticut: $2,000,000 Settlement After issues with her delivery, an infant girl is diagnosed with hypotonia. As a child, she uses leg braces and has difficulty speaking. Her parents settle with the defendant hospital staff for $2 million prior to trial.
Contact Birth Injury Attorneys
The birth injury attorneys at Miller & Zois can help you obtain financial compensation for infant hypotonia and other birth injuries. Call us at (800) 553-8082 or submit a request for a free consultation to discuss your medical malpractice case.
Medical Research
"Floppy Infant Syndrome: An Overview" by Jaspreet Kaur and Sonu Punia, International Journal of Physiotherapy and Research, 2016. An overview of infant hypotonia, from symptoms and causes to treatment. Contains detailed information on causes and diagnosis.