Sphenoid Vehicle Accident Injuries | Verdicts & Settlements
Sphenoid bone fractures and sphenoid sinus fractures are severe injuries. When a patient suffers a sphenoid fracture, there is a significant chance of brain injury or death.
What is the sphenoid?
The sphenoid is a sinus. There are four sets of sinuses (maxillary, ethmoid, frontal and sphenoid) in our skulls distributed around the eyes. These sinuses serve many purposes. One purpose is to reduce the impact a blow to the head.
What is the sphenoid bone?
The sphenoid bone is one of seven bones that forms the base of the cranium. It looks like a small butterfly with its wings extended. The ligaments to the sphenoid bone can ossify.
Why is a fracture of the sphenoid bone so serious?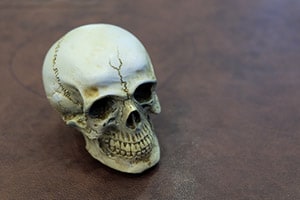 Our brains have a strong structure of bones to protect it. Any type of fracture to the skull is dangerous and can cause swelling. It is also important to keep in the mind that to suffer a sphenoid bone fracture the patient most likely had a significant blow to the head. We see these in automobile accidents and sometimes in slip and fall cases. If you have suffered that strong an impact to the head that your sphenoid bone is fractured, you have likely suffered a head trauma that puts you at significant risk of severe injury or death.
How is a sphenoid bone fracture diagnosed?
A CT scan is the most likely test to reveal a sphenoid fracture. A cerebral blood flow study might also indicate the possibility of a fracture.
Settlements and Verdicts in Sphenoid Injury Cases
Below are recent settlements and verdicts in cases involving a sphenoid injury. Keep in mind that the compensation is not just for the sphenoid injury alone but also for traumas that accompany such an injury. Also remember that these settlements and verdicts are not an accurate predictor of the outcome of any particular case. But understanding what these cases have settled for and what juries have awarded can inform your understanding of the potential range of values in your case.
2015, Pennsylvania: $560,000 Settlement. This case involved a head-on collision. The at-fault driver slid on black ice" and struck the plaintiff. She was hospitalized for seven days after suffering a basilar skull fracture, temporal bone fracture, fracture of the sphenoid sinus and subdural hematoma. The plaintiff initially had double vision and a hearing loss but, thankfully, these problems resolved. Her medical bills and lost wages were light for such an injury: a $2,907 wage loss and $34,539 in medical bills. Plaintiff sued every in sight: the driver, the owner of the car, residential property owners who shared the driveway where the ice was located, and the Pennsylvania Department of Transportation. The argument there was a tough one: the road was negligently designed to because it easily allowed surface water to gather to form ice. The at-fault driver's defense was "I could know it was ice" and "I only had two beers." That is rarely a successful defense and the driver paid most of the settlement, but the property owners, and the PennDOT did contribute to over $100,000.
2015, Washington: $1,258,334 Settlement. Plaintiff was a 16-year-old girl who was the passenger in the middle rear seat of a car that was t-boned at an intersection. It was a red light-green light case with both drivers pointing to the other claiming the green light. The young girl suffered a traumatic intracranial hematoma and a sphenoid sinus fracture. She had some brain damage and hearing loss. Her medical bills were approximately $350,000.
2015, California: $17,393,480 Verdict. This case involved an Indiana University Ph.D. candidate who was involved in a multi-vehicle collision. The at-fault driver was driving a flatbed Freightliner truck and pulled into the lane where the victim had been stopped in traffic. The victim was ambulatory and self-extricated at the scene. He did not lose consciousness. But he suffered jaw fractures and right maxillary sinus and right sphenoid lateral pterygoid fractures. The truck driver admitted responsibility but claimed the injuries were not that bad. The guy, incredibly, never missed a day of school and had a 4.0-grade point average after the accident. He even got married. But the Plaintiff claimed a traumatic brain injury causing panic attacks, short-term memory problems, and an inability to multi-task. The jury obviously agreed.
Getting a Lawyer for Your Case
If you have been in a car or truck accident or medical malpractice, you should contact an attorney as soon as possible. The rush is because there is a limited window to both collect evidence to bring a claim. We can help you and no cost or obligation. Fill out our free case review form today or call 800-553-8082.