Rental Car Accident Injury Claim in Maryland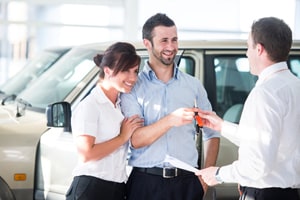 Rental car accidents are common. People are driving in areas that are not familiar with cars that are not familiar. Rental car crashes can often lead to a complex series of claims and procedures.
The good news for accident victims is that there tends to be more insurance coverage in rental car accidents than in your typical car crash claim because there are often multiple types of insurance available.
The Cause of Rental Car Accidents
People crash rental cars because the driver is driving a different car. Take your own car for example. Chances are you have a feel for its capabilities, limitations, and handling characteristics. When you hop into a rental car, you do not have this level of familiarity, which can lead to an accident if the driver does not take the time to acclimatize to the new vehicle.
Another contributing factor is how drivers are generally unfamiliar with the area in which they are driving their rental car. We all grow accustomed to the various eccentricities of certain turns, intersections, and roads that are close to home. But unfamiliarity with an area usually means fumbling with maps, GPS, or staring at road signs when eyes should be on the road.
How the Rental Car Companies Deal With This
Rental car companies offer supplemental insurance for rental vehicles in light of how likely an accident is. Companies also tend to offer additional coverage, which is "insurance-like" but not necessarily insurance. While purchasing supplemental insurance is often a good idea, you should check your insurance policy beforehand. Your policy may offer supplemental coverage, the most common of which are referred to as 1) collision damage waiver (CDW); 2) supplemental liability protection (SLP); and 3) personal accident insurance (PAI).
The Complexities of Rental Car Accidents
Rental car accidents are more complex than your run-of-the-mill auto accident because of all the parties involved. While a typical car accident typically involves the drivers and their respective insurance companies, a rental car accident adds the rental car agency, supplemental insurance provider, and even the credit card company into the mix. Here is how each party can be involved:
Your car insurance policy: More often than not, the at-fault driver's car insurance policy will cover claims made while driving a rental car.
The rental car company: The company maintains insurance on their rental fleet but whether that coverage applies depends on many complex factors.
The credit card company: Credit card companies offer services to their users, and a surprisingly common service is insurance on rental cars that are paid for with a credit card. In a scenario where your personal insurance may cover a claim, the credit card may cover the deductible. (So it is generally a good idea to pay for a rental car with a credit card if the service is offered.)
The supplemental insurance provider: If the at-fault driver purchased supplemental insurance, that is another possible pocket from which the victim can recover.
What do all of these players in the system mean? More complexity but more options for victims looking for insurance to pay for their injuries. This is where hiring an attorney pays off. Considering all of the various forces at work here, bringing in an experienced attorney is the only way to protect your rights. Doing so ensures that you have an advocate who can access all of these various facets of insurance, minimizing any financial obligation and maximizing the amount that you could potentially receive for a claim.
After a Rental Car Accident
In the event of a rental car accident, you should act as if it were a regular accident immediately after the collision. This means that you should seek police and medical attention if needed, along with the information of the other driver. Do not be shy about taking pictures of the damage either. Afterward, you should contact the rental agency to comply with their procedures. And of course, contact your insurance company and credit card company should the latter offer coverage. Ensure that you have a copy of the rental agreement and accident report before leaving the car at the rental office.
Verdicts and Settlements in Rental Car Accident Cases
$16,263 Verdict (Georgia 2023): The defendant rented a car from plaintiff Avis Rent a Car and declined to purchase loss damage waiver insurance. The defendant was driving the rental vehicle when she was struck by another driver who ran a red light. Avis Rental Car filed suit against the defendant and the at-fault driver seeking $15k for property damage to the rental vehicle. The jury awarded damages against both defendants.
$47,902 Verdict (Nevada 2022): The defendant was driving a rental car from Budget Rent A Car & Sales when he cross over 3 lanes of westbound traffic in an effort to make a right turn onto highway on-ramp. In the process of crossing over the lanes, the defendant forced the plaintiff off the road and into a raised island ramp causing him to suffer various unspecified injuries.
$1 Verdict (North Carolina 2021): The plaintiff was returning a rental car to Enterprise when the defendant who was also returning a rental car to the same facility, allegedly struck the plaintiff with the car he had rented and was returning. The plaintiff was apparently pinned between the two vehicles and suffered personal injuries as a result of the accident. The jury found that the defendant was negligent but only awarded $1 dollar in damages.
$780,833 Settlement (Pennsylvania 2020): A 25-year-old mother of two was killed when the defendant, driving an Enterprise rental car, struck a tractor trailer carrying hazardous chemicals. The lawsuit alleged that Enterprise was negligent for allowing its rental vehicle to be equipped with faulty rear tires.
Getting a Lawyer
Finally, you should contact an attorney. Negotiating with an insurance company is hard enough, so the addition of more and more parties can only make things more difficult. An experienced car accident attorney can determine whether you are at fault, meaning it is best to involve them as early as possible in the process.
The attorneys at Miller & Zois are experienced car accident litigators, who have navigated clients through the arduous process of making a claim. If you or a family member was involved in a rental car accident, call us at 800-553-8082 for a free case consultation.