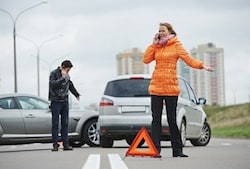 Agency Insurance Company ("AIC") is a small regional auto insurance carrier based in Hanover, Maryland. If you are driving down Route 100, they are not far from the Coca-Cola Drive exit at the border of Howard County and Anne Arundel County.
This insurer provides insurance for many Baltimore drivers, some of which are high-risk. So our Baltimore car accident lawyers are quite familiar with AIC Insurance.
AIC History
AIC was initially founded in 1990 as an affordable alternative auto insurance provider in Maryland. Since then, AIC has expanded into Pennsylvania, Virginia, and also Florida. Somewhere along the way, our personal injury lawyers do not remember when they started pushing AIC instead of Agency as their name.
Maryland remains its primary focus. AIC offers personal auto insurance as well as commercial vehicle insurance. AIC claims to offer highly competitive rates with a full host of typical coverage options and features.
In contrast to other small insurance carriers who service Baltimore, AIC offers coverage for all types of vehicles from motorcycles to trailers. AIC also offers customers highly flexible arrangements for premium payments that are not available with large national companies.
Agency Insurance Company is not a direct access carrier. Instead, AIC policies are sold only through independent insurance agents. This means you cannot get a quote or purchase a policy from AIC online. You have to go to an AIC insurance agent.
This means that despite their claims to the contrary, AIC's rates are most likely higher than the insurance rates you would pay for a policy from a large national company. Small, non-direct insurance companies like AIC cannot offer the discounted rates that large national companies can offer. In September 2021, Agency's bond rating was lifted to A-. This is getting closer to the rating larger insurance companies have.
AIC Coverages Offered
AIC offers various types of auto insurance coverage, such as:
Liability coverage: Protects the policyholder if they are held legally responsible for damages or injuries caused to others in an accident.
Collision coverage: Covers the cost of repairing or replacing the policyholder's vehicle in the event of a collision with another vehicle or object.
Comprehensive coverage: Protects against non-collision-related damages, such as theft, fire, vandalism, or damage caused by natural disasters.
Uninsured/Underinsured motorist coverage: Covers the policyholder's expenses if they are involved in an accident caused by a driver without sufficient insurance coverage.
Personal injury protection (PIP): Covers medical expenses and, in some cases, lost wages and other damages, regardless of who is at fault in an accident.
AIC Auto Claims
AIC's auto claims system is somewhat old-fashioned compared to large, national insurance carriers. All big insurance companies offer automated online systems for submitting claims. Most big insurance companies today have apps that enable customers to submit claims on their smartphones.
AIC does not offer any of this. AIC auto claims must be submitted by phone, fax, or email. The phone line for claims is 24/7.
But after regular business hours, incoming calls are outsourced to a call service. Submitting a claim by email (claims@aiconline.com) is the closest thing the company has to an online claims system. (2023 update: they have an app now.) No matter how a claim is submitted, it is apparently only handled by AIC claims adjusters working during normal business hours. Do our lawyers enjoy dealing with Agency Insurance? We do not.
Online Reviews & Ratings for Agency Insurance
AIC is a very small, regional insurance company with a limited number of insureds. As a result, the volume of online customer reviews and comments is necessarily very limited in comparison to larger companies. This makes the online reviews and comments somewhat less informative. That said, the online customer reviews that are available for AIC are overwhelmingly negative.
Many of the highly negative customer reviews are related to AIC's claims handling. Agency Insurance does have a  positive rating with the Better Business Bureau, but it is based on a minimal sample size. The customer review?  Not so good on the BBB site. But those should be taken with a grain of salt because people do not usually reach out to the Better Business Bureau looking to praise an insurance company.
(Confusingly, AIC also stands for "Associate in Claims." This is an educational program for insurance adjusters. This leads to some confusion online.).
AIC Aggressive in Subrogation
Compared to other insurance companies, AIC appears active and aggressive in pursuing subrogation claims. Subrogation occurs when an insurance company covers a loss for one of their insureds and then goes after the other at-fault driver to recover their loss. For example:
Jane has car insurance with Agency Insurance. Jane is out on the road and gets rear-ended by Adam. Jane's insurance company, AIC, ends up paying $10,000 for Jane's damages from the accident. AIC then brings a subrogation claim against the at-fault driver, Adam (and his insurer), to recover their $10,000 loss.
AIC appears to file many subrogation cases for a small insurance company in Maryland. A simple search on Maryland Judiciary Case Search for cases involving Agency Insurance Company returns a surprisingly high number of results. Almost all of the cases appear to be subrogation claims by AIC. Over the last several years, AIC has filed an average of about 25 subrogation cases a year. This is a high number relative to AIC's comparatively small size.
Who Are AIC's Lawyers in Baltimore?
As mentioned, AIC files a large number of subrogation cases every year. Almost all AIC's recent subrogation cases have been filed by Marshall Grier, a solo practitioner in Odenton, MD.
AIC almost always uses lawyers from Bodie, Dolina, Hobbs, Friddell & Grenzer, P.C. as defense counsel in Towson, MD. Our accident attorneys have also seen them use a lawyer in Rockville named William D. Foote, Jr.
How Do You Serve AIC?
Agency Insurance Company is a Maryland corporation (SDAT ID # D02848265) with its principal office at 7450 Coca-Cola Drive, Hanover, MD 21076. The number for AIC claims is 800-841-5241.
If you need to serve AIC directly in a Maryland case, you can serve the Maryland Insurance Commissioner, or you can serve AIC's resident agent:
Bryson F. Popham
191 Main St, Suite 200
Annapolis, MD 21401
Call the Baltimore Car Accident Attorneys at Miller & Zois
If you were recently involved in a car accident and you need to claim damages against someone who is insured by AIC (or another company), you need to retain a great auto accident firm that delivers results.
Miller & Zois provides auto accident clients with effective, efficient results. Our attorneys can help you get the most out of your case. Call now at 800-553-8082 or get a free online consultation.