Our attorneys are reviewing Tylenol autism lawsuits for parents throughout the country. This new lawsuit, which includes ADHD and ADD claims, has the potential to lead to the largest payout in U.S. mass tort class action history.
A Tylenol autism class action lawsuit was certified in 2022. Our law firm expects over 100,000 victims will file a Tylenol autism lawsuit. The jury payouts and settlement amounts for a Tylenol lawsuit could be high if successful. It is possible that these lawsuits will settle in 2023, and a new warning label will be added to protect unborn children.
What are the Tylenol autism lawsuits about? The basis for these new acetaminophen lawsuits is new scientific research suggesting that the popular pain-killer Tylenol (or generic acetaminophen) during pregnancy may increase the risk of having a baby with autism. This new evidence linking Tylenol to autism has led to a growing number of product liability lawsuits against manufacturers and retailers by parents of children with autism.
Our lawyers predicted that the rising number of Tylenol autism lawsuits would lead to a new class action, and settlement amounts would be offered to compensate parents and autistic children. We got the first prediction right and believe the second will come, although the time horizon will be much longer.
The national product liability lawyers at Miller & Zois are accepting new Tylenol autism cases from parents of children diagnosed with autism or autism spectrum disorder after significant use of Tylenol (or acetaminophen) during pregnancy.
Contact our law firm today at 800-553-8082 or get a free online consultation.
February 2023 Tylenol Class Action Lawsuit Update
Our law firm is committed to keeping victims informed of news and updates in the Tylenol autism litigation as they happen.
February 1, 2023 –  Class Action Hearing Today
Lawyers on both sides for the time of retailer defendant discovery on Monday.  As you would expect, plaintiffs' lawyers want to move quickly, and defense lawyers want to slow down.  Judge Cote wasted no time setting up a hearing on the dispute for today.  The stakes here are not significant – plaintiffs' lawyers want defendants to identify custodians of records and produce some documents within 30 days, and defendants want more time – but how these disputes resolve sets a tone for what the pace of the litigation will be.
In general, plaintiffs' attorneys want to move quickly because that gets our clients closer to trial dates which pushes us towards a global settlement.  Defendants just want to delay.
January 2023 Tylenol Class Action Lawsuit Update
January 26, 3023 – Tylenol Lawsuit News
The latest news in the Tylenol MDL.
January 20, 2023 –  Discovery Plan for MDL Class Action
The judge in the Tylenol autism class action MDL announced a discovery plan focusing on the causation evidence linking prenatal exposure to acetaminophen to autism.
During "Phase One" of the consolidated discovery plan, Johnson & Johnson (the original developer of Tylenol) will produce documents relevant to prenatal acetaminophen exposure risks. Plaintiffs will also get responses to written questions on that topic. This discovery plan aims to start the long process of vetting the scientific evidence before these cases go to trial.
We think the science in these cases is strong, and so does every lawyer we have spoken to who has reviewed the medical and scientific literature.
January 11, 2023 – Short Form Lawsuit Approved
In an Order issued on Monday, the judge in the Tylenol autism class action approved a Short Form Complaint for new incoming plaintiffs to use when filing acetaminophen autism and ADHD lawsuits.
This new Tylenol autism lawsuit claim form, combined with an earlier ruling allowing new cases to be filed directly in the MDL, will streamline the process of adding new suits to the class action.  We will see a large influx of new filings over the next six months.
January 9, 2023 – New Acetaminophen Lawsuit
A new Tylenol autism lawsuit, Rios, et al. v. CV Pharmacy Inc., et al. (1:22-cv-10046), was filed recently filed against a group of three retail defendants:
CVS Pharmacy Inc.
Walgreens Boots Alliance,
Walmart Inc.
The Tylenol lawsuit claims that the three defendants were involved in developing, labeling, and selling over-the-counter store brands of acetaminophen. The plaintiffs allege using these products during her pregnancy disrupted fetal development and caused her child to have autism.
This acetaminophen suit asserts that the defendants negligently failed to warn the plaintiff (or her doctors) about the risks of acetaminophen use during pregnancy and autism. The case was initially filed in the Northern District of California. But like any case filed in federal court in California, Texas, Illinois, or anywhere else, it was transferred into the Tylenol autism class action lawsuit in New York.
January 1, 2023 – Special Master for Tylenol Lawsuit
Before the holidays, the Tylenol autism MDL judge formally appointed Randi Ellis as the Special Master in charge of the plaintiff census. This means that she will handle the process of collecting key information and data from all of the incoming plaintiffs.
This information will then be used to make decisions in the Tylenol class action lawsuit and identify potential bellwether cases for trial.  Ms. Ellis is a frequent participant in mass tort litigation. She was appointed as Special Master in various capacities in at least two other mass torts in 2022.  Federal judges trust her.
December 2022 Tylenol Class Action Lawsuit Update
December 27, 2022 – More Progress in the Tylenol MDL
The judge in the Tylenol autism class action lawsuit is working towards getting a discovery plan and schedule in place by mid-January.
Earlier this month, the plaintiffs and defendants each submitted proposed discovery plans after being unable to agree on a joint proposal. Last week, Judge Cote issued an Order saying that she preferred the defendant's version and directed the parties to work things out before the upcoming status conference in January.
December 17, 2022 – Filing Lawsuits Directly in the Tylenol Class Action
After the most recent monthly status conference in the Tylenol autism class action lawsuit this month, Judge Cote issued an Order allowing future cases to be filed directly in the MDL. This is frequently done in class action MDLs, and it streamlines the process of adding new cases to the MDL.
In January, Judge Cote is expected to approve a Short Form Complaint for use by new incoming cases, which will further expedite the flow of incoming cases.
These two steps should open the door to a flood of new Tylenol autism lawsuits coming into the MDL in 2023.
December 15, 2022 – Tylenol Class Action – How Many Cases Now?
As of today, 101 cases were pending in the Tylenol autism class action MDL in the Southern District of New York. When the MDL was established in October, only 18 cases were initially transferred in, so 83 new cases have been added in the first three months.  We predict thousands more will sign up for this lawsuit in 2023.
November 2022 Tylenol Class Action Lawsuit Update
November 29, 2022 – Walmart Wants to Appeal Now
Earlier this month, the Tylenol autism MDL Judge denied a motion to dismiss by Walmart, which argued that the plaintiffs' claims were barred under the doctrine of federal preemption.
Yesterday, Walmart filed a motion asking Judge Cote to reconsider that ruling and, assuming the ruling remains intact, to certify the decision for an immediate appeal. Both of these requests have little chance of being granted. Judge Cote's denial of the Walmart motion was prompt, decisive, and supported by a well-reasoned written opinion.
It is hard to find something in Walmart's reconsideration request that would make the judge change her mind two weeks later. The request for an immediate appeal is also improbable. Motions to dismiss based on federal preemption are routinely filed and dismissed in product liability MDLs. Getting a class action lawsuit off the ground would be problematic if every issue was immediately appealable. The path to justice is long enough as it is.
November 21, 2022 – Tylenol Lawyers Picked
Judge Cote will sign the order next week. But the deal is done, and leadership is in place for the Tylenol class action lawsuit. We are off to the races in this litigation.
November 15, 2022 – Walmart Will Remain in the Tylenol Class Action Lawsuit
The Tylenol autism class action judge wasted no time denying Walmart's motion to dismiss based on preemption. Judge Denise Cote's order explains that federal preemption does not apply. The primary reason is that applicable FDA labeling laws allowed Walmart to unilaterally change the label on its Equate-brand acetaminophen to add an additional warning about pregnancy risks.
Judge Cote expressly rejected Walmart's argument that the FDA regulations prohibited it from changing the warning labels on its generic Tylenol products. She noted that the applicable federal labeling laws are not "exclusive" and do not limit a manufacturer's obligation to ensure that its label is adequate.
In other words, if it wanted, Walmart could have added a warning about use during pregnancy.
This brings new momentum to the Tylenol class action lawsuit.
November 14, 2022 – Tylenol Attorneys to Be Picked
The status conference in the new Tylenol autism class action MDL will be held before MDL Judge Denise Cote next Thursday, November 17, 2022. This will be a significant event at which Judge Cote is expected to name her selections for the plaintiffs' leadership committee.
This committee will be comprised of select plaintiffs' lawyers and will be tasked with making collective decisions on behalf of all plaintiffs in the MDL on issues involving litigation strategy. Judge Cote will also hear from both sides regarding proposed case management plans.
November 13, 2022 – Federal Preemption Motion
Walmart has filed a motion to dismiss the Tylenol autism cases based on federal preemption. It is unlikely to succeed.
The Tylenol class action lawsuit alleges that Walmart violated its duties under state law to warn about the risk of using its Equate-brand acetaminophen products during pregnancy. Walmart's motion argues that the FDA mandated the warning labels on these products under federal law; therefore, Walmart was not permitted to change the labels.
The plaintiffs' Tylenol attorneys filed a response in opposition to the motion arguing that the FDA regulations expressly permitted Walmart to make a voluntary change to its warning labels concerning the risk of use during pregnancy.
Last Friday, Walmart filed a reply in support of its original motion. Motions to dismiss based on federal preemption are common in drug cases and are rarely successful.
November 8, 2022 – Tylenol Defense Lawyer Team Picked
This week, the judge in the Tylenol autism class action lawsuit approved the proposed structure for the defense counsel committee.
A "Retailer Liaison Committee" (RLC) will function much like liaison counsel on the plaintiffs' side and will consist of selected lawyers for the retail company defendants.
Judge Cote will hold an open application process for the RLC and finalize appointments next week.
November 2022 Tylenol Class Action Lawsuit Update
On October 5, 2022, the JPML certified a class action lawsuit in New York that will house all Tylenol lawsuits filed in any federal court in the U.S.
The JPML held a hearing for oral arguments in St. Louis on whether to consolidate the growing number of Tylenol autism lawsuits into a new Multidistrict Litigation (MDL) class action lawsuit at the end of the month. It wasted no time creating an acetaminophen class action lawsuit. Many of these cases alleging Tylenol use during pregnancy led to autism are pending in federal courts around the country. This acetaminophen lawsuit could become the largest consolidated lawsuit in the country.
A group of plaintiffs filed a motion asking for MDL consolidation. But all of the defendants (manufacturers and retailers of Tylenol) were sharply opposed to creating a new MDL, arguing you cannot start an MDL without all of the key defendants in the case. The MDL panel pointed out this is not the law.
But why isn't Tylenol a named defendant yet? There are tactical reasons J&J has not been named as a defendant in any of the lawsuits lawyers seek to consolidate into a Tylenol class action lawsuit. But there is no question that J&J will ultimately be brought into this litigation. It is just a matter of when.
The judge's first task in the newly established Tylenol autism class action MDL was to appoint a panel of plaintiffs' lawyers to serve on the plaintiffs' leadership committee (PLC). The PLC will make joint decisions on behalf of all other plaintiffs in the MDL. The first monthly status conference was on November 17, 2022.
New Research Links Tylenol to Autism
Acetaminophen, known chiefly by its popular brand name Tylenol, has been one of the most widely used over-the-counter medications for decades. Almost every adult in the U.S. has probably taken Tylenol at least once, and millions use it regularly to treat various aches and pains. Approximately 20% of the U.S. population uses Tylenol or acetaminophen products weekly. Notably, two-thirds of women take acetaminophen during pregnancy.
Until recently, Tylenol was believed to be completely safe with no known health risks. However, acetaminophen is one of the least understood compounds in medical use. Scientists still do not understand precisely how acetaminophen relieves pain and reduces fever.
Acetaminophen has long been marketed to pregnant women as the safest option for pain and fever relief during pregnancy. It has often been marketed as the only safe over-the-counter pain drug during pregnancy. This has contributed to a general public perception that Tylenol is entirely safe for use during pregnancy.
The Consensus Statement on Acetaminophen
However, this perception changed drastically last year with the publication of new medical research on the use of Tylenol during pregnancy.  Increasingly, scientists believe that neurotoxic exposures, such as prenatal acetaminophen exposure,  explain a trending increase in autism and ADHD diagnoses.
In the September 2021 issue of the journal Nature Reviews Endocrinology, a Consensus Statement from a group of 91 leading medical experts warned that Tylenol or acetaminophen during pregnancy can increase the risk of autism.
The Consensus Statement summarized a growing body of epidemiological research and animal testing indicating that prenatal exposure to acetaminophen can alter fetal development and increase the risk of neurodevelopmental disorders such as autism. This body of research included 29 observational studies, including over 220,000 mother-child pairs worldwide.
These studies consistently identified a link between the significant use of Tylenol or acetaminophen during pregnancy and higher rates of autism spectrum disorder. Specifically, the studies found that extended Tylenol use during pregnancy increased the baby's risk of autism by 20%. This study played a significant role in spawning acetaminophen autism lawsuits.
The studies cited in the Consensus Statement also identified a clear correlation between the autism risk level and the duration and amount of acetaminophen usage during pregnancy. In other words, more Tylenol usage during pregnancy generally equated to higher autism rates.
The Consensus Statement concluded by strongly recommending that the medical community and public health agencies take preventive actions to warn about the potential risks of using Tylenol during pregnancy. One of the recommendations included a warning label on all acetaminophen products about use during pregnancy.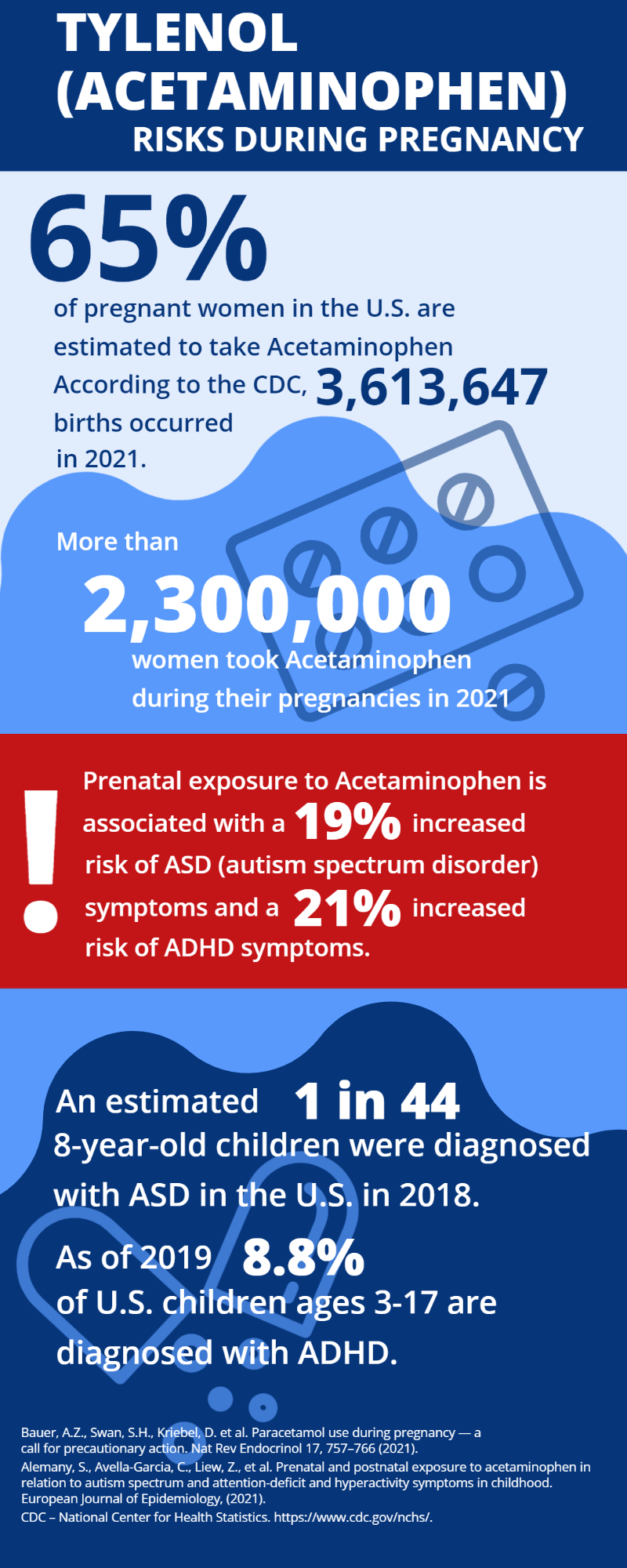 Tylenol Autism Class Action Lawsuit
This new research has sparked a wave of recent Tylenol autism lawsuits against major manufacturers and retailers of Tylenol and generic acetaminophen products. Plaintiffs in these lawsuits allege that Tylenol or acetaminophen products during pregnancy caused their children to develop autism spectrum disorder. They accuse the defendants of negligently failing to warn about this risk.
The number of Tylenol autism product liability lawsuits filed across the country have started to increase significantly over the last six months. In June, there were enough pending Tylenol autism cases to prompt a group of plaintiffs to file a motion asking the Judicial Panel on Multidistrict Litigation (JPML) to consolidate all of the cases into a new class action MDL.
The motion filed with the JPML identified 20 Tylenol autism lawsuits currently pending in various federal districts. All of the cases involve nearly identical factual allegations and legal claims. The timing of the filings also indicates that many more are likely to be filed in the future.
Who Can File a Tylenol Autism Lawsuit?
If you used an acetaminophen product such as Tylenol extensively during pregnancy and your child was later diagnosed with autism spectrum disorder, you may qualify to file a product liability lawsuit and pursue financial compensation.
The causation evidence connecting autism to the use of acetaminophen during pregnancy is still emerging, and more studies are underway. The research highlighted in the Consensus Statement could be enough to pass legal thresholds and be presented to a jury in a civil case. If this happens, plaintiffs in Tylenol autism lawsuits could receive significant financial compensation for their claims.
Prospective plaintiffs will have more substantial claims if they show that they used high doses of Tylenol or acetaminophen products for a prolonged time during pregnancy. An absence of a family history of autism, pregnancy complications, or other potential risk factors for autism and neurological conditions will strengthen a claim.
What Settlement Amounts Can Tylenol Autism Lawsuit Plaintiffs Expect?
The trial value of a Tylenol autism lawsuit will drive settlement amounts. The average trial value of a successful verdict in a Tylenol autism lawsuit would likely be between $5 million and $10 million.
Keep in mind a few things. First, settlement compensation payouts are only a fraction of the trial value of a case in mass tort cases. And lawyers still cannot project settlement amount or the likelihood that the science in these cases is strong enough to get to a jury – although the science is looking pretty good right now.
But if the science is strong enough and these cases go to a jury, get verdicts, and push J&J to the settlement table, average per person settlement amounts could be in the $300,000 to $600,000 range. Again, we are a long way from this, and we are engaging in pure speculation. But parents understandably want to know what attorneys are projecting when it comes to possible settlement ranges. Because a civil lawsuit is always about money as compensation for harm.
Our Tylenol autism lawyers will continue to monitor and provide updates on the Tylenol autism lawsuits and will revise expected settlement payouts as the litigation develops.
Example Tylenol Autism Lawsuit
Maguire v. Walmart Stores, Inc. (3:22-cv-3238) was one of the 47 acetaminophen autism lawsuits that formed the initial group of cases transferred into the new MDL in the Southern District of New York. The Maguire case was initially filed in the Northern District of California on June 2, 2022, and was part of a large group of Tylenol autism cases filed across the country in the first week of June. The plaintiff, Michelle Maguire, filed the action for herself and her son. The retailer of acetaminophen, Walmart, is the only named defendant in the case.
The factual allegations in the Macguire Complaint are separated into two parts. The first part explains claims that acetaminophen has been marketed as "the safest, and the only appropriate" pain reliever for pregnant women. This section then alleges that using acetaminophen during pregnancy interferes with fetal brain development, which can lead to autism. It then outlines the scientific evidence supporting that fact.
The following section contains more specific allegations about Maguire's use of acetaminophen when she was pregnant with her son in 1999. Maguire claims that she took acetaminophen regularly throughout her pregnancy (from March 1999 to November 1999) for pain and headaches. In the third trimester of that pregnancy, Maguire claims that she took acetaminophen "three times a day for pain relief." Maguire contends that she purchased all of this medication from Walmart.
Maguire claims that she took the acetaminophen based on the assumption that it was safe during pregnancy and notes that there was nothing on the warning label to suggest otherwise. When Maguire's son was ten years old, he was formally diagnosed with autism and had minimal ability to function normally.
The Complaint has numerous separate causes of action, but the primary tort claim is strict liability based on the alleged failure to warn. This claim is based on the general allegation underlying that Walmart knew (or should have known) about the connection between acetaminophen use during pregnancy and autism, but continued to sell the product without warning labels.
Contact Us About Your Tylenol Autism Lawsuit
The national product liability lawyers at Miller & Zois are reviewing Tylenol autism lawsuits on behalf of parents of children who were diagnosed with autism after significant Tylenol or generic acetaminophen use during pregnancy. Contact our Tylenol autism lawyers today at 800-553-8082 or get a no-obligation, free online consultation.