Our lawyers are handling baby food autism lawsuits for families who have a child that has autism as a result of baby foods that contain toxic heavy metals. Our law firm handles these toxic baby food lawsuits in all 50 states.
This page gives you an update on these suits in January 2023 and offers predictions of the settlement amounts victims can expect if these baby food autism claims are successful.
Several major brands of baby food contain dangerously high levels of toxic heavy metals such as arsenic, lead, and mercury. These toxic substances cause neurologic and other health problems in developing children. Consumption of these toxic baby foods may be linked to the development of conditions such as ADHD and autism.
Our autism baby food attorneys are currently accepting new autism lawsuits for children and families who suffered neurological injuries from the consumption of these toxic baby foods. If you fed Gerber brand baby food, or "Earth's Best" brand baby food to your child and they were subsequently diagnosed with Attention Deficit Disorder (ADD or ADHD), autism, or another type of neurologic disorder, call our toxic baby food lawyers at 800-553-8082. You may be entitled to significant financial compensation.
UPDATES: Toxic Baby Food Autism Lawsuits
January 2023: The FDA finally published its new proposed regulations for the maximum safe levels of lead allowed in baby food products. The new rules prohibit baby food products from exceeding ten parts per billion lead levels. Once the regulations become finalized, they will allow the FDA to pursue enforcement actions against baby food companies that sell products with higher levels.
November 2022: One of the consumer class action cases involving heavy metals in baby foods against Plum was dismissed last month for failure to state a claim. In dismissing the case, a federal judge in New Jersey held that the plaintiffs did not have viable consumer fraud claims because they couldn't show that they suffered financial harm. The plaintiffs claimed they were defrauded because they purchased baby food, thinking it was safe when it contained toxic heavy metals. According to the judge, the plaintiffs had not claimed because they could not show that the baby food was valueless. We would like to see these cases succeed, but they have nothing to do with the merits of how baby food autism claims are being pursued.
October 2022: Toxic baby food lawsuits have been pushed aside a bit with the effort to seek a Tylenol autism class action lawsuit. But there are now over 100 lawsuits pending against baby food manufacturers claiming that they failed to warn about the presence of toxic heavy metals in their products. Recently, baby food companies such as Beech-Nut have filed motions seeking to dismiss many of these cases. The arguments made in these motions give us a good summary of what the defense strategy is going to be in these cases. First, the baby food companies will argue that inadequate scientific evidence shows that their products cause autism or are otherwise unsafe. Second, the baby food companies will assert a preemption defense based on the fact that the FDA has confirmed that their products are safe and that the tort claims conflict with the FDA's authority to regulate heavy metals in baby foods.
July 2022: We have been keeping a watchful eye on all the new toxic baby food lawsuits filed in federal courts recently. In the previous six months, 14 new lawsuits have been filed against baby food manufacturers alleging that toxic metals in their products caused children to develop autism spectrum disorder. Nurture, Inc., the manufacturer of HappyBaby Organics products sold at Walmart, has been the most frequently named defendant, with seven new cases against it. Gerber is the second most common defendant, with 4 cases, and Hain Celestial and Sprout Foods are tied for third, with 3 cases each.
May 2022: This month, a judge in California denied a motion by a group of baby food manufacturers that sought to exclude expert testimony suggesting that there may be a causal link between heavy metals in baby foods and the development of autism and ADHD. This is the most significant development in the history of this litigation. The ruling in this baby food autism lawsuit – NC v. Han Celestial, et al. (Superior Ct. of Cal., Los Angeles County – means a jury will get to decide the merits of these lawsuits. In this case, the family's lawsuit alleges the ingestion of heavy metals in baby foods caused their son's autism. To establish the necessary causation evidence, the plaintiff retained four expert witnesses (who we list below) who testified that lead, arsenic, and/or mercury are capable of being a significant factor in causing autism and ADHD. The defendants sought to prevent the case from moving forward by seeking the dismissal of all four experts because their opinions were scientifically flawed and undermined by "analytical gaps." The judge denied this motion in a lengthy 61-page opinion and allowed the case to proceed. This ruling could be significant for the viability of toxic baby food lawsuits.
Baby Foods Found to be Contaminated With Toxic Heavy Metals
In February 2021, the U.S. House of Representatives Committee on Economic and Consumer Policy released a bombshell report revealing that several major baby food brands contain dangerous toxins. The shocking findings in the Subcommittee Report resulted from a long-term investigation into the safety of certain brands of baby food sold in the U.S.
The Subcommittee Report found that many top baby food brands (including Gerber and Earth's Best) were found to be tainted with unsafe levels of hazardous heavy metals, including arsenic, lead, cadmium, and mercury. Consumption of these metals, even in small amounts, is very dangerous to a developing child's brain.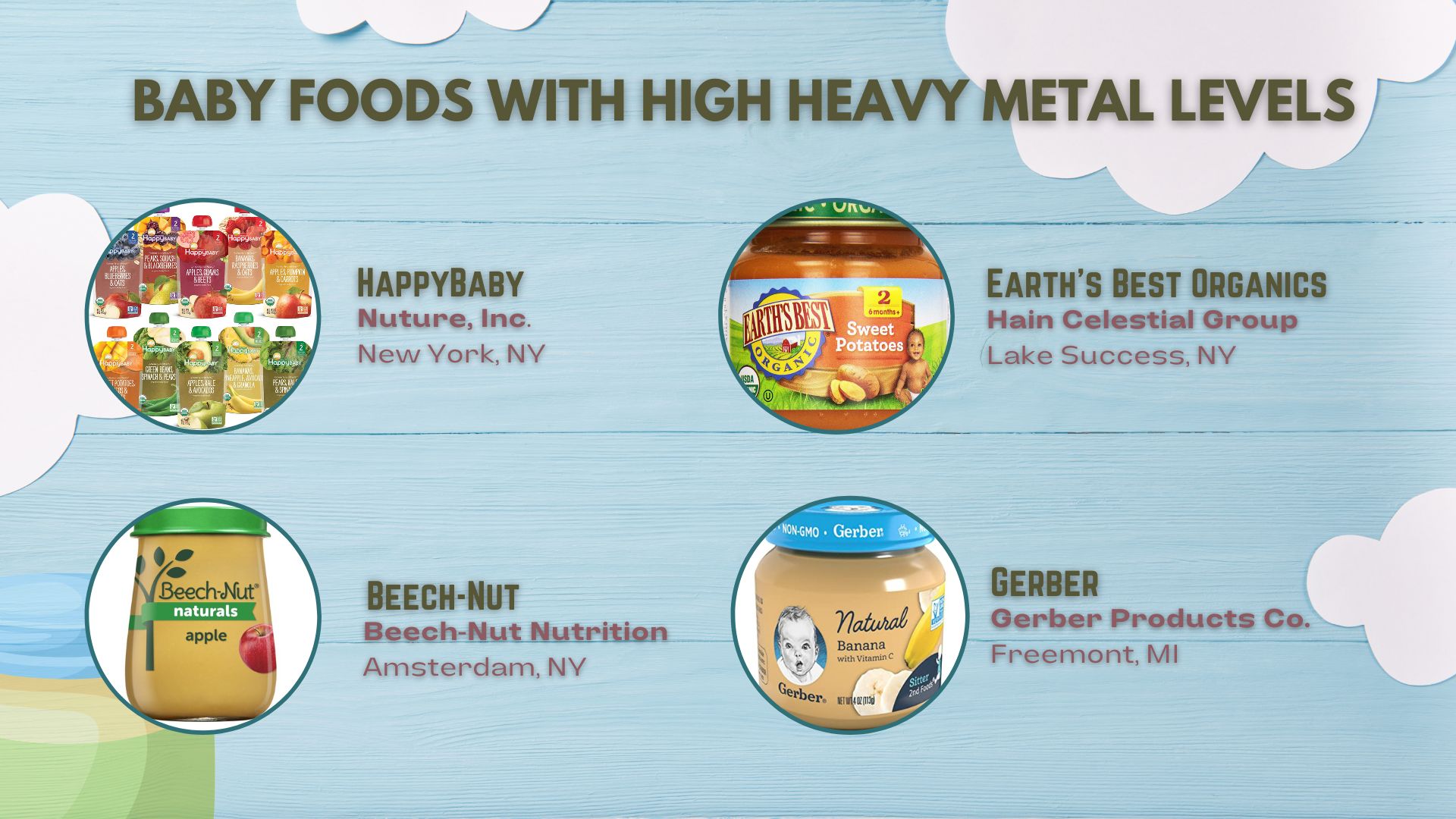 Both the World Health Organization (WHO) and the Food and Drug Administration (FDA) have warned about the dangers of these toxic elements. According to the FDA, research studies show that consumption or even just exposure to these heavy metals can be particularly hazardous for babies and young children. Specifically, these toxic elements cause neurologic damage and interfere with brain development in children.
The Subcommittee Report also found that the food manufacturers knew that their baby food contained these high levels of known toxins. According to the report, Gerber and other baby food manufacturers set their standards for the "safe" levels for these elements in their products. Moreover, the investigation found that food makers routinely ignore their own already high standards, despite internal testing showing excessive levels of these heavy metals in baby food.
Tainted Baby Foods Can Cause Brain Damage and Neurologic Disorders
The symptoms of toxic heavy metal poisoning and the symptoms of autism are very similar. This is why many doctors believe early neurotoxic poisoning from these heavy metals in baby food, such as lead, cadmium, and mercury, are a potential cause or contributing factor in a child's autism.
So if your child consumed Gerber, Earth's Best, or other baby food brands that contained high levels of heavy metals, they may have suffered neurologic and developmental delays from the metals in those foods. Studies have shown that childhood exposure to these heavy metals can cause brain damage, resulting in reduced intelligence and behavioral problems.
Medical studies have long linked consumption of these metals in childhood to a substantial decrease in adult IQ and a reduced lifetime earning capacity.
Arsenic & Lead Levels in Contaminated Baby Food
Arsenic is a highly toxic substance that is often used as a poison. The Subcommittee Report found some levels of inorganic arsenic in all baby food brands tested. However, there were two brands with extremely high levels considered unsafe by the FDA: Gerber and Earth's Best.
The FDA has set the maximum safe level of arsenic in food or water at ten parts per billion ("ppb"). Testing found that Earth's Best brand of baby food (manufactured by Hain Celestial Group, Inc.) contained arsenic at 129 ppb – 13 times the level considered safe by the FDA. Testing of Gerber brand baby foods found arsenic at 90 ppb.
The same two baby food brands also found unsafe levels of lead. Earth's Best baby food was found to contain 352 ppb of lead, and Gerber brand food contained 48 ppb. By comparison, the FDA has set maximum safe lead levels for bottled water at five ppb. This means the tainted baby food contained 70 times the maximum safe level of lead.
(This makes the Earth's Best particularly offensive, right? In a world awash with chemicals in our food, parents are drawn to the Earth's Best label. It certainly does not sound like baby food that has 70 times the safe level of heavy metals.)
So many people ask how this could happen in 2022. This April Politico article does a good job of explaining how we still allow toxic metals in children's food
Lead in Baby Food Causes Autism and Other Brain Injuries
Lead is a toxic heavy metal our lawyers are well familiar with from lead paint lawsuits. It is a neurotoxin and carcinogen. Lead resembles other metals that a child needs. So it is easily absorbed into body tissue. Lead has a depressing ability to damage and kill cells in the body. This toxic metal also has an extended half-live, which gives it time to do even greater damage. The half-life of leads lasts for up to 30 years – 30 years! – in the child's bones.
What is a safe level of lead for a baby? The FDA, CDC, WHO, EPA, AMA, and AAP (American Academy of Pediatrics) have told us that there is no safe level of lead for children.
Cadmium in Baby Food Causes Autism and Other Brain Injuries
While less well known than lead, cadmium is also a toxic heavy metal for babies and a known neurotoxin and carcinogen. It is one of only six hazardous substances banned from use in Europe in electrical and electronic equipment because of the risks to humans.
Also like lead, Cadmium has a low rate of excretion from the body, especially in the kidneys and liver. Cadmium exposure also has been shown to adversely affect kidneys and bones and increase the risk of cancer. Just as concerning, Cadmium also functions as an endocrine disruptor which can impact a baby's neurodevelopment.
Mercury in Baby Food Causes Autism and Other Brain Injuries
Mercury is a neurotoxin that causes a baby to suffer brain damage. This chemical attacks the nervous system and, like cadmium, has a particular impact on the kidneys and liver. Mercury has been shown to cause brain injuries, tremors, vision or hearing loss, and memory and other cognitive problems. There is also an association between autism and mercury levels. Autistic children have higher serum levels of blood mercury.
Arsenic in Baby Food Causes Autism and Other Brain Injuries
Inorganic arsenic is #1 on the U.S. Environmental Protection Agency's priority list of hazardous substances. The body absorbs arsenic mostly via the digestive tract and the respiratory system.
Even in trace amounts, arsenic can cause brain injuries, including autism. There is no question that arsenic can cause deficits in cognitive function and behavioral performance in children.
Example of a Baby Food Autism Lawsuit
Shortly after the release of the Congressional Report detailing the extent of heavy metal contamination in various major baby food brands, baby food autism lawsuits were filed around the country. These product liability lawsuits asserted that the baby food manufacturers knowingly products contaminated with toxic heavy metals and that the plaintiffs (or their children) developed autism as a result of consuming these tainted baby food foods.
A good example of one of these toxic baby food autism lawsuits is the case of Ibert v. Plum, et al., 4:21-cv-02066 (N.D. Cal.), which was filed in federal court in California last year. The 53-page complaint in Ibert lays out a detailed narrative of the discovery of dangerous levels of heavy metals in baby foods, beginning with the HBBF report and the subsequent congressional investigation. The complaint also details the numerous published studies identifying the link between autism and exposure to arsenic, mercury, lead, and other heavy metals during infancy.
In the "Plaintiff-Specific Allegations" section, this toxic baby food lawsuit states that the plaintiff (a minor bringing the case through his mother) regularly consumed baby food products manufactured by the defendant manufacturers (Hain Celestial, Plum, Beech-Nut, Gerber, and Sprout). The lawsuit asserts that these foods were contaminated with various heavy metals and that "prevailing scientific evidence" consumption of these metals in the food caused the plaintiff to develop autism.
The complaint goes on to plead seven separate product liability causes of action. The causes of action included strict liability claims for failure to warn, design defect, and manufacturing defect. The four negligence claims in this baby food autism lawsuit were based on the same three theories, plus an additional claim for negligent misrepresentation. But the core of it is that these baby foods are tainted with toxic heavy metals that caused autism.
Lawsuits Against Manufacturers of Toxic Baby Food
The Subcommittee Report revealing the contamination levels of Gerber and Earth's Best baby food brands led to an immediate round of product liability lawsuits. So far, around 20 separate heavy metal autism lawsuits have been filed across the country against Geber, Hain Celestial, and other manufacturers.
Hundreds, possibly thousands more baby food autism lawsuits claiming a link between heavy metals and autism will likely be filed in the coming months. Plaintiffs in pending baby food lawsuits have already filed a motion asking the Judicial Panel on Multidistrict Litigation to consolidate all toxic baby food cases into a new MDL in the Southern District of New York. If granted, this could set the stage for a new class action involving contaminated baby food.
The lawsuits are being filed by parents who fed the contaminated baby foods to children who were later diagnosed with various neurologic and/or cognitive disorders, or developmental/behavioral conditions. Based largely on the findings in the Subcommittee Report, the lawsuits allege that the baby food manufacturers knew that their baby food products contained dangerously high levels of toxic metals such as lead and arsenic. The claims assert that the manufacturers intentionally concealed and/or failed to disclose these contamination levels to consumers.
Is There a Baby Food Class Action Lawsuit for Autism?
Right now, there is not an MDL baby food class action lawsuit that alleges these products cause autism or other neurological injuries. These lawsuits are being pursued as individual autism lawsuits around the country. As the number of filed lawsuits involving Geber, Earth's Best, and other toxic baby foods increases, you may see a baby food autism class action filed soon.
A baby food class action lawsuit would be a mixed bag for victims. Yes, it makes it easier for plaintiffs who often get a settlement payout without much pre-suit discovery. But the settlement amounts are sometimes higher with individual lawsuits because you have a better chance of getting a trial date (which facilitates larger settlement amounts and you have the possibility of going to trial and getting a verdict).
Consumer Baby Food Class Action Lawsuit
Thirteen plaintiffs filed a new consumer class-action lawsuit in February 2022 in California against a group of baby food manufacturers including Beech-Nut, Nuture Inc., Plum Inc., and Gerber. This class action lawsuit claims that the defendants violated various consumer protection laws by falsely marketing their baby food products as safe when they knew that the products contained toxic heavy metals.
The plaintiffs are all general consumers who purchased baby foods manufactured by the defendants. None of the plaintiffs claim that their children developed neurological damage or other adverse health effects from consuming the baby food. Rather, they are pursuing purely economic damages on behalf of themselves and other class members.
The complaint contains a general fact allegation section which recites in detail the findings published in a U.S. Congressional Report last year revealing alarmingly high levels of toxic metals like arsenic and lead in various baby foods made by the defendants. The complaint sets forth 8 separate causes of action including 2 violations of California consumer protection statutes.
It is an all too common trope to dismiss these types of cases because only the lawyers make any money from them. But there is some truth to that charge with consumer class action lawsuits like this.
What Settlement Amounts Can We Expect in the Autism Baby Food Lawsuits?
In most lawsuits like these baby food claims, any settlement amount the victims receive is proportionate to the injuries suffered. The potential injuries in these lawsuits are catastrophic and the damages last a lifetime in terms of pain and suffering and lost earning potential of the victims.
So the damages in baby food lawsuits can quickly get into the millions of dollars. This drives settlement compensation payout. Frankly, this is why you are seeing more baby food attorneys seeking new clients. The settlement value of autism baby food lawsuits, if successful, will be substantial. The average individual settlement amounts in successful cognitive injury class action could range between $500,000 and $1.5 million.
Is There a Baby Food Class Action Lawsuit?
As our attorneys mention above, the baby food lawsuits have been mostly stand-alone. But that may soon change. There is already a consumer baby food class action lawsuit. In May 2022, a federal judge in California allowed plaintiffs to move forward with a proposed consumer class action against Walmart claiming it sold its "Parent's Choice" brand baby food with dangerously high levels of toxic metals. Walmart was not one of the companies that cooperated with the Congressional Committee investigation. But an independent study by a non-profit organization tested Walmart brand food and confirmed that it contained high levels of heavy metals.
This is often how these class action lawsuits develop, starting first with a consumer class action and evolving into an injury class action. So we might see that same evolution in the baby food autism lawsuits. Plaintiffs once sought to bring an MDL class action. That effort was rejected by the MDL Panel which found that the claims were too fact-specific to each defendant. "The claims against each defendant thus are likely to rise or fall on facts specific to that defendant, such as the amount of heavy metals in its products, the results of its internal testing, if any, and its marketing strategies," the MDL Panel ruled.
But in 2022 as these lawsuits continue to be filed at an accelerating pace, it might be feasible to have an MDL class action for each of the major defendants.
Contact Our Lawyers About Filing a Toxic Baby Food Autism Lawsuit
Our lawyers are currently seeking new toxic baby food autism lawsuits from individuals who meet these criteria. If you fed Gebers or Earth's Best brand baby food products to your children and they have subsequently been diagnosed with neurologic disorders, developmental delays, learning disabilities, or cognitive problems, call us today at 800-553-8082 for a free consultation. You can also get a free case review online.