Recent scientific studies have shown that using high doses of the popular drug Tylenol (acetaminophen) during pregnancy can increase the risk of having a baby with attention deficit disorder (ADD or ADHD). The new evidence establishing a link between Tylenol during pregnancy and ADD has prompted a growing number of product liability lawsuits by parents of children with ADD or ADHD against the companies that make and sell Tylenol.
A Tylenol ADHD class action lawsuit was created last year which could eventually result in a global settlement to compensate parents and children with ADHD related to Tylenol.
The national product liability lawyers at Miller & Zois are seeking Tylenol ADHD and ADD cases from parents of children diagnosed with attention deficit disorder and/or attention defecit hyperactivity disorder after significant use of Tylenol (or acetaminophen) during pregnancy.
Our attorneys are accepting Tylenol ADD lawsuits for parents throughout the country.  Contact our law firm today at 800-553-8082 or get a free online consultation.
New Research Links Tylenol to ADHD
Tylenol is the iconic brand name for acetaminophen. Acetaminophen has been one of the most popular and commonly used over-the-counter drugs for generations. Millions of Americans have Tylenol or some generic acetaminophen product in their house and use it all the time to deal with aches and pains. 2 out of 10 people in the U.S. report using Tylenol or acetaminophen products on a weekly basis.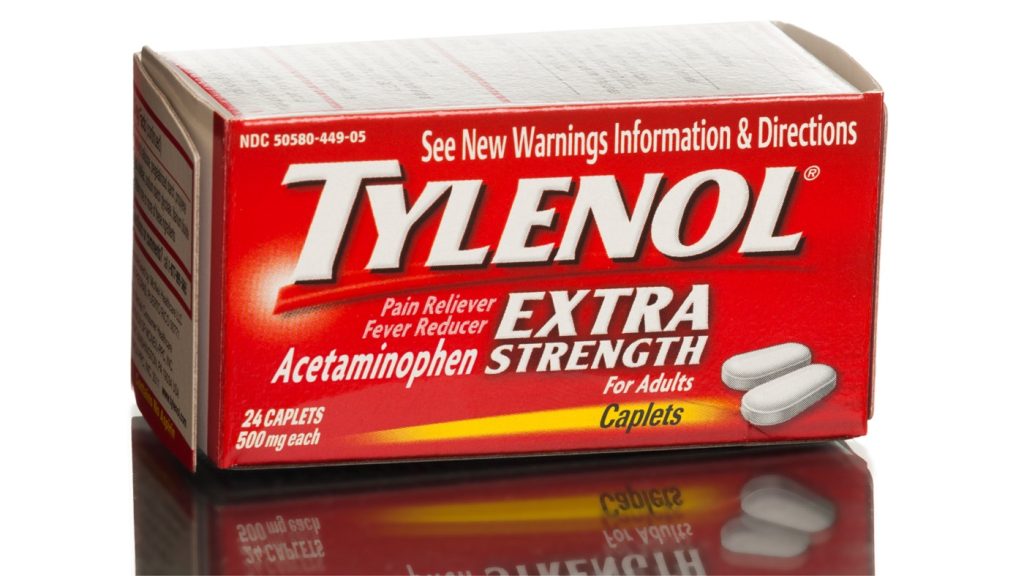 Part of the reason that Tylenol is used so frequently is that it has always be viewed as safe and harmless. The reality, however, is that acetaminophen is one of the least understood pharmaceutical compounds. Scientists do not really understand how acetaminophen works.
For decades, Tylenol has been the primary pain relief option for pregnant women. In fact, a recent study found that 66% of women take acetaminophen during pregnancy. The manufacturers of Tylenol and acetaminophen have a long history of marketing their drug as the safest pain relief option during pregnancy. This marketing has led to and reinforced a general public perception that using acetaminophen during pregnancy is harmless.
Consensus Statement 2021
The perception of Tylenol as the safest option during pregnancy has changed drastically over the last few years.  A growing body of scientific and medical research is started to show us that using acetaminophen during pregnancy can disrupt the neurologic development of the fetus.
In 2021, a large group of 91 leading doctors and scientists from various fields joined in the publication of a Consensus Statement in the journal Nature Reviews Endocrinology. The sole purpose of the Consensus Statement was to alert the larger medical community and the public to the fact that using Tylenol or acetaminophen during pregnancy can increase the risk of both autism and attention deficit disorder.
The Consensus Statement outlined that wealth of epidemiological studies over the last decade suggesting that prenatal exposure to acetaminophen can alter fetal development and increase the risk of neurodevelopmental disorders such as ADD or ADHD. The body of research summarized in the article included 29 observational studies encompassing over 220,000 mother-child pairs worldwide.
What these various studies consistently showed was a clear link between high levels of acetaminophen use during pregnancy and abnormally high rates of babies eventually diagnosed with ADD or ADHD.
The studies also showed a clear correlation between the risk level for ADHD and the amount of acetaminophen usage during pregnancy. In other words, more Tylenol usage during pregnancy generally equated to higher ADHD rates.
The Consensus Statement concluded by urging the medical community to recognize the hazards of Tylenol use during pregnancy and take preventative measure. Most notably, the article strongly recommended a warning label on all acetaminophen products about the risks of use during pregnancy.
JAMA Article 2014
A prospective study published in JAMA Pediatrics in 2014 examined the relationship between prenatal acetaminophen use during pregnancy and behavioral issues, severe forms of ADHD known as hyperkinetic disorders (HKD), and ADHD medication.
The study found that using acetaminophen during pregnancy was linked to a higher risk for all three outcomes. The authors conducted three telephone interviews with the mothers, two during pregnancy and one six months after birth, and administered a standardized behavioral questionnaire to the caregiver when the child was seven years old.
The study detected a statistically significant dose-response relationship, which is a critical feature of a causal relationship.
The study detected a statistically significant dose-response relationship, meaning that stronger associations were observed with use in more than one trimester during pregnancy, and exposure-response trends were found with increasing frequency of acetaminophen use during gestation for all outcomes. When women reported having used acetaminophen for 20 or more weeks during pregnancy, the risk of HKD diagnosis in children almost doubled.
The hazard ratio of 1.84 – which will be a big deal in a Daubert challenge later this year testing the science Tylenol lawyers present to the court –  is scientifically strong.
Tylenol ADHD Class Action Lawsuit
The Consensus Statement and other studies sparked a growing tide of Tylenol ADHD lawsuits against major manufacturers and retailers of Tylenol and generic acetaminophen products. Plaintiffs in these lawsuits allege that using acetaminophen products during pregnancy caused their children to develop ADHD. They accuse the defendants of negligently failing to warn them about this potential risk and marketing acetaminophen as entirely safe for use during pregnancy.
The first Tylenol ADHD product liability lawsuits started getting filed at the very end of 2021 and a growing number of these cases were filed across the country during the first half of 2022. In the fall of 2022, the Judicial Panel on Multidistrict Litigation (JPML) consolidated all acetaminophen ADHD and autism lawsuits pending in federal courts into a new class action MDL. The Tylenol MDL was assigned to Judge Denise Cote in the Southern District of New York.
This means that all Tylenol ADHD lawsuits filed or pending in federal courts across the country will now be transferred into the MDL. The cases will proceed through a consolidated discovery phase, after which a handful of cases will be selected for bellwether test trials. The test trials are designed to give the parties a sample of what to expect if all of the cases went to trial. The bellwether trials are usually followed by a global settlement.
Who Can File a Tylenol ADHD Lawsuit?
If you used Tylenol or any other generic acetaminophen frequently and at high doses during your pregnancy and your child was later diagnosed with ADHD or ADD, you may qualify to file a product liability lawsuit and pursue financial compensation.
The scientific evidence establishing causation between the use of acetaminophen during pregnancy and ADHD is still developing. Additional studies are already underway, but research cited in the Consensus Statement could be enough to meet the legal requirement for admissibility in court. If that scientific evidence is found to be admissible in court, the Tylenol ADHD litigation will most likely be resolved in a settlement.
How do you know if you have a good case? Plaintiffs with the strongest cases in the Tylenol ADHD litigation will be women who have documented proof (e.g., medical records) showing that they used large amounts acetaminophen during pregnancy. An absence of a family history of ADHD, complications during the pregnancy, or other potential risk factors for ADHD and neurological conditions will strengthen a claim.
What Settlement Amounts Can Tylenol ADHD Lawsuit Plaintiffs Expect?
Our lawyers estimate that settlement amounts for successful Tylenol ADHD claims could be in the $200,000 to $400,000 range. Keep in mind, that these estimates are highly speculative. We are at the very early stages of this litigation, and a lot of what happens in these cases will depend on whether the scientific causation evidence is admissible in court. Our estimates are based on the assumption that the science is strong enough and these cases go to a jury and push the defendants to the settlement table.
About ADHD
ADHD is a neurological disorder that usually begins in childhood and persists through adulthood, and its prevalence has increased among American children over time. ADHD has become one of the most common neurodevelopmental disorders among American children, reflecting a rise of several percentage points since the first national ADHD survey was conducted in 1997.
ADHD can lead to multiple abnormal behavioral outcomes, including hyperactivity, impulsiveness, and/or an inability to focus, which are linked to problems in school, work, relationships, and mental and physical health. Compared to children without ADHD, those with ADHD have lower academic achievement, are more likely to suffer from depression, engage in substance abuse, risky sexual conduct, and other unsafe activities.
A study found that males with a history of ADHD are expected to earn $1.27 million less over their lifetimes than controls without ADHD, potentially retiring with 75% lower net worth. Treatments for ADHD include speech and behavioral therapies, occupational therapy, individualized educational assistance, and medication. Think about this number when calculating Tylenol ADHD lawsuit settlement amounts.
Almost 9 in 10 children with ADHD were receiving some form of school support, including school accommodations or help in the classroom, as of 2014. As of 2016, 77% of children with ADHD were receiving some form of treatment, whether medication, behavioral treatment, or both.
Contact Us About Your Tylenol ADHD Lawsuit
The national product liability lawyers at Miller & Zois are reviewing Tylenol ADHD lawsuits on behalf of parents of children who were diagnosed with ADHD or ADD after significant Tylenol or generic acetaminophen use during pregnancy. Contact our Tylenol ADHD lawyers today at 800-553-8082 or get a no-obligation, free online consultation.