Our lawyers handle Zantac esophageal cancer lawsuits in all 50 states. This page is about this MDL class action lawsuit. Our attorneys look at the connection between esophagus cancer and the NDMA in Zantac and project settlement amounts should these claims resolve.
January 2023 Update: This page was written before the MDL judge dismissed all of the Zantac lawsuits that had been filed in federal court.  So much of what is here we are in the process of updating because, sadly, it is outdated.
Zantac Esophageal Cancer Lawsuit Update
If you have brought or are considering bringing a Zantac esophageal cancer lawsuit, this news is of particular interest to you. A Zantac cancer lawsuit set to go to trial in Madison County Illinois next week resolved for a settlement amount of $500,000.
The settlement was split between 3 defendants who were makers of generic Zantac products. Most generic Zantac lawsuits have been dismissed. Plaintiff Joseph Bayer's lawsuit alleged his esophageal cancer was caused by years of taking over-the-counter ranitidine products. Importantly, Mr. Bayer was a non-smoker.
The jury trial that was set for August 22, 2022, would have been the first trial of a Zantac cancer lawsuit. This is a big settlement payout and hopefully a harbinger of things to come.
Zantac Esophageal Cancer Lawsuits
Product quality testing in 2018 discovered extremely high levels of a chemical called NDMA in the popular antacid drug Zantac (ranitidine). This was an alarming discovery because NDMA is a known carcinogen. The finding led to a nationwide recall of Zantac followed by thousands of Zantac cancer lawsuits. The Zantac lawsuits are now consolidated into a "class-action" MDL and the initial round of bellwether trials is set for January 2023.
The contamination of Zantac with NDMA and subsequent litigation prompted extensive new scientific research on whether Zantac usage increased the risk of specific types of cancer. This research has developed reliable evidence showing that prolonged use of Zantac is associated with 5 types of cancer involving the gastrointestinal system: (1) bladder cancer, (2) stomach cancer, (3) pancreatic cancer, (4) liver cancer, and (5) esophageal cancer. On this page, we will take a closer look at Zantac lawsuits alleging esophageal cancer.
Zantac Recall and Litigation
GlaxoSmithKline first developed and released Zantac on the U.S. market back in the 1980s as a prescription drug. Zantac became available in generic form (ranitidine) when the original patent expired and eventually it was approved as an over-the-counter drug for the treatment of heartburn.
By 2017, Zantac had been around for decades and was presumed to be completely safe. An estimated 15 million people in the U.S. used the drug daily. The assumption that Zantac was safe changed dramatically in 2018. Testing by an independent laboratory revealed that ranitidine contained very high levels of a chemical called NDMA (N-Nitrosodimethylamine).
NDMA is a harmful chemical and it is known to cause cancer in humans and animals. The NDMA levels found in Zantac products were shockingly high at more than 500 times the maximum safe daily limit set by the FDA. This prompted the FDA to get involved and soon after Zantac and generic ranitidine were recalled across the country.
The discovery of a known carcinogen in a drug taken by millions of people led to a wave of product liability lawsuits by individuals who used Zantac and were diagnosed with cancer. There are currently over 80,000 Zantac lawsuits and/or registered claims pending in the Zantac MDL.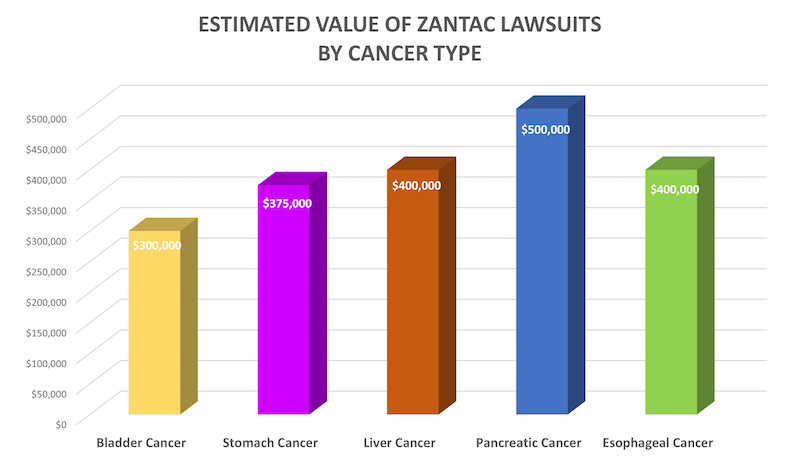 Zantac Linked to Esophageal Cancer
In the early phase of the Zantac litigation, we did not have a very clear picture as to what specific types of cancer might be associated with prolonged ingestion of NDMA in Zantac. We just knew that NDMA was a carcinogen and the levels of NDMA found in Zantac were alarmingly high. The litigation that arose out of the Zantac recall prompted new research and expert studies on the connection between Zantac and specific cancer types.
The research sparked by the recall of Zantac has determined that there are 5 specific types of cancer (all related to the gastrointestinal system) that have a positive association with NDMA in Zantac. Esophageal cancer is one of this group of "Zantac cancers." The causation evidence supporting a link between NDMA consumption in Zantac and esophageal cancer is very strong. Individuals who used ranitidine regularly for 1 year or longer displayed significantly higher rates of esophageal cancer compared to a control group of individuals using other antacid drugs.
Of the five "Zantac cancers" listed above, bladder and esophageal cancer seem to have the strongest association with NDMA in Zantac. The principal outside study identifying a connection between esophageal cancer and long-term Zantac use comes from Gerald McGwin who The Association Between Ranitidine Use and Gastrointestinal Cancers in the Journal Cancers in December 2020 (the "McGwin Study"). The McGwin study found that individuals who used Zantac were 3.5 times more likely to develop esophageal cancer compared to those using other antacid drugs. That is a pretty strong correlation.
Zantac Lawsuits for Esophageal Cancer
Following the 2018 Zantac recall, thousands of Zantac cancer lawsuits have been filed alleging a wide and diverse range of cancer types. The 4 types of cancer accounting for the highest volume of Zantac product liability lawsuits have been: (1) prostate cancer, (2) breast cancer, (3) colon cancer, and (4) bladder cancer.
As expert witness opinions on causation in the Zantac litigation started coming in, it became clear to our Zantac lawyers that there would not be sufficient evidence to support a connection between Zantac and certain types of cancer. This prompted the plaintiffs' steering committee in the Zantac MDL to advise the court that they did not intend to litigate Zantac cases involving prostate, breast, colon, kidney, and lung cancer. The focus of the Zantac litigation will now be on cases involving bladder cancer, stomach cancer, pancreatic cancer, esophageal cancer, and liver cancer.
There are hundreds of Zantac cancer lawsuits currently pending in which the plaintiff is alleging esophageal cancer as a result of NDMA exposure from Zantac. An esophageal cancer case will be one of the opening bellwether trials in January 2023.
How Much Are Projected Settlement Amounts for a Zantac Esophageal Cancer Lawsuit?
We have not had any verdicts or settlements in the Zantac cancer litigation, so nobody knows exactly how much Zantac esophageal cases might be worth. Our lawyers can come up with a reasonable compensation value estimate, however, by doing a simple comparative analysis of compensation awards in other tort cases involving cancer. Just keep all of this in context, okay? These are just projections based on what our lawyers know and believe today.
A starting point of our settlement amount prediction is our valuation for Zantac bladder cancer lawsuits. That average settlement prediction is $300,000. This projected settlement amount is derived from a global settlement in a prior mass tort involving a prescription drug that caused bladder cancer. So our lawyers estimate the possible per person average settlement payouts for a Zantac esophageal cancer lawsuit in part by comparing bladder and esophageal cancer.
Esophagus cancer is significantly worse and more life-threatening than bladder cancer. Bladder cancer is a highly treatable form of cancer with an overall 5-year survival rate of 72%. By contrast, cancer of the esophagus is one of the least treatable cancers with a grim prognosis. The overall 5-year survival rate for esophagus cancer is only 20%. Even when diagnosed at Stage I, esophageal cancer only has a 5-year survival of 47%.
Looking at compensation value from this lens and based on this comparison of bladder cancer versus esophagus cancer, our lawyers reasonably expect that Zantac lawsuits involving esophageal cancer will have a settlement of around $400,000. This is higher than the estimated value for bladder cancer cases but lower than the value our lawyers estimate for pancreatic cancer.
But that calculus assumes that esophagus cancer can be as easily linked to NDMA as bladder cancer. Right now, that is not true. That is where the science might go. But, today, an esophageal cancer lawsuit will be slightly harder to win than a bladder cancer suit. So the true projected eventual settlement compensation for a Zantac esophageal lawsuit is likely around $300,000.
Long-time smokers can also bring a Zantac esophageal cancer lawsuit. But that will be much tough sledding and our lawyers would expect lower values for smokers.
Hiring a Zantac Esophageal Cancer Lawyer
Our attorneys are reviewing Zantac esophagus cancer lawsuits. If you used Zantac and were diagnosed with esophageal cancer, will give you private and free legal advice and explore with you options for seeking compensation payout for the harm that was done to you. Contact our Zantac MDL class action attorneys at 800-553-8082 for a free case review. You may also reach out to us online for a free case evaluation.