Our lawyers are handing Xelijanz lawsuits in all 50 states.
The arthritis drug Xeljanz may cause serious and potential blood clots in some users. This was not initially disclosed as a side effect – now there is a warning. The Xeljanz lawsuit is for victims who did not get a warning.
Janurary 2023 Xeljanz Update: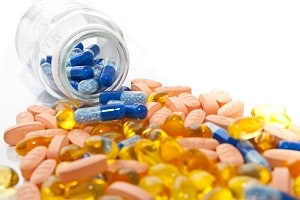 A New England Journal of Medicine study underscores a key claim plaintiffs are making in these lawsuits: there is a greater incidence of adverse cardiovascular events and cancer with Xeljanz than with other treatment options.
November 2021 Xelijanz Lawsuit Update – New Study
A new study published in the November issue of the Journal of Clinical Radiology found that Xeljanz and all other drugs in the same family known as JAK inhibitors carry an inherent risk of blood clots and serious adverse cardiovascular events.
The researchers were not able to determine whether Xeljanz presented a significantly higher risk of cardiovascular events or blood clots compared to other JAK inhibitors.
The study calls for further research into Xeljanz and other JAK inhibitors to better understand the comparative risks presented by the drugs. Not for nothing, this study also strengthens the arguments Xeljanz lawyers are making for the victim in these lawsuits.
September 2021 Update (finally a warning)
On September 1, 2021, the FDA announced that it was requiring Xeljanz to come with a new, beefed-up warning label that conspicuously warns that users may have an increased risk of potentially life-threatening conditions such as heart attack, cancer, blood clots, and stroke.
This new warning requirement from the FDA comes after the agency conducted its review of recent Xeljanz clinical trials and related studies, which first determined that users of the drug had a higher rate of serious heart-related problems, cancer, pulmonary embolism, and fatalities.
In its safety communication announcing the new warning label requirements, the FDA also clarified the evidence linking Xeljanz and cancer. According to the FDA, Xeljanz users displayed significantly higher rates of lymphoma and lung cancer compared to a control group. Evidence linking Xeljanz to other types of cancer was less definitive.
Xeljanz Lawsuits Our Lawyers Are Reviewing
Our lawyers are currently accepting new cases from people who took Xeljanz and had any of the following health events:
Pulmonary Embolism
Stroke
Deep Vein Thrombosis
Other types of blood clot injury
About Xeljanz
Xeljanz (tofacitinib) was first approved and released in 2012 by pharmaceutical giant Pfizer. Xeljanz was a groundbreaking new type of drug called a JAK inhibitor which has a unique internal effect on certain types of cells. Xeljanz is the first oral medication for the treatment of moderately to severely active rheumatoid arthritis that did not do well with methotrexate.
Xeljanz is similar in many ways to a biologic. But this drug is a new subcategory of disease-modifying antirheumatic drugs (DMARD) called "JAK inhibitors." Xeljanz blocks Janus kinase (JAK) pathways that are involved in our immune responses. These agents target specific steps in the process. So, in theory, these drugs don't wipe out the entire immune response as do some other RA treatments
The drug is primarily used for the treatment of very severe cases of rheumatoid arthritis. However, Xeljanz has also been used to treat ulcerative colitis and psoriatic arthritis. Pfizer aggressively marketed Xeljanz and quickly became one of the company's blockbuster drugs because it was effective in treating these diseases.
Xeljanz is now one of the most heavily marketed and profitable drugs in history. Pfizer has reaped billions of dollars in sales from Xeljanz. Pfizer reported $2.4 billion in worldwide Xeljanz sales in 2020. This is big money, the kind of drug a pharmaceutical company desperately wants to keep in the market.
Normal approved dose levels for Xeljanz are 5 mg and 10 mg twice a day. To prevent arthritis inflammation, Xeljanz has to essentially block or suppress a user's natural immune system responses. As a result, the drug always had a long list of potentially serious side effects. For example, the boxed warning states, "Patients treated with Xeljanz are at increased risk for developing serious infections that may lead to hospitalization or death." But blood clots were not listed as a potential side effect of the drug. They are now.
Xeljanz and Blood Clots
As part of the initial FDA approval for Xeljanz back in 2012, Pfizer was required to conduct a long-term post-market research study. This post-approval study aimed to evaluate the potential risks of cardiovascular problems resulting from the drug.
The initial results of this long-term study were provided to the FDA at the beginning of 2019 and they caused major concerns. Specifically, the study found that the higher Xeljanz dose (10 mg twice daily) appeared to cause life-threatening blood clots in some patients.
Black Box Warning on Xeljanz
In response to these study results, the FDA issued a safety announcement, and Pfizer was required to add a "black box warning" (the most serious type of drug label warning) about the risk of blood clot deaths at higher doses. The higher, 10 mg dose of Xeljanz is no longer approved for the treatment of arthritis because the risk of blood clots is considered too high.
This whole class of drugs is giving cause for concern. In June 2021, the FDA decided to further extend the review period for Jakafi, a bone marrow disease drug by Incyte that is looking to get approved for steroid-refractory chronic graft-versus-host disease. What is the concern? The concern is that it might cause cardiac complications and/or cancer. Similarly, expanded approval of Abbie's Rinvoq is being held up as abrocitinib.
Xeljanz Lawsuits
Pfizer is now facing a rapidly growing number of lawsuits by users of Xeljanz who suffered blood clots or similar injuries. All pharmaceutical companies must fully research the safety of their drugs before they are approved and released. This is particularly true with completely new types of drugs such as Xeljanz.
Drug companies also have a legal duty to warn about any potential risks, side effects, or health concerns associated with their drug. This is information is often critical because it enables doctors to make informed decisions about drug safety for individual patients.
Xeljanz blood clot lawsuits against Pfizer are alleging that the company breached its duties to the public in several ways:
Pfizer negligently failed to conduct adequate safety research and testing before getting approval for Xeljanz.
Pfizer knew that the higher dose of Xeljanz caused blood clots and other problems, but failed to disclose this information.
Pfizer failed to warn that higher doses of Xeljanz may cause blood clots and cardiovascular problems.
Most of these allegations appear to be fairly valid and Pfizer will likely be facing serious liability in these cases. The warnings about Xeljanz and blood clots are fairly recent, so not many blood clot lawsuits have been filed against Pfizer at this point.
Pfizer will likely be named in hundreds of Xeljanz lawsuits across the country. As of February 2022, there is still no MDL class action. But that could change.
Our Xeljanz lawyers do not have a sense of how many lawsuits there will be. It will depend on whether the people who suffered blood clots on Xeljanz connect the dots back to the drug. If enough lawsuits are filed, you can expect a Xeljanz class action lawsuit to be filed. In that case, plaintiffs' lawyers will seek to have all Xeljanz lawsuits in federal court to be handled for discovery and bellwether trials under a single judge.
How Will Pfizer Defend the Xeljanz Lawsuits?
Pfizer is in a bind, right? Everyone agrees now that Xeljanz causes blood clots and Pfizer did not warn of the risk. So how do you defend that?
Pfizer will pull out the old drug defense lawyer saw of preemption. It will argue that federal law preempts victims' ability to question the Xeljanz warning because it claims a manufacturer cannot unilaterally change an FDA-approved boxed warning.
Our lawyers believe this argument is unlikely to be successful in Xeljanz lawsuits.
Can You File a Xeljanz Lawsuit?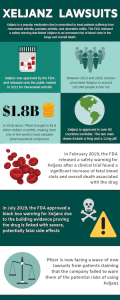 Several hundred thousand people in the U.S. were taking Xeljanz to treat their arthritis. Only a certain percentage of these Xeljanz users will have a valid lawsuit against Pfizer.
To qualify as a potential Xeljanz plaintiff with our law firm, you will need to satisfy at least the following three requirements:
You were taking Xeljanz or Xeljanz XR for the treatment of arthritis for a minimum of 6 months.
You were taking the higher Xeljanz dose – 10 mg twice a day.
You suffered a pulmonary embolism, deep vein thrombosis, stroke, or other blood clot-related injury while taking Xeljanz.
If you (or a deceased family member) satisfy all three of these conditions, our law firm wants to talk to you.
Settlement Compensation Payouts for Xeljanz Lawsuits
If you have a potential Xeljanz lawsuit, it is only natural to wonder how much money your case might potentially be worth. The potential settlement amount of individual Xeljanz cases will vary based on several factors.
The most significant factor in determining the settlement amount (or trial value) of an individual Xeljanz blood clot lawsuit will be the extent of the victim's injuries. Some people who suffer blood clots from Xeljanz may only end up with a stay in the hospital and a few days of stress and discomfort.
Others may be left permanently paralyzed, partially disabled, unable to talk, or dead. Plaintiffs with more serious permanent injuries from Xeljanz will have higher settlement amounts.
In the context of medical malpractice cases, however, the settlement value for pulmonary embolisms and similar blood clot injuries tends to be fairly high. This is because pulmonary embolisms often have catastrophic consequences such as death or limb amputation.
Can our lawyers guess the average settlement amount for a Xeljanz blood clot lawsuit? Our guess, and it is just speculation, is that average compensation will be between $100,000 and $200,000 and the cases that go to trial will average in the millions. his has long been our lawyers' opinion and the FDA announcement in September 2021, only strengthens that opinion.
Pfizer is still making money hand over fist on this Xeljanz. The label now properly reflects the warning which should be enough to defeat Xeljanz lawsuits filed for injuries that occur from usage after the label change. So Xeljanz lawsuits are a public relations nightmare for the very profitable drug. This is why our Xeljanz lawyers believe Pfizer will make fair settlement compensation payouts to victims in a more timely fashion than is typical.
Miller & Zois is Accepting New Xeljanz Lawsuits
If you suffered a blood clot, stroke, or similar type of event while taking this drug, call our Xeljanz lawyers at Miller & Zois at 800-553-8082 on contact us online.