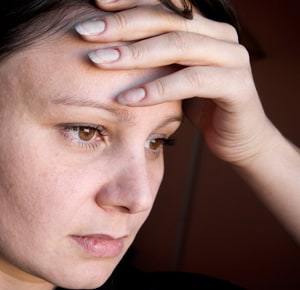 Our Beviq cancer lawyers are helping victims who may have cancer by using Belviq.
These Belviq recall lawsuits are just beginning. An MDL class action may be in the works although the growth of these claims has been modest. Still, our attorneys believe the prospects of large settlements in these cases are good. Below we provide the latest 2023 Belviq lawsuit update.
It may turn out that Belviq causes many types of cancer. Our law firm is looking at all cancers but our firm is focused on cancers along the digestive tract:
Colorectal cancer
Lung cancer
Pancreatic cancer
Breast cancer
So how did we get here? In January 2020, the US Food and Drug Administration (FDA) announced that it was taking a look into the safety of the weight-loss drug lorcaserin, or Belviq. On February 13, 2020, the manufacturer of Belviq, Eisai Inc., withdrew Belviq from the market at the FDA's request. So they don't like to call it a Belviq recall because they took it off the market. But it looks like a duck and quacks like a duck, right? This was a recall.
Lorcaserin cancer lawyers are alleging in lawsuits around the country that Eisai knew for years that Belviq might cause cancer and withheld this information from doctors and patients.
Jan 2023 Update:

Some Belviq cases have settled. Negotiations are still ongoing.

May 2022 Update:

Eisai and Arena Pharmaceuticals appear to be on the verge of settling the Belviq lawsuits. Joint motions to stay have recently been filed in Belviq lawsuits pending around the country. These joint motions state that the parties "are engaged in global settlement negotiations." The Belviq lawsuits were never consolidated into an MDL so it is difficult to say exactly how many pending cases there are. The terms of the Belviq settlement should be available within the next few months.

If you have a potential Belviq lawsuit, you want to get your claim in. Now. Call us or call another Belviq lawyer. But call today.

October 2021 Update:

With no MDL, Belviq lawsuits are being litigated in various courts across the country. The defendants have filed motions to dismiss in many of these cases. Last week we saw one of the first rulings on these motions to dismiss a case in the Western District of Missouri. Although the judge granted dismissal of certain claims such as negligent misrepresentation and design defect, he declined to dismiss the plaintiff's primary claims. This will allow the case to move forward into discovery and we will likely see similar outcomes in other Belviq cases.

September 2021 Update:

Earlier this year, a group of plaintiffs' lawyers filed a petition asking the Judicial Panel on Multi-District Litigation ("JPML") to create a new "class-action" MDL for consolidated handling of all Belviq lawsuits. In August 2021, however, the JPML denied that petition and held that the creation of a Belviq MDL was not necessary or appropriate. The request for a Belviq MDL was based on the assumption that hundreds and possibly thousands of Belviq lawsuits would get filed around the country. But as of last month, however, there were only 20 Belviq lawsuits in federal courts. In JPML's view, this was not enough to justify the creation of a new MDL.
What Is Belviq?
Belviq is a weight-loss drug. Arena developed Belviq in partnership with Eisai Co. Ltd. Its active ingredient, lorcaserin, makes patients feel full by altering chemicals in the brain. It is used along with diet and exercise to promote weight loss, particularly in patients with diabetes, high cholesterol, or high blood pressure.
On June 27, 2012, the FDA approved lorcaserin (Belviq) for chronic weight management. This was the first anti-obesity medication to win approval since Orlistat in 1999. Why? These drugs have a history of having dangerous side effects. If you want proof of this, look at the $20 billion it took to settle the lawsuits involving fen-phen and Redux.
How did Belviq get approved? Everyone was excited that lorcaserin did not activate the serotonin 5-HT2B receptors like fen-phen. The FDA still made Arena do six post-marketing studies and report back on the cardiovascular outcomes of Belviq. No one was properly focused on the possible cancer risk.
Yet the problem was staring them right in the face. The FDA was even going back and forth with Arena about the results of a rat study that appeared to link the drug to increased cancer risk. Arena's response? Belviq drug elevated the levels of a certain hormone that only rats have. Seriously?
What Is the Problem With Belviq?
Clinical trials showed that taking Belviq increased the occurrence of cancer in patients. Many types of cancer were found, but pancreatic, colorectal, and lung cancer were found more frequently.
What Are the Risks Associated With Taking Belviq?
Lorcaserin was not approved at first due to concerns from laboratory studies on rats which linked the drug to the development of malignant tumors. After further study and evidence, the FDA approved the drug, understanding that cancer was a risk but determining that the benefits of weight loss would be greater than any of the risks they had investigated.
When the drug was approved by the FDA in 2012, Arena Pharmaceuticals (the company that originally marketed the drug) was required to begin a clinical trial. Among other side effects, the trial was meant to detect any increased risk of cancer. There were also concerns about heart valve damage since that had been a problem with previous weight-loss drugs.
The trial included 12,000 people over five years. Years later, the FDA has found that more patients taking the drug were diagnosed with cancer than those taking a placebo. As a result, the FDA now believes that the risks of Belviq outweigh its benefits.
In the study, all participants were either overweight or obese. Additionally, they either had an established cardiovascular disease or were 50 years old or older with type 2 diabetes and an additional cardiovascular risk factor. They were assigned either lorcaserin or a placebo. Researchers followed up with participants about three years after they started the medication.
Pancreatic, colorectal, and lung cancer were found in the lorcaserin group more frequently than other types of cancer.
The study revealed an imbalance in the number of patients diagnosed with cancer between the lorcaserin and placebo groups. Of the 12,000 participants in the study, "462 (7.7 percent) patients treated with lorcaserin were diagnosed with 520 primary cancers compared to the placebo group, in which 423 (7.1 percent) patients were diagnosed with 470 cancers."
Additionally, it was found that the risk of cancer increased the longer someone took lorcaserin. This increase was enough for the FDA to decide that Belviq simply presents too much of a risk. In other words, the increased likelihood of developing cancer does not outweigh the benefit of weight loss for these patients.
These studies led to the Belviq recall and are the underpinning of the Belviq cancer lawsuits.
What Happens If I Stop Taking Belviq?
The starting point is you should ask your doctor, not a Belviq recall lawyer, right? The FDA has recommended that patients talk to their doctors immediately about an alternative medication or weight-loss program. It is generally safe to stop taking this medication right away. Is it always best to talk to your doctor before making changes to the medicines you take? Yes.
Belviq is known to produce drug dependence, especially if taken in incorrect dosages. If you are worried about stopping the medication, talk to your doctor. Be sure to monitor your blood sugar or pressure if applicable.
You can get rid of unused Belviq by taking it to a drug take-back location. If that is not doable, you can dispose of them in a safe way.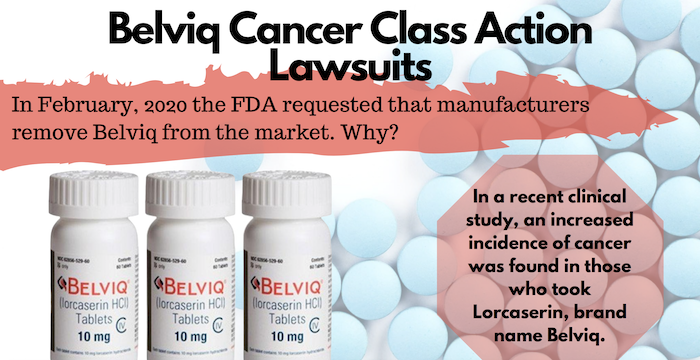 Belviq Lawsuits
The Belviq safety recall and announcement that the drug was a human carcinogen has prompted a stream of Belviq lawsuits. Individuals who used Belviq for an extended period and subsequently developed cancer are now suing Eisai for knowingly releasing an unsafe drug without adequately warning of the risks of cancer.
The pandemic last year had a chilling effect on the volume of Belviq lawsuits, but it is expected to pick up considerably this year as things open up. As of October 2021, it looks like there have been 30 Belviq cancer lawsuits pending in different federal district courts and a similar number in the state courts. This number could easily triple over the next 6 months.
In April 2021, a group of Belviq recall attorneys in the pending Belviq cases filed a motion asking the Judicial Panel on Multidistrict Litigation (JPML) to create a new Belviq MDL.
If a new class action MDL is created, all Belviq cases pending in federal courts across the country would be consolidated into it. The consolidated cases would be assigned to a single judge for more efficient handling. All future Lorcaserin cases filed around the U.S. would get transferred into the MDL. But, so far, the MDL Panel has refused the request from Belviq recall lawsuits to consolidate the cases. Why? Not enough Belviq lawsuits have been filed.
If you or someone you know has suffered from cancer we may be able to help you get much-needed compensation. Call our attorneys today at (800) 553-8082, or fill out our online form for a free consultation.
Example Belviq Lawsuit
Let's take a look at an example Belviq lawsuit. Claudia Hayes, an elderly woman from California filed a lawsuit against Eisai Incorporated, Arena Pharmaceuticals, and all other companies associated with the creation and production of Belviq in March of 2022.
On October 31, 2019, Claudia Hayes was diagnosed with low rectal cancer (Stage III3B rectal cancer). She had earlier that month detected blood in her stool, a circumstance that warranted medical visits to decipher what was wrong with her body. Rectal cancer at that stage had spread through the tissue, muscle, and lymph nodes in her colon/rectum.
Ms. Hayes' Belviq lawsuit contends Belviq contributed to her cancer, a drug she had been using since March 2016. Belviq had been prescribed to her by her physicians as a diet pill, yet the constant usage caused her to develop cancer. Her cancer diagnosis as well as the monetary, mental, physical, and emotional costs as a result of the diagnosis have been strenuous and exhausting, as you would expect.
Her Belviq lawsuit alleges the drug caused her cancer because they failed to properly advertise the risks that Belviq raises regarding cancer and to report the test measurements on the effects of Belviq. Beyond the failure to advertise the potential risks associated with the medication the companies also failed to conduct adequate testing for the drug and report this testing properly.
What is the foundation for this argument? In 2009, the company Arena, before their joining with Eisai, brought Belviq (aka lorcaserin hydrochloride) to the FDA for approval for consummation in the US. Following this approval and the combining efforts of Arena as a manufacturer and Eisai as an exclusive distributor of the drug, the companies began to market the product as safe and effective.
But, Ms. Hayes Belviq lawsuit alleges, the companies had a two-year drug trial on Belviq in rats to test the effects of the drug. The study concluded in February 2009 found that the drug created an increased risk for the development of tumors in both male and female rats. This discovery was near the clinical exposure and found in all doses of the drug given to female rats.
Finally, in January 2020, the FDA warned the companies that more recent results showed a plausible increased risk of developing cancer while using Belviq. In February of that same year, the companies withdrew Belviq from the market. This decision though comes after millions of dollars have been made from Belviq.
Settlement Amounts of Belviq Lawsuits
It is hard to speculate on what the settlement compensation payouts of these cases might be. But we do know that cancer claims in mass torts like this case may resolve for settlement amounts that exceed $500,000. Do our Belviq lawyers think the settlement amounts in the Belviq cases will be that high? It is too early to tell.
Getting a Lawyer for Belviq Cancer Lawsuits
If you or someone you know has been diagnosed with cancer after taking Belviq or Belviq XR, our lawyers are here to fight for you. You can speak with one of our Belviq cancer lawyers at (800) 553-8082, or fill out an online form for a free consultation.