Our law firm handles Camp Lejeune Parkinson's disease lawsuits in all 50 states. Our lawyers have prior experience in Parkinson's disease lawsuits.
We believe that the Camp Lejeune lawsuits for Parkinson's disease will be one of the strongest, if not the strongest, Camp Lejeune lawsuits. These cases might fetch higher settlement amounts than any other Lejeune claims. Our firm has more Parkinson's disease cases than any other injury from Lejeune.
The universal opinion of medical science is that there is clear evidence to indicate that exposure to the contaminated water at Camp Lejeune caused increased rates of Parkinson's disease. Now, a new federal law gives victims of the Camp Lejeune contamination, including those with Parkinson's disease, the right to bring claims and get compensation.
Our team charges a lower contingency fee for Parkinson's disease claims than many other Camp Lejeune lawyers. Call us today at 800-553-8082 for a free consultation, or reach out to us online.
The Camp Lejeune Parkinson's Disease Settlement Offer
The settlement offer on August 30, 2023, disappointed Parkinson's disease victims and their families.  Besides the settlement compensation offered being low in general, it unfairly groups Parkinson's as a Tier 2 injury.  Our lawyers don't think many of our clients with Parkinson's claims will take that offer.
New 2023 Parkinson's Disease Camp Lejeune Study
In a ground-breaking study published on May 15, 2023, in JAMA Neurology, researchers from the San Francisco VA Medical Center and the University of California, San Francisco (UCSF) have found a significant association between trichloroethylene (TCE) exposure and an increased risk of Parkinson's disease by 70%. This research marks a pioneering effort to link TCE, a pervasive chemical found in the air, water, and soil, to the onset of Parkinson's disease.  Many studies are already linking Parkinson's disease to Camp Lejeune.  But this is the best one yet.
The study involved analyzing the occurrence of Parkinson's disease among nearly 160,000 Navy and Marine veterans. Over half of the study participants had been stationed at Camp Lejeune in North Carolina, a site known for water contamination due to TCE used in degreasing military equipment. The other participants were from Camp Pendleton in California, a site without water contamination issues. All these service members were present in these camps for at least three months between 1975 and 1985, during which TCE levels in Camp Lejeune's water supply exceeded safety standards by 70 times.
Access to health data from 1997 to 2021 allowed researchers to track the potential development of Parkinson's disease in these service members. The study identified 430 veterans diagnosed with Parkinson's disease, with those from Camp Lejeune exhibiting a 70% higher risk than their counterparts from Camp Pendleton.
Brief History of Camp Lejeune Water Contamination
The U.S. Marine Corps base Camp Lejeune encompasses 156,000 acres in southeastern North Carolina. It has been a significant base of operations for the USMC since 1941. Throughout its history, Camp Lejeune has provided residential accommodations for a population of around 54,000.
Between 1953 and 1987, the groundwater at Camp Lejeune was contaminated with industrial chemicals, primarily the chlorinated solvents perchloroethylene (PCE) and trichloroethylene (TCE). The levels of these chemicals in the Camp Lejeune water supply were several thousand times higher than the current maximum safe levels set by health agencies. During the 34 years of water contamination, it has been estimated that anywhere between 700,000 and 1 million people lived or worked at Camp Lejeune.
So for three decades spanning the 1950s to the 1980s, the water supplied to the Marine Corps Base at Camp Lejeune in North Carolina was dangerously contaminated with harmful chemicals. In response to concerns about the impact of this contamination, the federal government launched numerous public health investigations and studies to assess the health effects the contaminated water had on Lejeune residents.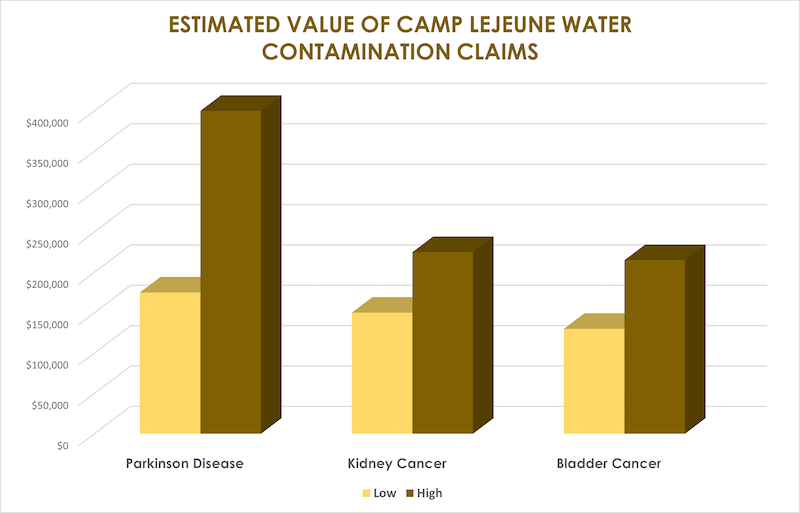 ATSDR Public Health Studies on the Camp Lejeune Population
In response to concerns about the potential adverse health effects of the water contamination at Camp Lejeune, the federal government has funded several major public health studies. These studies have aimed to assess and evaluate what disease and adverse health conditions may have been caused by exposure to the chemicals in the Lejeune water.
From 1991 to 1997, the Agency for Toxic Substances and Disease Registry (ATSDR), a Centers for Disease Control branch, conducted a public health assessment of Camp Lejeune. This included a detailed reconstruction of the estimated contamination levels in the drinking water systems.
The exposure information compiled by the ATSDR has been used in numerous epidemiologic studies of health effects on Camp Lejeune residents. These studies examined several health outcome "endpoints," including birth defects, adverse birth outcomes, cancer, and mortality rates. The findings of these studies were published in 2014 (2014 ATSDR Study).
In 2009, the National Research Council (NRC) released a report entitled Contaminated Water Supplies at Camp Lejeune: Assessing Potential Health Effects (2009 NRC Report) This report was requested by Congress as a means to independently assess the potential health outcomes that the Lejeune water supply may have caused. The primary finding of the 2009 NRC Report was that there was a clear link between the Camp Lejeune water and higher rates of kidney and bladder cancer. The 2009 NRC Report also noted evidence of higher birth defect rates.
Parkinson's Disease
Parkinson's disease belongs to a group of conditions doctors call motor system disorders.  So it is a neurodegenerative disorder that typically gets worse with time.  The exact cause of Parkinson's disease is thought to be a combination of genetic and environmental factors.
The four primary symptoms of Parkinson's are tremors, or trembling in hands, arms, legs, jaw, and face; rigidity, or stiffness of the limbs and trunk. You also see bradykinesia, slowness of movement, postural instability, or impaired balance and coordination. Patients may have difficulty walking, talking, or completing other simple tasks as these symptoms become more pronounced.
In some people, the disease progresses more quickly than in others. As Parkinson's disease progresses, the shaking or tremor you see with most Parkinson's patients – often interferes with daily activities. Other symptoms may include depression and other emotional changes, difficulty swallowing, chewing, and speaking; urinary problems or constipation, skin problems, and sleep disruptions.
VA Clinical Guidance Associates Parkinson's Disease With Camp Lejeune Water
A new law passed in 2012 obligated the Department of Veteran's Affairs (VA) to begin providing health benefits to veterans with conditions deemed to be related to the Camp Lejeune water contamination. To assist the VA in determining what health conditions should be accepted as associated with the Camp Lejeune water, a special committee of experts was assembled (the "VA Committee").
The VA Committee undertook a comprehensive examination of all the available scientific research regarding the health impact of exposure to the Camp Lejeune Water supply. Based on this review, the VA Committee published official Clinical Guidance identifying what specific diseases could be linked to the Camp Lejeune water supply based on reliable evidence.
One of the most meaningful conclusions made by the VA Committee was that there was convincing evidence to show that Parkinson's disease was associated with exposure to chemicals in the water at Camp Lejeune. In the Clinical Guidance report, the VA Committee explained that this conclusion was based on evidence from 4 different sources, including the 2014 ATSDR Study:
The committee finds that TCE and similar solvents may have potential etiologic relevance in the development of Parkinson's disease. The committee concludes that Parkinson's disease is a neurobehavioral effect that may have resulted from consuming the contaminated drinking water at Camp Lejeune. This conclusion is based on the positive trends of increased risks from occupational and drinking water exposures reported by Goldman et al. (2012), NRC (2009), and Bove et al. (2014b). … [T]he committee recommends including Parkinson's disease as an outcome associated with exposure to TCE and PCE.
Clinical Guidance at 35.
Key Parkinson's Disease TCE Study
One study, Solvent Exposures and Parkinson's Disease Risk in Twins, published in the Annals of Neurology in 2011, underscored the relationship between dry cleaning solvents and Parkinson's disease. This is important to any Camp Lejeune Parkinson's disease lawsuit because it provides strong evidence that this motor system disorder is a side effect of exposure to these solvents.
This study involved 99 pairs of twins World War II veterans. One twin of each pair had been diagnosed with Parkinson's disease. Researchers took complied occupational histories from the veterans. They asked about all jobs and hobbies that might have caused exposure.
An industrial hygienist inferred likely exposures to TCE and five other industrial chemicals. The veterans were considered to be exposed to a chemical if their job exposed them to a minimum of two percent of work time or one hour per week.
TCE was associated with a six-fold increase when the solvents were examined individually. This study has been replicated. The evidence is so strong we do not think the government will argue at trial or at the settlement table that TCE does not cause Parkinson's disease.
Camp Lejeune Parkinson's Disease Claims Under New Federal Law
Victims of the Lejeune water contamination disaster have been barred from bringing civil claims because of a strict statute of repose law in North Carolina. Congress is very close to enacting a new federal law, however, that permits Camp Lejeune victims the right to bring claims for their injuries.
Victims of the Camp Lejeune disaster will have a window of at least two years to file tort claims for injuries related to the water contamination. The law expressly removes the North Carolina statute of repose as a legal barrier.
Claimants under the CLJA will have the burden of proving their claims. However, the CLJA creates a lowered standard of proof for causation. Section (b) of the CLJA states that the party filing an action will have the burden of proving a relationship between the Camp Lejeune water and their alleged injuries. But § (b)(2) allows this burden to be satisfied based on a single epidemiological study:
(2) USE OF STUDIES.—A study conducted on humans or animals, or from an epidemiological study, which ruled out chance and bias with reasonable confidence and which concluded, with sufficient evidence, that exposure to the water described in subsection (a) is one possible cause of the harm, shall be sufficient to satisfy the burden of proof described under paragraph (1).
CLJA (b)(2). This language suggests that CLJA claimants will not need to retain expert witnesses to support their claims as long as they can cite a study showing that their injury is associated with Camp Lejeune.
The VA Clinical Guidance could potentially be accepted as per se evidence of causation for Parkinson's disease claims under the CLJA. The VA Guidance also cites other studies that could be used to show that Parkinson's disease is associated with water contamination at Camp Lejeune. This includes a 2012 study entitled Solvent Exposures and Parkinson's disease risk in twins, Annals of Neurology 2012;71(6):776-784 (the "Goldman Study"). The Goldman Study found that occupational exposure to the chemical solvents in the Lejeune water supply (TCE and PCE) was "associated with a significantly increased risk of Parkinson's disease."
According to the Goldman Study, long-term occupational exposure to TCE resulted in a sixfold increase in the likelihood of being with Parkinson's disease compared to those without TCE exposure. The causal connection was even more vital for PCE. Exposure to PCE made individuals ten times more likely to be diagnosed with Parkinson's disease. The study also showed a clear association between the duration of exposure to TCE or PCE and the development of Parkinson's disease.
The VA Clinical Guidance and/or the Goldman Study could be enough to establish causation for Parkinson's disease under the CLJA burden of proof standard. This means that individuals who can prove that they lived or worked at Camp Lejeune between 1953 and 1987 and were subsequently diagnosed with Parkinson's disease should have a successful claim under the CLJA.
How Much Are Camp Lejeune Parkinson's Disease Cases Worth?
It is too early to know precisely how much Camp Lejeune Parkinson's disease cases under the CLJA could be worth. Many variables could significantly impact the potential value of these claims on a case-by-case basis.
That said, we can still offer a reasonably reliable estimate of the potential settlement amounts of Camp Lejeune Parkinson's disease claims by looking at how much Parkinson's disease (or similar injuries) has been worth in prior tort cases. Based on this, we believe that Camp Lejeune Parkinson's disease claims under the CLJA could have an average value between $1 million and $1.25 million.
Contact Us About a Camp Lejeune Parkinson's Disease Lawsuit
If you lived or worked at Camp Lejeune between 1953 and 1987 and were subsequently diagnosed with Parkinson's disease, contact our office today to see if you may be eligible to file a claim. Call 800-553-8082 or get a free online consultation.