Our law firm is accepting new clients in all 50 states for a Taxotere eye injury class action lawsuit.
The breast cancer chemotherapy drug Taxotere is the subject of a new wave of product liability lawsuits by women alleging that the drug caused permanent vision damage. The lawsuits claim that the manufacturer of Taxotere, Sanofi, knew about the risk of permanent watery eyes from canalicular stenosis and deliberately failed to warn doctors or patients.
There are already 30,000 Taxotere lawsuits in a class action MDL alleging that the drug caused users to suffer permanent hair loss and that Sanofi failed to warn that this was a potential side effect. The new Taxotere watery eyes lawsuit is different from the Taxotere hair loss lawsuit and will be consolidated into a separate MDL (MDL 3023).
September 18, 2023 Update: There are now a total of 240 pending cases in the Taxotere vision damage class action MDL. That is an increase of 17 cases compared to last month and is consistent with the average new case volume we have seen in this MDL recently.

August 17, 2023 Update: The total number of pending cases in the Taxotere eye damage class action lawsuit is now up to 223. At this time last year there were just 25 total cases, so this MDL has seen significant grown in its first year of existence.

January 17, 2023 Update: There are now 170 plaintiffs in the Taxotere MDL class action who have filed an eye injury lawsuit.

December 17, 2022 Update: This litigation is proceeding.  I'm surprised this class action lawsuit is not growing faster (and surprised we are not getting more new clients, honestly).

August 1, 2022 Update: Sanofi filed a motion to dismiss all 25 claims in the Taxotere eye injury class action lawsuit pending in federal court in Louisiana. The primary basis for dismissal is an old saw used by defendants in drug injury warnings lawsuits: preemption.

Sanofi argues that the plaintiffs' allegation that it did not provide a proper warning that Taxotere could cause permanent excessive tearing because of tear duct blockage is barred because it was not capable of changing the warning. This argument is likely to fail in no small measure because an eye injury warning was added in 2002. Plaintiffs allege that warning is inadequate to properly convey the risk.

June 3, 2022 Update: The Taxotere eye side effects class action lawsuit continues to move forward. All cases filed in federal court alleging a tear duct injury are consolidated in Louisiana under Judge Judge Jane Triche Milazzo in the Eastern District of Louisiana.

March 21, 2022 Update: A new study provides greater evidence that Taxotere can cause optic neuropathy and epiphora, giving new steam to the Taxotere vision problems class action lawsuit. Researchers found Taxotere may cause a seven-fold increase in watery eyes and excessive tearing.

March 11, 2022 Update: The Judicial Panel on Multidistrict Litigation created a new Taxotere MDL class action, find that centralization was appropriate, ruling that all actions will require "discovery regarding Taxotere's development, marketing, and sale; its alleged propensity to cause eye injury; defendants' knowledge of the risk of eye damage posed by the drug; and the adequacy of Taxotere's warning label as to that risk."

The class action lawsuit is for victims that allege that they developed excessive tearing (epiphora) from injury to their tear ducts after chemotherapy using Taxotere.

The Taxotere eye injury class action will be administered by Judge Jane Triche Milazzo in the Eastern District of Louisiana. Judge Milazzo is also handling the MDL judge for the Taxotere hair loss class action.

This makes sense. This new eye damage class action will involve the same defendants and many of the plaintiffs.

February 15, 2022 Update: In a huge win for Taxotere hair loss plaintiffs, the 5th U.S. Circuit Court of Appeals ordered a new trial in the first bellwether Taxotere class action lawsuits. The court's ruling was rough on Sanofi-Aventis' attorneys, finding that they "effectively smuggled inadmissible opinion testimony."

This gives new momentum to the hair loss plaintiffs but also gives some adrenaline to the Taxotere eye injury lawsuit.

January 12, 2022 Update: Plaintiffs chemo eye lawsuit attorneys have asked the Judicial Panel on Multidistrict Litigation to consolidate all Taxotere eye damage lawsuits into a new MDL. The proposed MDL Taxotere class action would be separate from the existing Taxotere MDL involving 12,000 claims that the chemo drug caused permanent hair loss. Sanofi is opposing the request for a new MDL because there are not enough Taxotere eye damage lawsuits to justify consolidation. As a fallback, however, Sanofi is asking the JPML to combine any new MDL for eye damage cases with the existing Taxotere hair loss MDL in the Eastern District of Louisiana. The JPML hearing is set for January 27th in Miami, Florida.
About Taxotere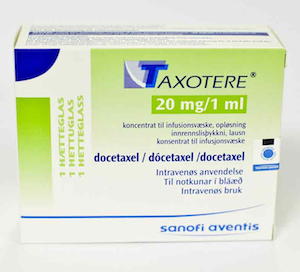 Taxotere is a chemotherapy drug that is widely used for the treatment of breast cancer. Taxotere was developed by Sanofi. Taxotere is a part of a family of cytotoxic drugs referred to as taxanes.
Taxanes are derived from yew trees, and unlike other cytotoxic drugs, taxanes inhibit the multiplication of cancer cells by over stabilizing the structure of a cancer cell, which prevents the cell from breaking down and reorganizing for cell reproduction. They are widely used as chemotherapy agents.
The FDA approved Taxotere in 1996 for limited use—namely, for the treatment of patients with locally advanced or metastatic breast cancer that had not responded well to alternative treatments. In 2004, Sanofi obtained FDA approval for the expanded use of Taxotere on all patients with "operable node-positive breast cancer." This resulted in a greater number of patients being treated with Taxotere.
No one is arguing that Taxotere is not an effective treatment for breast cancer. The problem is the side effects, which include permanent watery eyes from canalicular stenosis that causes blocked tear ducts. Doctors should be told of all of the risks of a drug so the patient can consider alternative therapies.
Taxotere and Watery Eyes from This Chemotherapy
As the universe of patients taking Taxotere expanded it became apparent that a certain percentage of patients who took the drug suffered permanent damage to their vision because of the way Taxotere impacts the lacrimal system. The lacrimal system is responsible for tear production and drainage which is vital for healthy eyes and vision.
When taken for chemotherapy, Taxotere is secreted into the tear film. This can cause fibrosis in areas of the lacrimal system, including the puncta and nasolacrimal duct. This scarring can cause permanent occlusion. The result is an inability for tears to drain naturally through the lacrimal system. Because the eyes are constantly producing tears, this results in persistent unexplained watery eyes (epiphora).
Taxotere's Labeling Does Not Adequately Warn About the Risk Watery Eyes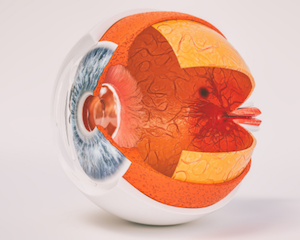 There is no real dispute that Sanfoi was fully aware of the impact that Taxotere could have on the lacrimal system resulting in potential permanent watery eyes. However, Sanofi has never provided a clear and adequate warning notifying doctors and patients about this risk. The information on the Taxotere label is wholly inadequate to put users on meaningful notice of the potential risk.
The labeling information for Taxotere contains a section entitled "Post-Marketing Experiences." This section states that "[e]xcessive tearing which may be attributable to lacrimal duct obstruction has been reported." Additionally, in the Patient Information section of the label, Sanofi includes "redness of the eye, excess tearing" among "the most common side effects of Taxotere."
Sanofi's labeling information does not identify the risk of canalicular stenosis as a cause of excessive tearing, the rapid onset at which stenosis can occur, the potentially permanent nature of the injury, and the need to refer patients to a lacrimal specialist. It also fails to explain that the condition is preventable with timely intervention during chemotherapy.
Medical Studies on Taxotere and Permanent Canalicular Stenosis
Medical literature has continued to accumulate and raise concerns that oncologists are not being properly warned of the severity of lacrimal scarring and excessive tearing caused by Taxotere that would lead to watery eyes and other complications from canalicular stenosis.
In 2003, an article published by the American Society of Ophthalmic Plastic and Reconstructive Surgery noted that Taxotere was frequently causing "advanced cases of canalicular blockage." Also in 2003, an article from the American Cancer Society commented:
Despite the previous publication of several articles by our group regarding canalicular stenosis and lacrimal obstruction resulting from docetaxel therapy, we still frequently encounter advanced cases of this condition because of delayed diagnosis. Thus it appears that oncologists need to become better educated regarding this side effect. All patients receiving weekly docetaxel should be monitored closely by an ophthalmologist so that the timely management of canalicular stenosis can be offered.
Bita Esmaeli, et al., Blockage of the Lacrimal Drainage Apparatus as a Side Effect of Docetaxel Therapy, 98 CANCER 504-7 (2003). This article is nearly 20 years old.
Taxotere Watery Eyes Lawsuit
Over the last year, a growing number of product liability lawsuits have been filed against Sanofi by women who took Taxotere for chemotherapy and suffered permanent vision damage from excessive tearing. These lawsuits allege that Sanofi failed to provide a full and adequate warning on its product labeling for Taxotere. The plaintiffs in these lawsuits allege that their eye damage could have easily been prevented if Sanofi had simply provided an adequate warning.
The rapidly growing number of Taxotere vision damage lawsuits filed recently has prompted a motion with the Judicial Panel on Multidistrict Litigation asking for all pending federal Taxotere watery eyes lawsuits to be consolidated into a new MDL.
Contact Miller & Zois About Taxotere Vision Damage Lawsuits
Our firm is currently investigating watery eyes from chemo lawsuits against Sanofi by anyone who took Taxotere and suffers from permanent watery eyes or tearing. Call a chemo eye lawsuit attorney today at 800-553-8082 or get a free consultation online.