Sunscreen Recall Lawsuit
Our lawyers are reviewing sunscreen recall lawsuits for victims who may have cancer from defective sunscreen. This page provides information for potential victims about these nascent sunscreen cancer lawsuits and what you can do to bring a claim for a settlement compensation payout for the harm that has been done.
On October 8, 2021, the MDL Panel created a sunscreen recall class action lawsuit. This means all federal benzene cancer lawsuits against Johnson & Johnson sunscreen products filed in federal court will be assigned to U.S. District Judge Anuraag Singhal in Fort Lauderdale.
In August 2022, the FDA issued newly revised summer safety tips and guidance came with a warning that consumers should not use recalled spray-on sunscreen products that contain high levels of benzene. This is a first.
The updated advice from the FDA comes over a year after major spray sunscreen brands such as Aveeno, Coppertone, Neutrogena, and others were recalled because testing found that they contained dangerously high levels of benzene.
Benzene is a known carcinogen (a chemical at issue at Camp Lejuene and other water contamination lawsuits) and the recall has prompted product liability lawsuits against sunscreen manufacturers.
This page was updated on August 20, 2022. Our sunscreen recall lawyers will continue to keep consumers advised of the progress in this litigation.
Sunscreen Cancer Lawsuits
Johnson & Johnson recently recalled a number of its leading spray-on sunscreen products (including the popular Neutrogena & Aveeno brands) after independent lab testing found that these products contained benzene. Benzene is a well-known carcinogen that can cause leukemia and other types of cancer.
Individuals who used the recalled sunscreen products regularly for a prolonged period and were subsequently diagnosed with leukemia or certain other types of cancer may be able to file a lawsuit against J&J and receive financial compensation. Our law firm is currently seeking new sunscreen cancer lawsuits from individuals who meet these criteria.
Sunscreen Benzene Recall
In May 2021, the independent pharmaceutical and product testing company Valisure issued a public announcement stating that lab tests found benzene in many popular sunscreen and sun care products. According to Valisure's report, some of the sunscreen products contained relatively small amounts of benzene but others contained "significant" and potentially harmful levels of the chemical.
The discovery of benzene in sunscreen was cause for serious concern because benzene is a notorious and well-known human carcinogen that has been proved to be very harmful to humans. Benzene is an industrial chemical that is found in crude oil and is used as a chemical solvent and in the manufacture of plastics.
Prolonged and regular exposure to benzene has been shown to cause cancer (specifically leukemia). According to the CDC, just 1-year of regular exposure to benzene is enough to cause leukemia. Benzene exposure has also been scientifically linked to other health conditions including anemia (low red blood cells) and decreased ovary size in women.
In July 2021, two months after the Valisure report was released, Johnson & Johnson announced a voluntary recall of several popular sunscreen brands. The sun care products recalled by J&J include Aveeno and Neutrogena brand aerosol spray-on sunscreens. These were some of the most widely used sun protection products on the market. The recalled J&J products include:
NEUTROGENA® Beach Defense® aerosol sunscreen,
NEUTROGENA® Cool Dry Sport aerosol sunscreen,
NEUTROGENA® Invisible Daily™ defense aerosol sunscreen,
NEUTROGENA® Ultra Sheer® aerosol sunscreen, and
AVEENO® Protect + Refresh aerosol sunscreen.
J&J's recall came after they performed their own testing and confirmed that high levels of benzene were present.
Sunscreen Recall Lawsuits
The sunscreen recall was followed by a wave of new product liability and consumer fraud lawsuits against J&J. So far most of the Aveeno and Neutrogena sunscreen lawsuits assert consumer fraud claims based on allegations that J&J failed to warn about benzene in the recalled sunscreen products. These "consumer" lawsuits do not allege any specific personal injuries such as cancer.
Other sunscreen lawsuits are being filed in which the plaintiffs are alleging that their regular and prolonged use of J&J's recalled sunscreen products caused them to develop leukemia or suffer other adverse health consequences. Sunscreen lawsuits assert tort claims against J&J for Neutrogena and Aveeno based on negligence and strict liability. There could ultimately be a number os sunscreen class action lawsuits.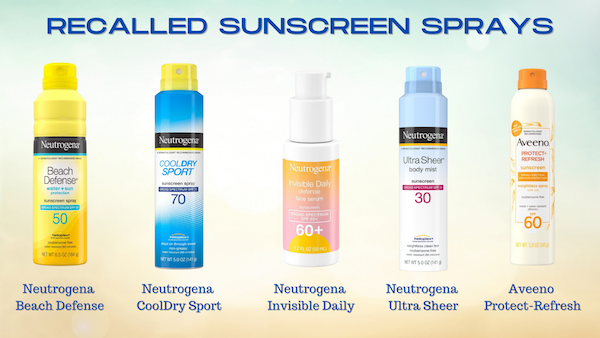 Who Qualifies for a Sunscreen Lawsuit?
Any individual who used one of the recalled sunscreen products regularly for an extended period and was subsequently diagnosed with leukemia (or another type of cancer or medical condition linked to benzene) may qualify for a sunscreen lawsuit. Regular and prolonged use of a recalled sunscreen product means that you used the sunscreen 3-5 times per week for 1 year or longer.
Benzene exposure is linked to leukemia. No one debates this in 2021. Long-term benzene exposure has also been linked to other types of cancer and other health conditions including:
Benzene has also been shown to cause harm to the ovaries in females, leading to a decrease in ovary size and function.
An example of an "ideal" sunscreen lawsuit plaintiff would be someone who was a lifeguard in Florida (or worked in the sun all day) and primarily used Neutrogena spray-on sunscreen 5 days a week for 36 months.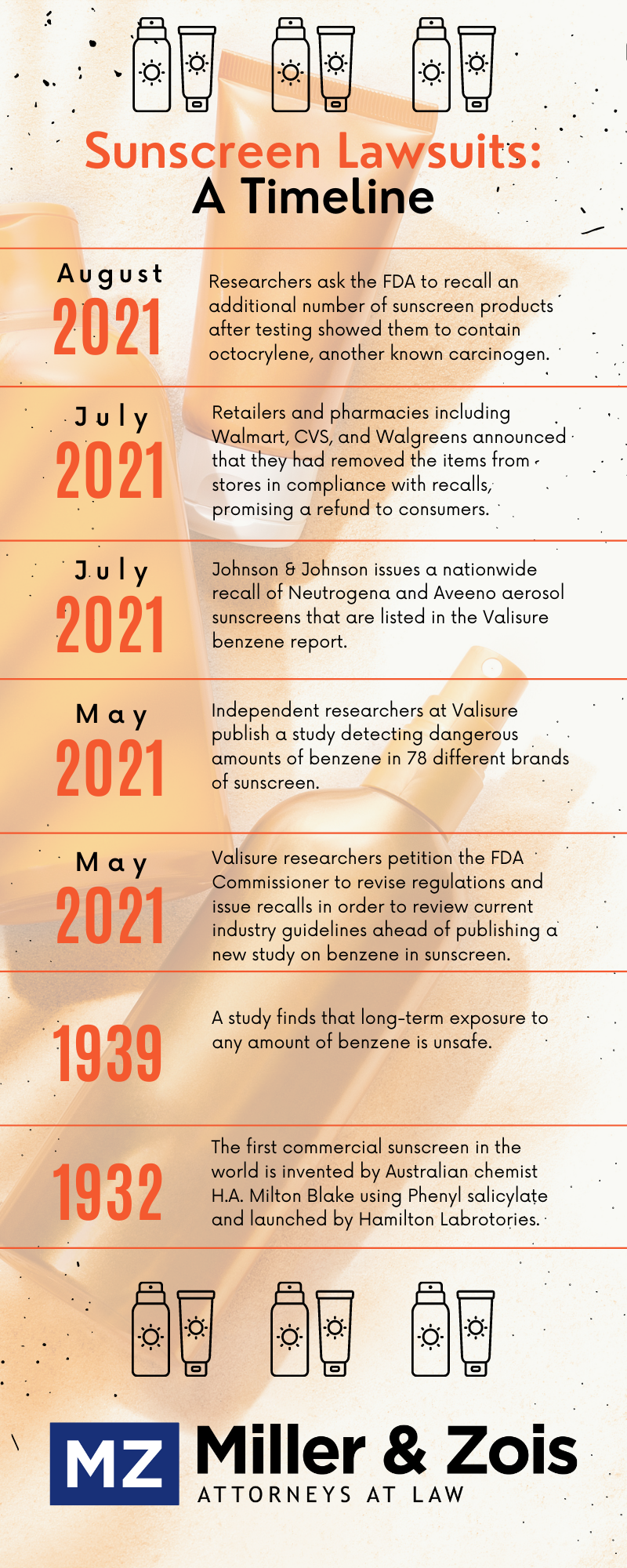 FAQs: Sunscreen Lawsuits
Below are answers to frequently asked questions about the sunscreen recall and sunscreen lawsuit.
What sunscreen products were recalled?
In July 2021, Johnson & Johnson recalled a total of 5 sunscreen products, all of which were "spray-on" aerosol sunscreens:
NEUTROGENA® Beach Defense® aerosol sunscreen,
NEUTROGENA® Cool Dry Sport aerosol sunscreen,
NEUTROGENA® Invisible Daily™ defense aerosol sunscreen,
NEUTROGENA® Ultra Sheer® aerosol sunscreen, and
AVEENO® Protect + Refresh aerosol sunscreen.
Aside from these products, other sunscreen sprays were identified in the Valisure report, including Banana Boat sunscreen. Valisure also recommends a recall for these products:
Sun Bum
Raw Elements
SunBurnt
Goodsense
Fruit of the Earth
CVS Health
TopCare Everyday
EltaMD.
Why were sunscreen sprays recalled?
J&J recalled 5 popular spray sunscreens in July 2021 after testing revealed that these products contained a toxic chemical called benzene that is known to cause leukemia and other types of cancer.
Does benzene cause cancer?
Yes. There is very strong and well-established scientific evidence that prolonged exposure to benzene (1 year or more) can cause leukemia and a host of other medical problems including other types of cancer.
It is not just sunscreen that is putting consumers at risk. For example, the FDA warned in October 2021 that Artnaturals scent-free hand sanitizer contains unacceptable levels of benzene.
What is the status of the J&J sunscreen lawsuit?
Our sunscreen lawyers acknowledge we are in the early stages of a potential Neutrogena sunscreen class action lawsuit. There is a lot our attorneys need to learn about the nuances of this recall.
But a large number of sunscreen lawsuits have already been filed. Most of these early lawsuits involve claims of consumer fraud but some involve traditional tort claims and allegations of cancer or other serious injuries. The Neutrogena sunscreen lawsuits will likely be consolidated into a "class action" MDL.
Johnson & Johnson is especially targeted for sunscreen lawsuits because they had a strong market share in these products. Banana Boat's manufacturer Sun Pharma is also likely to draw attention to a potential sunscreen class action lawsuit. It will be important to know what J&J and Sun Pharma knew of the benzene risk and when they knew it.
The one thing our sunscreen cancer lawyers are coming to understand is that victims who had high usage of defective sunscreen will make the best plaintiffs. Because these people had the most exposure to the chemicals that cause cancer.
Our Lawyers Were Initially Skeptical About Sunscreen Recall Lawsuits
Our sunscreen lawyers were initially skeptical about this litigation, even after the recall in July 2021. Our attorneys even wrote a blog post explaining why we did not believe a cancer sunscreen class action would be successful. But evidence has continued to pour in and our lawyers have changed our opinion. It is still early but we believe the evidence may be there to link leukemia, lymphoma, and myeloma to the benzene in these sunscreens in a successful lawsuit.
P&G Sunscreen Settlement
Procter & Gamble Co. settled with consumers who claimed the company failed to disclose benzene contamination in some antiperspirants. The settlement, approved by the US District Court for the Southern District of Ohio, allocates several million dollars for claimants and mandates product testing. But this is a consumer class action, not a personal injury or wrongful death lawsuit.
Affected customers who purchased the products between Nov. 4, 2015, and Dec. 31, 2021, can opt for a $3.50 cash payment per item or a product voucher. P&G has set aside up to $8 million for claimants without receipts, capped at three items each.
Those with receipts face no such limits. Approximately $3 million in settlement claims were processed, and P&G paid an additional $3.6 million to consumers via a refund program initiated post-lawsuit. The court approved $2.4 million in legal fees and costs and awarded $250 each to class representatives.
Other Sunscreen Lawsuits
The following are some MDL sunscreen class action lawsuits, all involving benzene:
MDL No. 2994: Centralized in the U.S. District Court for the Northern District of California, this MDL concerns lawsuits against Johnson & Johnson and its brands, Neutrogena and Aveeno, over benzene contamination in their sunscreens.
MDL No. 3023: Situated in the U.S. District Court for the Southern District of Florida, this MDL addresses cases against Edgewell Personal Care, the producer of Banana Boat sunscreen, regarding benzene contamination.
MDL No. 3027: Located in the U.S. District Court for the District of New Jersey, this MDL involves lawsuits against CVS Health, responsible for Equate sunscreen, pertaining to benzene contamination in their products.