Our lawyers handle pressure cooker lawsuits in all 50 states.  This page discusses instant pot lawsuits and discusses the potential settlement payouts victims may receive.
February 2023 Pressure Cooker Litigation Update
A group of pressure cooker lawsuits in Florida against Sunbeam has been consolidated in Florida state court in the Circuit Court in Palm Beach County.
January 2023 Pressure Cooker Litigation Update
A new lawsuit was filed on January 3, 2023, against Instant Brands involving its Duo Nova 80 pressure cooker.  In Summers v. Instant Brands, an Indiana plaintiff alleges serious burn injuries as the result of the Instant Pot Duo Nova's lid being able to be rotated and opened while the pressure cooker was still under pressure. The result was the cooker's scalding hot contents were ejected – with the force you would expect from a pressure cooker – on the plaintiff.
November 2022 Pressure Cooker Litigation Update
A new lawsuit has been filed by a plaintiff who sustained injuries from an allegedly faulty Elite Bistro Pressure Cooker.
The plaintiff, a California man, was burned in November 2020 due to a pressure cooker explosion. His pressure cooker lawsuit says that while still under pressure, the cooker exploded, causing scalding contents to spill and burn him.
October 2022 Pressure Cooker Litigation Update
A federal judge in the Southern District of Florida partly granted and partly denied a motion to dismiss filed the defense in a product liability lawsuit regarding Sunbeam brand pressure cookers. 4 of the plaintiffs in the lawsuit allege that they suffered serious physical injuries when their Sunbeam pressure cookers exploded. They claim the explosion was due to a design defect and have brought tort claims against Sunbeam's parent company, Newell Brands, Inc. A group of additional plaintiffs also brought consumer claims on behalf of a nationwide class of individuals who bought Sunbeam products in several states. The judge dismissed most of the consumer class action claims but did allow the consumer claims based on breach of an express warranty to proceed.
Pressure Cooker Injury Lawsuit
Many brands of electric pressure cookers (also known as "insta pots") have dangerous design defects that sometimes cause the device to malfunction and eject boiling liquid causing severe burns and disfigurement.
The national product liability lawyers at our firm are currently seeking new cases from individuals who have been seriously burned or injured by a defective pressure cooker device. Users who were burned or injured by an instant pressure cooker may be entitled to financial compensation. Call a pressure cooker lawyer today to see if you can file a defective pressure cooker lawsuit for the injuries you have suffered.
About Pressure Cookers
Electric pressure cookers (often called "insta pots") have become an immensely popular kitchen device in recent years. Pressure cookers employ hot steam that is pressurized inside a sealed canister or pot to cook a variety of foods. The use of pressurized hot steam enables faster cooking time while keeping the food hydrated and tender.
Electric pressure cookers generate the hot steam through the direct application of intense heat to the liquid contents of the cooking pot (e.g., broth or water). The pot of a pressure cooker has an airtight seal so that it can serve as a pressure chamber when the heat is applied. The steam increases both the internal air pressure inside the pot and the air temperature very rapidly. This allows cooking temperatures inside the pot to rise above the normal boiling point very quickly.
Defective Design & Safety Features in Pressure Cookers
Many brands of pressure cookers have design flaws in their safety features. The liquid contents of a typical pressure cooker can reach around 250 degrees or higher, making them very capable of causing severe burns. This is why pressure cookers have numerous safety components.
The primary function of the safety features on pressure cookers is to prevent the lid from opening when the liquid contents of the pot are pressurized. Unfortunately, flaws in these features can have drastic results. Defective product designs related to these safety mechanisms have led many pressure cooker lids to malfunction and eject their boiling hot contents over anyone nearby.
Various safety features or components are defective in pressure cookers, including:
Safety Locks on Lid: the safety lid locks on pressure cookers are supposed to prevent liquid in the pot from becoming pressurized unless and until the lid is properly secured and locked in place. Many brands have had major design problems with this safety feature.
Pressure Valves: pressure values are used to safely depressurize the pot, but these valves can often fail to create a dangerous situation.
Faulty Gaskets: gaskets enable the lid of the pressure cooker to form an airtight seal while the lid is closed. Defective gaskets may contribute to the lid blasting open.
Injuries Caused by Defective Pressure Cookers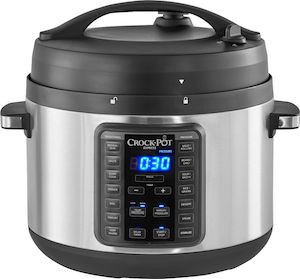 When pressure cookers malfunction as a result of defective safety features, they can cause devastating physical injuries with lifelong consequences. Pressure cookers heat their liquid contents well above boiling temperature. When safety features fail these pressurized boiling liquids are ejected at high velocity over anyone and anything within a 5-10 foot radius of the pot.
The most frequent type of injury caused by defective pressure cookers is burns. Pressure cookers bring their liquid contents to temperatures well above boiling. When this boiling liquid is ejected onto the skin it can cause 3rd and 2nd-degree burns.
Severe burns are by far the most common injury alleged in defective pressure cooker product liability lawsuits. Burn injuries in defective pressure cooker cases are often especially devastating because the burns typically occur on the face and result in permanent disfigurement. The average compensation for burn injuries in a personal injury settlement is very high and facial burns with disfigurement can add additional value.
Boiling liquids ejected from a defective pressure cooker can also cause severe burns and damage to the eyes. Severe burns to the eyes from boiling liquids can cause permanent loss of vision or even blindness.
Which Pressure Cooker Brands Have Defective Safety Features?
A variety of different brands of pressure cookers have malfunctioned and resulted in product liability lawsuits. The 3 most popular pressure cooker brands that have been named in product liability lawsuits are:
Filing a Defective Pressure Cooker Lawsuit
Pressure cooker manufacturers have a legal duty to ensure that their products meet certain minimum safety standards. At a minimum, this means that manufacturers must ensure that their pressure cookers will not explode and cause severe burns to users. Manufacturers who breach this legal obligation by selling pressure cookers with dangerous design flaws can be liable for injuries caused by their product.
If you suffered serious injuries as a direct result of a malfunctioning pressure cooker, call a pressure cooker lawyer and see if you can file a product liability lawsuit seeking significant financial compensation.
Recent Example Pressure Cooker Lawsuit
In February 2023, in Randall v. SharkNinja, a plaintiff filed a pressure cooker lawsuit against a group of interrelated defendants who design, manufacture, market, import, distribute, and sell pressure cookers. The pressure cookers are advertised as "easy" and "convenient," with the ability to cook food 70% faster than traditional cooking methods. The defendants also promote their pressure cookers as having 14 safety features that keep the user safe while cooking.
The plaintiff purchased one of the defendants' pressure cookers – Ninja Foodi Tendercrisp Pressure Cooker, Series OP300(OP301) under the assumption that it was properly designed and manufactured, free from defects of any kind, and that it was safe for its intended, foreseeable use of cooking. But, as you see in many pressure cooker lawsuits, the lid unexpectedly exploded during ordinary use  manner. The contents of the pressure cooker were forcefully ejected out of the pot and onto the plaintiff, causing severe, disfiguring burns.
The plaintiff's suit that the pressure cooker was defectively and negligently designed and manufactured by the defendants because it failed to properly function as to prevent the lid from being removed with normal force while the unit remained pressurized, despite the appearance that all the pressure had been released, during the ordinary, foreseeable, and proper use of cooking food with the product. The plaintiff claims the reason this happened is that the pressure cookers possess defects that make them unreasonably dangerous for their intended use by the consumers because the lid can be rotated and opened while the unit remains pressurized.
The plaintiff's pressure cooker lawsuit contends that SharkNinja's representation about the safety of the pressure cookers is not just misleading but is also flatly wrong, putting innocent consumers like the plaintiff directly in harm's way. According to the plaintiff, there were economic, safer alternative designs available that could have prevented the pressure cooker's lid from being rotated and opened while pressurized.  This is the crux of the concern with this pressure cooker.  But profits were put ahead of safety.  This is a leitmotif in virtually every pressure cooker lawsuit.
The plaintiff further alleges that the defendants intentionally concealed the defects, failed to warn consumers of such defects, made negligent misrepresentations, failed to remove a product with such defects from the stream of commerce, and designed such products. As a result, the plaintiff used an unreasonably dangerous pressure cooker that caused significant and painful bodily injuries.
Finally, the plaintiff seeks compensatory damages resulting from the use of the defendants' pressure cooker, which has caused the plaintiff to suffer from serious bodily injuries, medical expenses, physical pain, mental anguish, diminished enjoyment of life, and other damages.
Settlement Value of Defective Pressure Cooker Lawsuits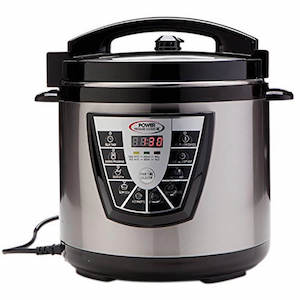 The potential settlement value of defective pressure cooker lawsuits depends primarily on the nature and severity of the physical injuries sustained by the plaintiff. The most common type of injury caused by pressure cooker explosions are thermal burns. The settlement value of burn injuries is dependent on the severity of the burn and the location of the burn.
A typical 1st-degree burn injury in an auto accident case has an average settlement amount range between $25,000 to $75,000. These are not big claims.
More serious injuries warrant more significant settlement payouts.  The average compensation payout for 3rd-degree burn injuries in auto tort cases is between $100,000 to $1,000,000. These averages are going to be slightly higher in product liability cases because the compensation value in auto cases is often limited by the amount of available insurance coverage.
The average settlement compensation payout for a defective pressure cooker lawsuit is probably around $125,000 to $200,000 for 2nd-degree burns and $600,000 to $2,000,000 for third-degree burns. Cases involving facial burning with permanent disfigurement will be at the higher end of the settlement value scale.
Contact Our Defective Pressure Cooker Lawyers
If you think you have a valid claim for injuries caused by a defective TriStar pressure cooker, contact our product liability lawyers today for a free consultation.