Our Exactech hip replacement lawyers are handling Exactech lawsuits in all 50 states. If you have a defective hip and need corrective revision surgery, call our lawyers today.
Exactech Class Action Lawsuit Update – January 2023
Federal Court Exactech Class Action Lawsuit
A group of plaintiffs with pending Exactech recall lawsuits filed the motion and identified a total of 27 pending Exactech implant cases in federal courts across 11 districts. Plaintiffs' lawyers seek the Eastern District of New York as a possible venue which would be a good location for these lawsuits. Exactech pushed for the Northern District of Florida (where its headquarters is located). Plaintiffs won. The Exactech class action will be in New York.
First Exactech Lawsuit to Go to Trial Will Be in State Court
The first trial in an Exactech implant recall place has been set for November 2023 in the Circuit Court for Alachua County, Florida in the case of Freeze v. Exactech. A review of the docket in the Freeze case reveals that the plaintiffs have had to fight and claw with defense lawyers for Exactech over discovery. The plaintiffs have served four separate document requests and a motion to compel Exactech to respond. The Court granted that motion and Exactech responded by filing an emergency motion for a protective order.
Our lawyer will report more on Freeze as pretrial discovery heats up and this case moves toward trial.
Exactech Connexion GXL Recall for Hip Replacements
Medical device company Exactech has issued a recall of the Connexion GXL plastic liner used in many of the company's hip replacement implant systems. The Connexion GXL hip replacement liner is being recalled because a defect in the plastic insert was causing high early failure rates for the Exactech hip replacements. Patients who have an Exactech artificial hip implant with the Connexion GXL liner and suffered an early failure may be eligible to file a product liability lawsuit and get compensation for their pain and medical expenses.
Exactech Connexion GXL
Exactech is a global medical device manufacturer with its headquarters in Gainesville, Florida. The company was originally formed in the 1980s by a group of orthopedic surgeons and it specializes in surgical implants for joint replacements. Exactech manufacturers an extensive line of artificial hip implant systems including the Novation Crown Cup.
Exactech's Novation Crown Cup is a hemispherical titanium "cup" designed to function as a hip socket. The Connexion GXL liner is an insert made from polyethylene plastic that is designed to go inside the cup and absorb friction. The Exactech Novation Crown Cup and the Connexion GXL liner were first released on the U.S. market in 2007. The Novation and Connexion GXL liners are used in total hip replacement surgery (total hip arthroplasty) for the treatment of arthritis, and osteoarthritis and occasionally for the treatment of femoral fractures.
Exactech obtained fast-track FDA approval for the Novation and Connexion under the 510(k) market clearance process which does not involve a full review and evaluation of the product design. Soon after the Connexion GXL liners and Novation were released, Exactech began receiving reports that the polyethylene liners seemed to be wearing out very rapidly leading to high early failure rates for the Novation hip implants. Several case studies highlighting the high rate of premature failures with the Connexion liners were eventually published in prominent medical journals.
In June 2021, Exactech initiated a Class II recall for the Connexion GXL acetabular polyethylene liner components. Exactech's stated reason for the recall was "premature prosthesis wear." At the time of the recall in 2021, all Exactech knew was that its hip replacement implants with the Connexion liners were displaying unexpectedly high rates of early failure. The reason for this high early failure rate was listed as "unknown."
Following the June 2021 recall, Exactech began investigating potential causes of the high premature failure rates associated with the Connexion GXL. This investigation eventually discovered that the source of the problem was a defect in the vacuum seal packaging that the Connexion GXL liners are shipped in. A missing layer in the vacuum packaging wrap was allowing too much oxygen to pass through causing the polyethylene material in the Connexion liners to oxidize. This oxidation process gradually caused the Connexion inserts to degrade before being implanted resulting in premature wear and high early failure.
The discovery of the defective vacuum seal packaging also prompted Exactech to initiate a recall of all its knee replacement and ankle replacement implant systems because the same problem was causing polyethylene inserts in these implants to wear prematurely.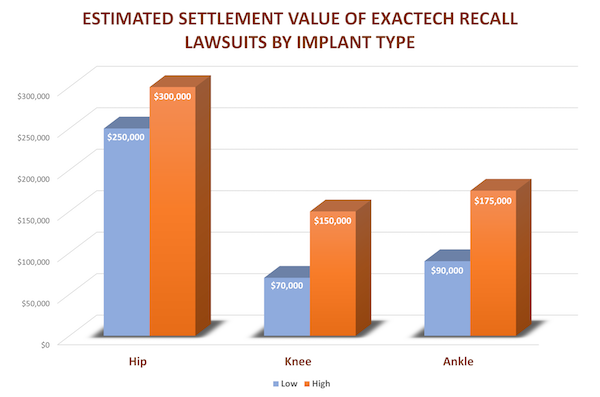 Exactech Connexion Recall Lawsuits
Medical device manufacturers like Exactech have a legal duty to ensure that their products are safe and free of any design defects or manufacturing defects that could cause harm to product users. The 2021 recall of the Connexion liners in Exactech hip replacement implants is essentially an express admission by Exactech that these implants were defective. Exactech can therefore be held liable for injuries and damages resulting from the defect.
Any patient who had an Exactech hip replacement implant with a Connexion GXL liner surgically implanted can pursue a product liability lawsuit against Exactech if the hip replacement implant failed prematurely. Patients who experience early failure of the Connexion liner and hip implant suffer significant pain and have to undergo corrective surgery. Plaintiffs who bring a successful Exactech hip replacement lawsuit will be entitled to damages for (a) pain & suffering; (b) medical expenses related to the revision surgery or other medical treatment; and (c) any lost wages or income caused by the early hip implant failure.
Many product liability lawsuits have already been filed against Exactech by individuals who suffered a premature failure of their hip replacement implant. Many more Exactech Connexion recall lawsuits are expected to be filed as more patients suffer early failures due to defective inserts.
Potential Settlement Amounts for Connexion Recall Lawsuits
There have not yet been any reported settlements or verdicts for Connexion recall lawsuits involving early hip replacement failure. We can make a reasonable estimate of the potential settlement value of these cases, however, by looking at the settlement payouts in prior mass torts involving different hip replacement implants. We can also look at general tort cases involving hip injuries.
Based on these points of comparison, we estimate that the settlement payout in Connexion hip replacement recall lawsuits will be around $250,000 to $300,000. There are many variables that could impact the value of specific cases including the age and work status of the plaintiff and how long the hip implant lasted before early failure.
File Your Exactech Connexion Hip Replacement Lawsuit
If your Exactech hip replacement implant failed and you had to undergo corrective surgery, contact us today to see if you can file an Exactech recall lawsuit.