The Juul lawsuits just settled for $1.2 billion in December 2022.  What is this litigation about?
Lawsuits Against Juul and other E-Cigarette Manufacturers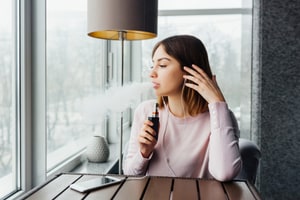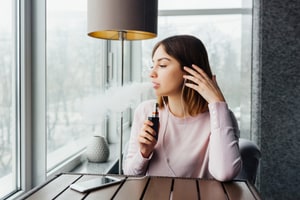 Juul lawsuits are exploding and our lawyers are evaluating potential cases. Why are some lawyers saying Juul vaping claims may be the next big mass tort?
Juul and other types of e-cigarette and/or vaping device products have exploded in popularity over the last decade. Released in 2015, Juul dominates the $3 billion e-cigarette market. The secret to Juul's success? The company's e-cigarettes' patented nicotine formulation is more addictive than anything else on the market, including the most potent cigarettes.
Many of these new consumers are kids, many of which do not know what they are getting into with Juul. A recent study of 15 to 24-year-olds found only 25% of the participants who knew about JUUL e-cigarettes knew that JUUL e-cigarettes contained nicotine. A different study found that children who use e-cigarettes are four times more likely to become smokers than children who do not use e-cigarettes.
E-cigarette devices like Juul deliver nicotine to users through the inhalation of water-based vapors instead of smoke. Initially, these products were presented as a safer, non-toxic alternative to traditional cigarette smoking. However, a wave of recent studies has shown that Juul and other nicotine vaping devices might be just as harmful as regular cigarettes.
New product liability lawsuits were filed against Juul and other manufacturers. In July 2022, it looks like this lawsuit and a ban by the FDA might push this company into bankruptcy. Still, our lawyers expect more new Juul vaping lawsuits to be filed. There will be a lot of money even in bankruptcy to pay judgments (at least we think). Our law firm is currently looking for new potential cases against Juul and other vaping device manufacturers.
JUUL Lawsuit Updates
November 29, 2023
Smaller cases continue to settle.  The Warren Consolidated Schools Board of Education unanimously passed a motion (7-0) to accept a settlement offer from Altria Group, the manufacturer of JUUL e-cigarettes. The district is set to receive $101,494 as part of this settlement.
Plans are in place to allocate these funds towards anti-vaping initiatives within the district, including programs, training, workshops, and seminars aimed at addressing and curbing vaping among students.
June 17, 2023
The legal woes for Juul and Altria are intensifying with more school districts across various states, including California and Florida, filing lawsuits.
These lawsuits stem from claims that these companies have engaged in practices that negatively impact students, with schools bearing the brunt of these effects.
May 30, 2023
Minnesota reached a settlement with Juul and Altria, amounting to $60.5 million. This settlement was the result of allegations against the companies for their deceitful marketing practices. The substantial settlement amount reflects the severity of the claims and the impact these practices had on consumers, particularly young people, in Minnesota.
May 1, 2023
The Hendry County School District is set to receive $289,201 from its participation in a class action lawsuit against Juul.
This lawsuit, filed in September 2022, resulted in a total settlement of over $600 million, which is to be distributed among hundreds of school districts across the nation. Each district must formally approve their share of the settlement before receiving the funds. The Hendry County School Board unanimously voted (5-0) to accept their portion of the settlement.
April 19, 2023
Juul agreed to settle a lawsuit with over 1,600 school districts across the United States, amounting to $1.2 billion. This settlement marked a significant moment in the ongoing legal battles against Juul, as it represented a collective effort by educational institutions to seek compensation for the damages and challenges they faced, presumably as a result of Juul's products and marketing strategies. This large-scale agreement underscored the extent of the legal and public relations challenges confronting Juul and similar companies.
April 10, 2023
West Virginia has reached a $7.9 million settlement with Juul. This Juul settlement comes in the wake of Juul resolving over 5,000 cases involving approximately 10,000 plaintiffs in the US, although the settlement amount was not disclosed. Additionally, Juul had previously agreed to pay $438.5 million to 34 states and territories after an investigation into its marketing and sales practices, similar to the allegations in West Virginia.
December 12, 2022
E-cigarette maker Juul Labs announced yesterday that it had finalized the terms of a global settlement deal that will resolve 10,000 pending cases in a class action MDL in California. The amount of the settlement was not disclosed.
In September, Juul paid $435 million to settle claims brought by 34 States alleging the company targeted underage buyers.
September 6, 2022
Juul Labs will pay a whopping $438.5 million to resolve marketing and sales practices claims brought by 33 states.
July 6, 2022
The Food and Drug Administration issued an administrative stay yesterday that effectively orders Juul to pull its electronic cigarettes from the market.
June 29, 2022
Judge William H. Orrick, the judge for In Re Juul Labs, Inc., Marketing Sales Practices and Products Liability Litigation, 19-MD-02913, U.S. District Court, Northern District of California, certified four classes – yes, FOUR classes of plaintiffs. So we will have a Juul class action for:
nationwide
nationwide youth under 18
California, and
California youth under 18.
It is not inconceivable that if the FDA bans Juul that this lawsuit will bankrupt JUUL.
June 24, 2022
The US Circuit Court of Appeals in Washington put the breaks on a ban on JUUL, ruling that Juul's lawyers deserve the time to appeal before the FDA ban of Juul takes affect.
About JUUL
Juul has exploded into the dominant product in the booming e-cigarette market. JUUL accounts for approximately 50% of all e-cigarette sales in the United States. JUUL products are available via 8,800 retail locations in 150 countries. Originally a division within PAX Labs, JUUL Labs was spun out as an independent company in 2017.
The Juul e-cigarette has a compact design that resembles a traditional cigarette and cartridges (called JuulPods) that come in a variety of flavors. When the user inhales the Juul, the suction activates a heating element that vaporizes the flavored liquid in the JuulPod. The user inhales the resulting vapor which is composed of primarily nicotine, glycerin, benzoic acid, and propylene glycol.
When Juul was first released it was marketed as a safer, non-harmful alternative to smoking tobacco. Juul offered smokers a way to get their nicotine fix from a device that mirrored the feel of a cigarette without smoke. This image was aggressively promoted by Juul Labs through a sophisticated marketing campaign. The result was a widespread perception that Juul was perfectly safe compared to regular smoking. This "healthy alternative" image helped fuel Juul's incredibly rapid growth over the last 4 years.
Recent studies have now found that "Juuling" actually exposes people to most of the same health hazards as traditional smoking. Some studies have suggested that Juul and e-cigarettes cause unique health hazards that might make them more harmful than smoking.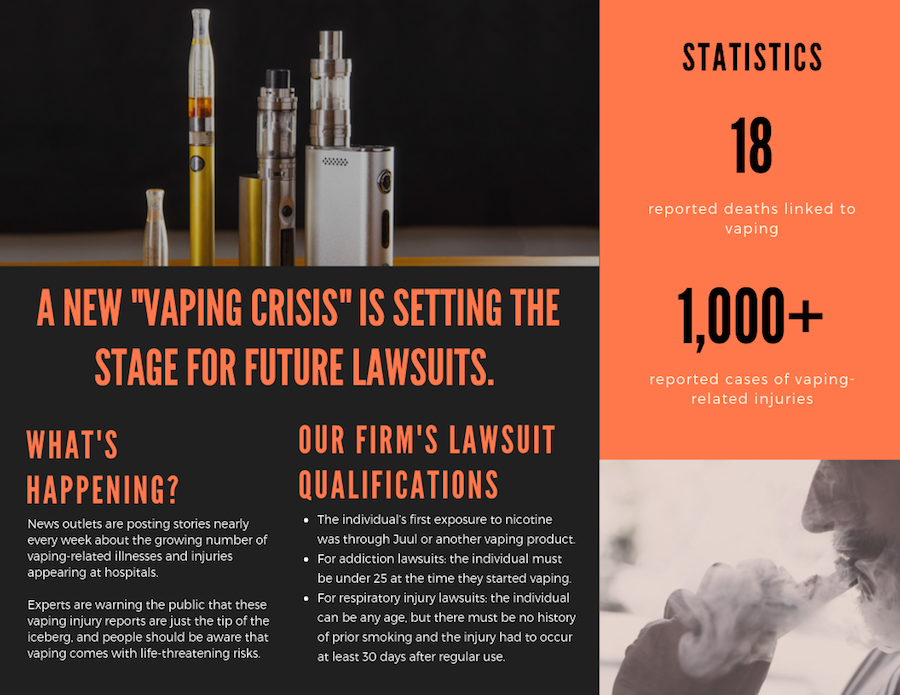 Does Juuling or Vaping Cause Cancer?
Although recent research has speculated that Juuling or vaping may cause cancer just like smoking, there is currently no definitive evidence to show that vaping directly causes cancer. This does NOT mean that vaping is safe and does not cause cancer. Right now we just don't know for sure whether long-term vaping will cause cancer the same way as smoking. This is mainly because vaping is new and it often takes decades before a link to cancer can be established.
What we do know right now is that vaping has been linked to an increased risk of developing lung cancer and bladder cancer. This conclusion is based primarily on the results of 2 animal testing studies. In both studies, animals exposed to e-cigarette vapors demonstrated gene-level changes that are known to increase the risk of lung and bladder cancer in humans.
Are E-Cigarettes Like Juul Harmful?
The public perception of Juul and other e-cigarettes as a less harmful alternative to traditional smoking is rapidly eroding in the face of mounting scientific evidence. Initially, it was assumed that inhaling the vapors from Juul would not damage your lungs the same way as inhaling tobacco smoke.
Several medical studies have recently found evidence suggesting that the chemical additives and artificial flavorings in the vapor produced by Juul may be more damaging to the lungs than regular smoke. Right now the evidence on these particular questions is still not definitive. Juul and other vaping devices have not been around long enough for anyone to be certain what the vapor chemicals will do to a user's lungs. It is very possible, however, that 5 years from now we will know for certain that inhaling JUUL vapor causes damage or cancer in the lungs just like conventional smoking.
There are some things about Juul that we do know for certain right now. For instance, we know that Juul contains a very high dose of nicotine in comparison to other e-cigarette devices. The average e-cigarette doles out 6-30 milligrams of nicotine in every millimeter of liquid. By comparison, the same amount of JuulPod liquid has 59 milligrams of nicotine (nearly twice as much).
The level of nicotine in a single Juulpod cartridge is roughly equivalent to the nicotine in one pack of conventional cigarettes. But Juul delivers much more nicotine to users. With a regular cigarette, roughly 25% of the nicotine gets trapped by the filter. Juul is unfiltered so users end up getting much more nicotine than they would from a conventional smoke. Testing in both the United Kingdom and the United States has determined that Juul delivers about 35% more nicotine "per puff" compared to combustible tobacco.
The potent level of nicotine that Juul delivers is not harmless at all. Aside from the fact that it's highly addictive, nicotine is also very unhealthy. Nicotine by itself is a known human carcinogen. Nicotine is also a chemical that has some level of toxicity inside the body. It has been shown to cause problems with the reproductive, immune, and cardiovascular systems in the body. Over time, nicotine can cause harm to the heart, kidneys, and lungs. People who use nicotine daily for more than 5 years are at an increased risk of stroke and cardiovascular disease.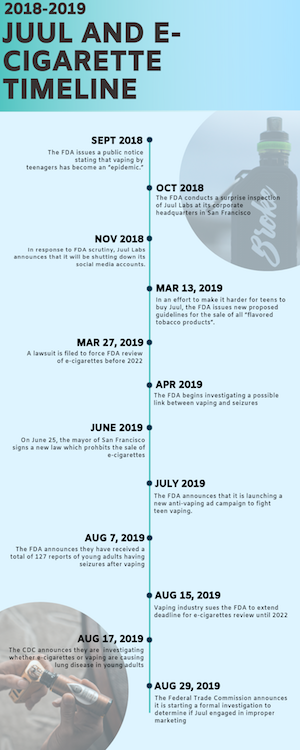 Does Juul Cause Popcorn Lung?
Popcorn lung is a term used to identify the lung condition bronchiolitis obliterans. Bronchiolitis obliterans (fixed obstructive lung disease) is a rare lung disease that can be very dangerous. It occurs when small air pathways in the lungs called bronchioles become inflamed and cut off normal breathing. It is called "popcorn lung" because bronchiolitis obliterans has been linked to a butter-flavored chemical called diacetyl that is used as popcorn flavoring.
Diacetyl is also used in certain vaping flavors including certain Juul flavors. So far there have not been any documented cases of popcorn lung linked to inhalation of diacetyl in Juul or other vaping devices.
Juul Lawsuits
Lawsuits have already been filed against Juul across the country. None of these lawsuits claim that Juul caused cancer or some other serious health condition. Rather, these cases accuse Juul of engaging in improper marketing practices and causing millions of teens to become addicted to nicotine.
The first of these "wrongful addiction" lawsuits against Juul was filed by the State of North Carolina in May 2019. The North Carolina suit accused Juul of deceptively concealing the potency of its product and deliberately targeting underage consumers with its marketing. Lake County, Illinois filed a very similar lawsuit against Juul a few months later. More state and local governments will probably bring similar actions against Juul over the next year.
Juul is not just getting sued by state and local governments. The company is also facing class-action lawsuits filed by individual plaintiff groups across the country including suits in Florida, California, and Illinois.
Juul Safety Concerns Timeline
Over the last 12 months, Juul and other e-cigarettes have been hit with an avalanche of consumer health and safety concerns. Now Juul is facing official investigation by both the Food and Drug Administration (FDA) and the Centers for Disease Control (CDC). Below is a detailed timeline of the public assault on Juul since last fall.
September 2018: FDA Warns about Teen Vaping
The first shot in the public safety battle against e-cigarettes can be traced back to September 2018. In reaction to growing concerns about the popularity of Juul among teens, the FDA issues a public notice stating that vaping by teenagers has become an "epidemic." In the notice, the FDA warned e-cigarette manufacturers that they needed to take steps to avoid marketing their products to teens. Makers of the top-five e-cigarette brands were given 60 days to submit plans on how to curb teen use of their products.
October 2018: FDA Inspection of Juul Labs
Immediately after the public safety warning about teen vaping, the FDA conducted a surprise inspection of Juul Labs at its corporate headquarters in San Francisco. FDA inspectors obtained thousands of pages of documents relating to Juul's marketing and sales efforts.
November 2018: Juul Terminates Social Media Marketing
In response to FDA scrutiny about marketing to teens, Juul Labs announces that it will be shutting down its social media accounts. The company terminates its Facebook and Instagram accounts and restricts its Twitter account to "non-promotional communications."
March 2019: FDA Proposes to Ban Sales at Convenience Stores
To make it harder for teens to buy Juul, the FDA issues new proposed guidelines for the sale of all "flavored tobacco products" including e-cigarettes. The new guidelines impose severe restrictions that effectively ban the sale of fruity-flavored products like Juul at gas stations, pharmacies, or convenience stores.
March 2019: Lawsuit Filed to Force FDA Review of E-Cigarettes
The FDA confirmed its authority to regulate e-cigarettes back in 2016. This meant that to stay on the market e-cigarettes would have to be reviewed and approved by the FDA. Initially, Juul and other manufacturers were supposed to submit their products for FDA review by August 2018. However, former FDA Commissioner Scott Gottlieb agreed to extend this deadline until 2022. In March 2019 anti-smoking public interest groups sued the FDA in Federal Court to contest this deadline extension.
April 2019: FDA Investigates Link Between Vaping and Seizures
In April 2019 the FDA issued a public statement announcing that the agency was investigating a possible link between e-cigarettes and seizures. The investigation was prompted by reports that a number of teens and young adults experienced seizures after vaping with an e-cigarette device.
June 2019: E-Cigarettes Banned in San Francisco
On June 25, 2019, the mayor of San Francisco (Juul's home city) signs a new law that completely prohibits the sale of e-cigarettes in the city. San Francisco becomes the first jurisdiction in the U.S. to enact such a sweeping ban on e-cigarette sales.
July 2019: Federal Judge Imposes May 2020 Deadline for FDA Review
Public interest groups get a victory in their suit against the FDA over its extension of the review deadline for e-cigarettes. Judge Grimm of the U.S District Court for Maryland rules that Juul and e-cigarette makers must submit a premarket application for FDA approval by May 2020.
July 2019: Anti-Vaping Ad Campaign
On July 23, 2019, the FDA announces that it is launching a new anti-vaping ad campaign to fight teen vaping and spread awareness about the health risks of e-cigarettes. Facebook also announces new policies aimed at restricting content related to e-cigarettes.
August 2019: FDA Receives More Reports on E-Cigarettes and Seizures
On August 7, 2019, the FDA releases additional details about its ongoing investigation into reports of a possible link between vaping and teen seizures. The statement admits that the agency has received a total of 127 reports of teens or young adults who had a seizure (or other neurologic episode) immediately after vaping.
August 2019: Vaping Industry Sues to Extend FDA Review Deadline
In response to the Court decision accelerating the deadline for FDA review of e-cigarettes, a group representing Juul and other e-cigarette makers (the Vapor Technology Association) files its own lawsuit against the FDA. This lawsuit seeks to delay the deadline for the FDA review of e-cigarettes.
August 2019: CDC Launches Investigation Into Vaping-Lung Disease
The CDC announces that it is partnering with state and federal health agencies to investigate whether e-cigarettes or vaping are causing lung disease in young adults. The investigation was prompted by reports of 153 individuals (mostly young adults) that have experienced serious lung or respiratory issues believed to be related to e-cigarette use.
August 2019: FTC Investigation of Juul Marketing Practices
On August 29, 2019, the Federal Trade Commission announced that it was starting a formal investigation to determine whether Juul engaged in improper marketing of its product to minors.
Is Your Law Firm Handling New Juul Lawsuits?
Our firm is no longer taking new Juul claims.