Medtronic Insulin Pump Lawsuit
Our lawyers are helping victims bring a Medtronic insulin pump lawsuit for injuries suffered from these pumps that treat diabetes. Our attorneys are handling these Medtronic lawsuits in all 50 states. If you have a claim, call us today at 800-553-8082 or reach out to us online. There is no fee unless our lawyers get compensation for you.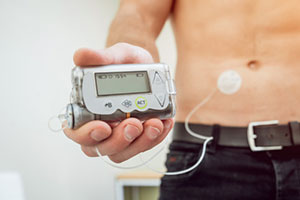 In February 2020, Medtronic announced that over 300,000 of the company's MiniMed Insulin Pump devices have a defect that could cause serious injury or even death to users. Specifically, the Medtronic insulin pumps have a defective retainer ring that can cause the vital insulin cartridge to become disconnected from the pump's reservoir.
This disconnection of the cartridge can have disastrous results. Because the disconnection can cause the MiniMed pump to give the user way too little insulin or way too much insulin. This can quickly trigger hypoglycemia or hyperglycemia causing very serious injuries or in some cases death.
What Are Insulin Pumps?
Insulin is an important hormone that converts sugar from carbohydrates into energy. People who suffer from type 1 diabetes are not able to produce enough insulin on their own and often require insulin therapy to control their blood sugar levels. Insulin therapy can come in the form of either insulin injections or an insulin pump.
Insulin pumps are small, computerized devices that mimic the way the human pancreas works by delivering small doses of short-acting insulin continuously. The pumps are about the size of a smartphone and are designed to be worn on the outside of your body. The pump contains an insulin cartridge connected to a reservoir system which is attached to a long tube connected to a thin cannula. The cannula at the end of the tube is placed into the layer of fat around the user's stomach area.
A small computer chip inside the pump is specifically programmed to release exact amounts of short-acting insulin throughout the day and after meals as required by the individual user. Some pumps connect to continuous blood sugar monitoring devices which monitor the users' blood sugar levels all day.
Medtronic MiniMed Insulin Pump a Blessing for Many
Medtronic is the largest medical device company in the world. Its Minimed Insulin Pump was the most popular and widely used of all traditional insulin pump devices on the market for diabetics. When it was first released, the MiniMed Insulin Pump was the first device that could track and monitor user blood sugar levels and deliver insulin on an as-needed basis for diabetes. This state-of-the-art capability led Medtronic to describe the MiniMed as an "artificial pancreas."
When Our Lawyers Focused on the Medtronic MiniMed Insulin Pump Lawsuits
Our Medtronic MiniMed lawyers began following these potential lawsuits three years ago in 2019. The first sign of trouble with the MiniMed Insulin Pumps came in November 2019 when Medtronic sent out alert letters to all registered MiniMed users. The letter warned of a potential problem with the pump.
Then in February 2020, Medtronic issued a class I safety recall covering over 300,000 MiniMed Insulin Pump devices. At this point, you knew there would be a Medtronic MiniMed lawsuit. You have a grave risk of injuries, 300,000 pumps, and a pretty obvious product defect.
So what was the problem? The MiniMed recall was due to a defective retainer ring that can allow the insulin cartridge to become loose or disconnected inside the pump. Once the insulin cartridge becomes disconnected it can be very dangerous for the device user because the pump can give them an acute overdose or underdose of insulin. This can cause the user to suffer acute hyperglycemia or hypoglycemia resulting in serious damage to the body and vital organs and, in some cases, death.
By the time of the MiniMed recall, Medtronic had already received over 26,000 complaints about the defective pumps and there have been 2,175 reported injuries and one death caused by the defect.
Medtronic MiniMed Class Action Lawsuit
There is not a Medtronic MiniMed class action lawsuit in the MDL as of April 2022. Instead, MiniMed lawyers have brought individual lawsuits throughout the country.
There could be a class action lawsuit in the future. A class action has pros and cons for victims. It may be that keeping these MiniMed lawsuits as individual claims might ultimately increase the average settlement amounts of these claims and get cases moving towards trial and settlement faster than if a class action lawsuit had been certified.
Medtronic MiniMed Lawyer
Our firm handles defective medical device cases all over the country. Our lawyers are expecting thousands of MiniMed Insulin Pump lawsuits to be filed against Medtronic in the coming years. If you used the Medtronic MiniMed Insulin Pump and were injured when the pump malfunctioned, you may be entitled to legal compensation for your injuries.
Our firm is currently accepting new Medtronic MiniMed Insulin Pump lawsuits. If you have been harmed by this defective medical device, call a Medtronic MiniMed lawyer today for a free case evaluation at 800-553-8082.