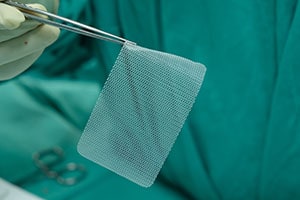 Our hernia mesh lawyers handle lawsuits for victims who have injuries such as intestinal fistulas and bowel perforations for defective hernia mesh. Our attorneys' goal is to win settlement compensation for victims who have suffered injuries from these products.
A hernia mesh is is widely used in hernia repair surgeries. It is a mesh or net that is surgically implanted inside the body to act as a scaffold support for muscle and tissue to grow around. The mesh product must be constructed with special biologically inert materials that can safely exist inside the human body.
Unfortunately, hundreds of thousands of hernia mesh products implanted in patients over the last 10-15 years were defective and are causing serious injuries and even death. Defective hernia mesh causes havoc inside your body. They can puncture, migrate and roll-up. The result of defective mesh is adhesions, infections, fistulas, obstructions, and other complications.
Many of the leading hernia mesh products have already been recalled by the FDA for safety reasons. People injured by these defective surgical mesh devices are now filing lawsuits against the manufacturers.
This page will explain exactly what hernia mesh devices are and how and why they are used in hernia repair surgeries. We will also look at the design and manufacturing flaws that made caused so many of these products to fail and led to FDA safety recalls, warnings, and now lawsuits. Finally, our lawyers explain who might be entitled to file a hernia mesh lawsuit and how much that claim might be worth.
Hernia Mesh Updates Before January 2022
Below are before April 2022. You can get 2022 hernia mesh updates for post-March 2022 on our main page.
March 16, 2022 Update: There are now 16,437 plaintiffs in the Bard hernia mesh class action lawsuit in Ohio. Those victims eagerly await the next Bard hernia mesh lawsuit that will go to trial next week. Plaintiff's hernia mesh lawyers hope to prove gross negligence to receive punitive damages under Florida law.
How long will this hernia mesh trial take? That remains to be seen. Plaintiffs have named 20 witnesses. The defense attorneys have named seven people that may testify. You would not expect all these witnesses to testify. But how many witnesses the lawyers call will depend on how the trial goes.
February 23, 2022 Update: A Covidien hernia mesh class action lawsuit is likely on the horizon. Covidien has renewed its effort to have the growing number of lawsuits involving its hernia mesh implants (Parietex and Symbotex) consolidated into a new MDL. In June 2020, the JPML rejected Covidien's petition for consolidation when there were only 12 pending Covidien hernia mesh lawsuits. Last week, Covidien re-filed that petition and identified 73 active cases alleging defects in the company's hernia mesh implants. A class action is likely the best and quickest path for Covidien to offer reasonable settlement amounts in these cases.
February 17, 2022 Update: Our lawyers expect another hernia mesh MDL. A growing number of surgical mesh lawsuits have been filed recently alleging a design defect in the Atrium Prolite and Proloop mesh implants. In December, a group of plaintiffs filed a petition asking the JPML to consolidate the cases into a new MDL in California. Atrium, unlike Covidien just a week later, filed a response in opposition to the request for an MDL class action. This week, the JPML scheduled a hearing to determine whether we will have a new hernia mesh class action lawsuit.
February 1, 2022 Update: Yet another new study is published that supports plaintiffs' hernia mesh lawyers' arguments about the defects in defendants' hernia mesh products.
January 15, 2022 Update: Unfortunately, the Milanesi trial set to begin on Monday has been postponed. It has been rescheduled for March 22, 2022.
January 3, 2022 Update: The next bellwether trial in the C.R. Bard Hernia Mesh MDL is scheduled for January 10, 2022, in the case of Antonio Milanesi v. C.R. Bard. The case will be tried before the MDL class action judge who is administering the case, Judge Edmund A. Sargus in the Southern District Court of Ohio. At the risk of hyperbole, this trial will be the most important thing that has happened in the hernia mesh lawsuits.
The plaintiff, Mr. Milanesi has suffered a great deal. His lawsuit alleges that his injuries and suffering could have been avoided if he had not used Bard's defective Ventralex device.
Ten years after the Ventralex mesh device was implanted, Mr. Milanesi required surgery to address what doctors thought was a recurrent hernia. During the procedure, the surgeons found that Mr. Milanesi had bowel erosion with a fistula and adhesions. This required the surgeon to perform a bowel resection, removing parts of his colon. The doctor, a Pensacola, Florida surgeon who will testify by videotaped deposition at trial, found a loop of small bowel was densely adherent to the overlying mesh and an erosion of the bowel was evident in an abscess cavity involving a portion of the mesh. This exposed the polypropylene that caused an area of adherence.
The surgery did not solve Mr. Milanesi's problems. He was taken back to the hospital and diagnosed with a small high-grade postoperative bowel obstruction. This obstruction necessitated emergency surgery.
Milanesi is a stronger case that the Johns case that Bard won this fall. Unlike that first bellwether trial (a defense pick), this hernia mesh lawsuit was selected by the plaintiffs' attorneys as one they wanted to push towards trial.
Over the summer, the defendants sought to avoid this trial altogether by filing a motion for summary judgment in the case. The MDL judge denied that motion clearing the way for the case to be decided by a jury as scheduled.
The outcome of this test trial is expected to be much more favorable for the plaintiffs than the first bellwether trial which ended in a defense verdict. A sizeable verdict for the plaintiff, in this case, could help facilitate a global settlement of the 8,000 remaining hernia mesh lawsuits. A loss? A defeat would not be a helpful step towards forcing Bard to pain reasonable settlement amounts in the outstanding hernia mesh lawsuits pending in the MDL class action.
December 14, 2021 Update: Atrium Medical Corp. is already defending thousands of lawsuits involving its C-Qur line of hernia mesh products. Now Atrium may be forced to defend its ProLite and ProLoop products. These are polypropylene surgical mesh implants used in hernia surgery. A growing number of lawsuits allege that these mesh implants are defective. The material in the mesh is not biologically inert and degrades inside the body causing infections, pain, and other complications.
In December 2021, lawyers for ProLite hernia mesh plaintiffs filed a motion asking the MDL Panel to consolidate all pending cases involving the Atrium ProLite and ProLoop products into a new MDL. (This class action was denied in 2022.)
[October 18, 2021 Update: Last month, the first bellwether trial in the hernia mesh litigation Bard concluded with a disappointing loss for the plaintiff, Steven Johns.
The jury found in favor of the defendants on all the product liability claims and awarded no damages to Mr. Johns.
This result was unexpected. Our hernia mesh lawyers were expecting an award with punitive damages. But, with the benefit of hindsight, maybe this is not a huge surprise. Bard scored a similar opening round win 10 years ago with a defense verdict in the first Kugel Mesh bellwether trial. But that victory was quickly followed by a $1,500,000 verdict for the plaintiff in the second bellwether trial, which immediately prompted Bard to cancel any further trials and offer reasonable settlement amounts in the remaining cases.
Our lawyers are still hopeful for a similar pattern to unfold in these hernia mesh lawsuits. We may still see a healthy verdict for the plaintiff in a second bellwether trial. This will likely lead to the negotiation of a global settlement of the remaining cases.
The last point is that COVID trials are not easy for victims. Johns was a plexiglass trial with masks and the lack of human connection that comes with it. This does take energy and passion away from the plaintiffs' lawyers and the victim.]
[September 8, 2021 Update: Plaintiff has rested their case in the Bard hernia trial. Bard moved for judgment. This means Bard argued that even if everything the plaintiffs said at trial was true, Bard should still win the case even before it gets to a jury. Plaintiffs' lawyers instinctively fear this motion. But the judge denied that motion. Punitive damages are also still in play.
[August 24, 2021 Update: The first hernia mesh trial in years started a few weeks ago and is still ongoing. A Utah man sued Bard after complications with this Ventralight ST hernia mesh patch. This trial is much about what Bard knew about this mesh device and what it did to warn doctors and patients. This week will be pivotal testimony from the plaintiff and his treating doctor. Here is more of the latest update on the MDL trial.]
[August 2, 2021 Update: Today is a big day that surgical mesh lawyers and victims have been eagerly awaiting. Becton, Dickinson/C.R. Bard will face trial in Ohio over a lawsuit claiming its hernia repair surgical mesh was defective, requiring the plaintiff to get two more surgeries after the initial procedure. The plaintiff claims he is still in severe pain as the result of the defective mesh. The trial will likely go at least five weeks before the case goes to the jury.
This is the first trial for over 13,000 plaintiffs and offers the first test case on the path of determining how much these claims are worth. This trial could help settle settlement compensation payouts for not only the 13,000 Bard surgical mesh lawsuits pending in the MDL but for other similarly situated mesh claims involving other mesh manufacturers (J&J/Ethicon Physiomesh and Atrium Medical C-Qur Mesh/Patch.]
Hernias and Hernia Surgery
A hernia is a relatively common medical condition in which an organ inside the body punches or protrudes thru the muscle wall that normally holds it in place. Hernias almost always occur in the abdominal area. There are many different types of hernias, but the most common hernia types are inguinal, femoral, umbilical, and hiatal hernias. Of these, the inguinal hernia is the most common and it occurs when the intestine pokes through the muscle wall in the groin area.
Once a hernia occurs it will not simply go away on its own. Surgery is the only effective way to repair a hernia. Hernia repair surgery involves putting the protruding organ back in its correct place and then repairing the muscle wall that it poked through. This surgical procedure can be done with an open incision or through the use of laparoscopic instruments.
Hernia repair surgery is one of the most common surgical procedures with over 800,000 performed in the U.S. each year. The majority of hernia repair surgeries involve the use of some type of surgical mesh/hernia mesh or patch implanted in the body.
Hernia Mesh and Patch Devices
Hernia mesh products are like small meshed nets or knitted sheets that function as an artificial support structure for the surgically repaired muscle wall. As part of the surgical repair of the muscle tissue where the hernia occurred the hernia mesh or patch is implanted in or around the repaired muscle wall.
The hernia mesh or patch serves to reinforce and strengthen the repaired muscle tissue, much like structural supports in a building. As the repaired muscle tissue heals and regenerates it will grow into and around the hernia mesh. The mesh or patch helps make the repaired muscle site stronger to help prevent a reoccurrence. There are 2 different types of surgical hernia mesh or patch devices: permanent and absorbable.
Absorbable hernia mesh products are designed to be absorbed by the body so that the mesh gradually disappears after being implanted. These types of absorbable mesh or patch devices function much like dissolvable stitches.
The mesh supports the muscle tissue while it regrows after surgery and then disappears on its own. Absorbable hernia mesh devices are generally made out of animal tissue which can be broken down inside the body. Absorbable hernia mesh and patch products are generally much safer than permanent mesh devices.
Permanent hernia mesh devices are not dissolvable. They are designed to stay inside the body forever and provide continuous support to the repaired muscle wall. The permanent hernia mesh and patch devices have been plagued by various safety problems. Some permanent hernia mesh devices have been recalled for safety reasons and thousands of lawsuits are being filed across the country by people who have been injured by defective hernia mesh devices. Below is a summary of the various defective hernia mesh and patch devices that are now involved in product liability lawsuits.
Ethicon – Physiomesh
Physiomesh was one of the earliest hernia mesh products to become the subject of safety concerns and lawsuits. The Physiomesh Flexible Composite Mesh was manufactured and sold by the surgical device company Ethicon, a subsidiary of Johnson & Johnson. Ethicon's Physiomesh product was first approved for sale by the FDA in 2010. In 2016 Ethicon issued a voluntary recall of the Physiomesh product after a flood of evidence indicating that the mesh was defective and causing major problems in some patients.
The problem with Physiomesh is the synthetic material that it was made with. The material used to make the mesh was supposed to be inert. This means that it would not cause a reaction inside the body. Unfortunately, the Physiomesh material proved to be far from inert in many cases. In a certain percentage of cases, the patient's immune system attacked the Physiomesh as a foreign object causing inflammation at the surgical site. This resulted in major complications including improper healing, the formation of scar tissue, fluid pockets (seromas), and infections.
The recall of Physiomesh was promptly followed by the filing of hundreds of new lawsuits against Ethicon / Johnson & Johnson by hernia surgery patients who were harmed by the defective mesh product. The Physiomesh lawsuits pending in federal courts were consolidated into an MDL and the initial round of bellwether trials are set to begin at the end of 2019.
As of October 15, 2021, there are 3,603 Physiomesh hernia mesh lawsuits pending.
Atrium – C-Qur Mesh / Patch
C-Qur is the brand name of a line of surgical hernia mesh and patch products manufactured by Atrium Medical Corp. The C-Qur patch and mesh devices were permanent implants that were widely used in various types of hernia repair surgeries from 2006 to 2015. The C-Qur products were made from polypropylene with a unique outer coating called the O3FA coating which was made from fish oil derivatives.
Atrium's C-Qur line of mesh products encountered safety issues from the very beginning. All the issues with the C-Qur products related to the O3FA outer coating. For starters, the O3FA coating tended to degrade and melt off when stored in higher temperatures for any period of time.
This was the result of flaws in the manufacturing and packaging of the products which eventually prompted the FDA to an injunction to block Atrium from making any more C-Qur devices. Even if the O3FA coating on the C-Qur product did not degrade before use it still caused similar immune system responses and severe allergic reactions in a certain segment of patients.
The defective fish oil coating on the C-Qur mesh products caused significant injuries to individuals who underwent hernia mesh repair surgery. Soon after the FDA injunction Atrium found itself defending an oncoming wave of C-Qur hernia mesh lawsuits. The C-Qur mesh lawsuits in Federal Court are now consolidated into an MDL in the U.S. District Court for New Hampshire.
LifeCell Strattice Matrix
The Strattice Reconstructive Tissue Matrix (also known as the LifeCell Strattice) is the brand name for yet another type of surgical mesh frequently used in hernia procedures. The Strattice is manufactured by LifeCell Corp., a subsidiary of Allergan, Inc. The Strattice Matrix was first released around 2010 and has been widely used since then. LifeCell's Strattice device is primarily used in parastomal and inguinal hernia repair procedures as well as abdominal wall surgery.

The Strattice is made from a unique material derived from pig skin that is supposed to be "acellular" and compatible with human tissue. Unfortunately, however, the Strattice suffered from many of the same problems as other types of hernia mesh devices. Once inside the body, the unique material of the Strattice had a tendency to break down and tear or come apart. The problems with the Strattice were significant enough to warrant an FDA recall in 2011 which blocked the Strattice from use in stoma reinforcement procedures.
Other big players in hernia mesh include
Medtronic
Hiatal
B. Braun Melsungen
Zimmer
Baxter (Veritas Collagen Matrix)
Biomed
Parastomal
Covidien United Surgical
Dolphin Sutures
LifeCell (Alloderm)
How Much Are Hernia Mesh Lawsuits Worth?
There are still thousands of potential hernia mesh plaintiffs with valid claims that have not yet filed lawsuits. Any individual who had a defective hernia mesh product implanted during surgery is entitled to sue for any injuries or harm caused by that device. We don't know exactly how much hernia mesh claims will likely be worth.
But we know how much the Bard cases settled to resolve the mesh lawsuit against it: $184 million. The average hernia mesh lawsuit settlement in that litigation was $92,000. The loss in the Johns case in September 2021 was a blow. But our hernia mesh attorneys are hopeful the payouts will be higher with Ethicon and the others but that remains to be seen.
Hernia Mesh Settlements and Verdicts
Another way to estimate the likely value of hernia mesh cases by looking at settlements and verdicts in other cases involving similar claims and injuries.
Below are summaries of recent verdicts or reported settlements older hernia mesh lawsuits that involved similar type of product liability claims or physical injuries similar to those being claimed by hernia mesh plaintiffs.
Zejneli v Sekons (New York 2017) $3 million: plaintiff undergoes surgery to repair bilateral inguinal hernia but defendant surgeon botches the procedure by failing to properly attach the surgical mesh device to the muscle wall. As a result of the negligent implantation of the mesh plaintiff's hernia reoccurs and he allegedly suffers permanent nerve damage from compression of the nerves when the mesh devices move after surgery. A jury in Manhattan awards $3,037,000 in total damages.
Watt v Tshibaka, (Maryland 2014) $2.2 million: plaintiff, a morbidly obese female in her mid-40s, is suffering from a hiatal hernia. Prior hernia surgery without mesh had been attempted unsuccessfully. Defendant surgeon performs surgery to repair a hernia and uses a permanent hernia mesh device despite knowing that mesh tended to erode into the esophagus when used in obese patients. Following surgery, the plaintiff experiences continuing pain and complications and eventually undergoes additional surgery at which time it is confirmed that the mesh device from the prior procedure was extruding into her esophagus. She sues the surgeon for negligently using the permanent hernia mesh device (instead of safety absorbable mesh) despite the risk of complications. The jury in Baltimore County awards $2.2 million.
Thorpe v C.R. Bard Inc. (Rhode Island 2010) $1.5 million: plaintiff undergoes hernia surgery and a hernia mesh device is used to strengthen the repaired muscle wall. After the surgery, a plastic ring on the mesh implant breaks off causing bowel perforations, an abscess, and intestinal fistula. He has to undergo multiple surgeries to repair his bowel. He sues the manufacturer of the defective mesh device and the jury awards $1.5 million.
O'Connell v Pomeranz (New York 2009) $500,000: plaintiff in his late-50s has "mesh and plug" hernia repair surgery performed by a general surgeon. The surgeon allegedly fails to properly anchor the surgical hernia mesh product to the muscle tissue. Plaintiff undergoes corrective surgery to fix the problem but the surgeon again fails to properly anchor the mesh. As a result of this mistake, the plaintiff suffers major disruption of blood supply to his testicle resulting in testicular atrophy. He sues based on surgical error and a jury in Long Island awards $500,000. The value of this case would probably have been higher if the plaintiff was younger and the injury to his testicle damaged his reproductive ability.
Miller & Zois is Currently Accepting New Hernia Mesh Cases
Even though hundreds of hernia mesh lawsuits have already been filed, it is not too late hire a hernia mesh lawyer to file your lawsuit for injuries related to defective hernia mesh products.
If you had experienced complications following hernia repair surgery, they may be related to a defective hernia mesh device. The product liability attorneys at Miller & Zois can help determine if you have a potential claim. Call us today at 800-553-8082 or contact us online.