EzriCare artificial tears drops have recently been linked to a series of serious bacterial infections that have caused vision damage and even death. The national product liability lawyers at Miller & Zois are accepting artificial tears infection lawsuits from individuals who suffered severe injuries from an infection caused by the EzriCare brand artificial tear drops recall.
Individuals who suffered vision loss or other serious health consequences from a bacterial infection related to artificial tear drops could be entitled to significant financial compensation.
---
Artificial Tears Lawsuit Updates
September 13, 2023: Federal regulators issued warning letters to CVS Health Corp., Walgreens Boots Alliance, and six other companies, claiming that their over-the-counter eye drops are unlawfully marketed and pose a health risk. The FDA labeled these eye drops as unapproved new drugs in violation of federal law. Some of these drops were produced by companies with known quality concerns, especially regarding product sterility. While CVS and Walgreens have halted the sale of the mentioned eye drops, offering refunds to purchasers, other companies were also warned about their products. This scrutiny intensified after a fatal bacterial outbreak earlier this year was tied to eye drop products. The FDA's intensified oversight comes in the wake of contamination incidents and manufacturing issues within the industry, prompting actions against several manufacturers and distributors. Those who received warning letters are required to address the FDA's concerns within 15 days, or they may face legal consequences.
June 5, 2023: Since the start of this year, a total of 14 product liability injury lawsuits involving the contaminated EzriCare artificial tears eyedrops have been filed in federal courts. The cases have been filed in a total of 7 different federal districts, with the District of New Jersey having the most cases at 6. A review of the allegations in some of these cases reveals that the injuries alleged by the plaintiffs tend to be very serious. For example, the plaintiff in the most recent case (Gregory v. EzriCare, LLC, et al. 2:23-cv-69) developed a serious infection in her eye that progressed into sepsis. She spent weeks in the hospital ICU and had to have several surgical procedures to remove tissue. Her experience is typical of other plaintiffs.
May 23, 2023: The CDC provided an update on the outbreak of infections linked to Artificial Tears. It has identified at least 81 infections in 18 states connected to the recalled eye drops. Tragically, four deaths have been associated with severe infections caused by the product. Other severe effects include hospitalizations, vision loss, and at least four incidents necessitating surgical eye removal.
May 4, 2023: A new EzriCare lawsuit was filed yesterday in federal court in California. The plaintiff's lawsuit says that he frequently purchased and used EzriCare Artificial Tears from a Walgreens store in Santa Ana, California. In March 2023, the plaintiff began experiencing discomfort in their eye as a result of using the EzriCare Artificial Tears product. This discomfort advanced to irritation, swelling, extreme pain and discomfort in the eyes and skull, sensitivity to light, sensitivity to touch, and blurred vision.  The lawsuit names EzriCare, LLC and Delsam Pharma LLC as defendants.
May 2, 2023: Eye drops are now in focus. The FDA has issued a public safety notification warning about potential health risks associated with using certain brands of eye drops containing amniotic biomaterials that have not been approved for use in the US. The drops contain human cells and tissue derived from the amniotic sac, umbilical cord, or cord blood, and have not undergone the premarket review and approval process required by the FDA. Several manufacturers market the products to treat certain eye conditions using regenerative stem cell therapy, but their safety and effectiveness have not been approved.
The FDA has urged consumers to confirm with their doctor if an investigational new drug application (IND) is in effect before using the potentially unsafe eye drop product containing amniotic fluid.
This new awareness of the risk of what people thought were harmless eye drops was exposed by reports of severe infections from eye drops sold by EzriCare and Delsam, which contained Pseudomonas aeruginous bacteria, an awful bacteria that causes all sorts of mischief in a person's eye and beyond.
April 8, 2023: Safety inspectors for the FDA recently released a report detailing what they found at the manufacturing plant where the contaminated artificial tears eyes drops were made. The report identified numerous sterilization failures and other problems that could have led to the dangerous bacterial infection that caused injuries and deaths around the U.S. Specifically, the inspection report noted that the "filtration process" used to sterilization at the plant was not effective and that the aseptic cleaning room in the plant did not have adequate airflow to prevent bacterial growth.
March 25, 2023: NPR has a good article on the EzriCare recall.
March 8, 2023: Pharmedica USA and Apotex Corp. have initiated voluntary recalls for eye drops after contaminated products were tied to clusters of infections in various states last month. This will likely lead to more eye drop infection lawsuits as more artificial tears drops are recalled and the awareness of the connection between the infection and the injuries increases.
Pharmedica recalled two lots of its Purely Soothing brand drops due to issues with a sterility that "could result in the risk of eye infections that may lead to blindness." The product treated eye irritation and was distributed via online retailers and trade shows. Apotex recalled six lots of its brimonidine tartrate ophthalmic solution used to treat patients with open-angle glaucoma or ocular hypertension, citing cracks in bottle caps that could affect sterility.
Although Apotex only discovered four bottles with cracked caps, the company's vice president of global corporate affairs, business transformation, and strategic planning stated that the root cause was vendor-related, and there were no reports of adverse health outcomes tied to the product.
The recent outbreak of infections has been linked to eye drops under the EzriCare and Delsam Pharma brands and was voluntarily recalled by the manufacturer last month. The cases have been predominantly found in California, Connecticut, Florida, Utah, and eight other states.
February 9, 2023:  The first consumer class action lawsuit regarding the contaminated EzriCare Artificial Tears eye drops gets filed in federal court, with personal injury lawsuits expected to follow.
February 2, 2023: At the request of the FDA, manufacturer Global Pharma initiated a nationwide recall of all EzriCare Artificial Tears eye drops. The recall notice cautioned that using the EzriCare eye drops could lead to infections and "blindness." For many, however, the recall came several weeks too late as there was already overwhelming evidence that the eye drops manufactured by Global Pharma were the source of the bacteria contamination that resulted in 55 reported cases of severe infection over just a few months.
February 1, 2023: EzriCare issues a new public statement saying that it contacted the CDC and FDA about the issue and "took action to stop any further distribution or sale of EzriCare Artificial Tears."
January 24, 2023: EzriCare publicly acknowledges the potential contamination for the first time, issuing a statement on its website claiming that it had not received any formal notice from the CDC or any other regulatory authority and that it has not been asked to issue a recall.
January 20, 2023: The CDC announces for the first time that EzriCare Artificial Tears lubricating eye drops appear to be the source of the contamination that had caused over 50 serious bacterial infections in 12 different states.
---
EzriCare Artificial Tear Drops
EzriCare is a company based in Lakewood, New Jersey, that makes a small line of personal care products. EzriCare's Artificial Tears Lubricant Eye Drops is an over-the-counter eye drop product sold at Walmart, Amazon, and other major retailers nationwide.
The EzriCare Artificial Tears come in a small 15 ml bottle. The drop solution uses an active ingredient called carboxymethylcellulose sodium which is found in many other eye drops. Carboxymethylcellulose sodium mimics the effect of actual tears and helps moisten and soothe dry eyes. EzriCare artificial tears and other similar products have been around for years.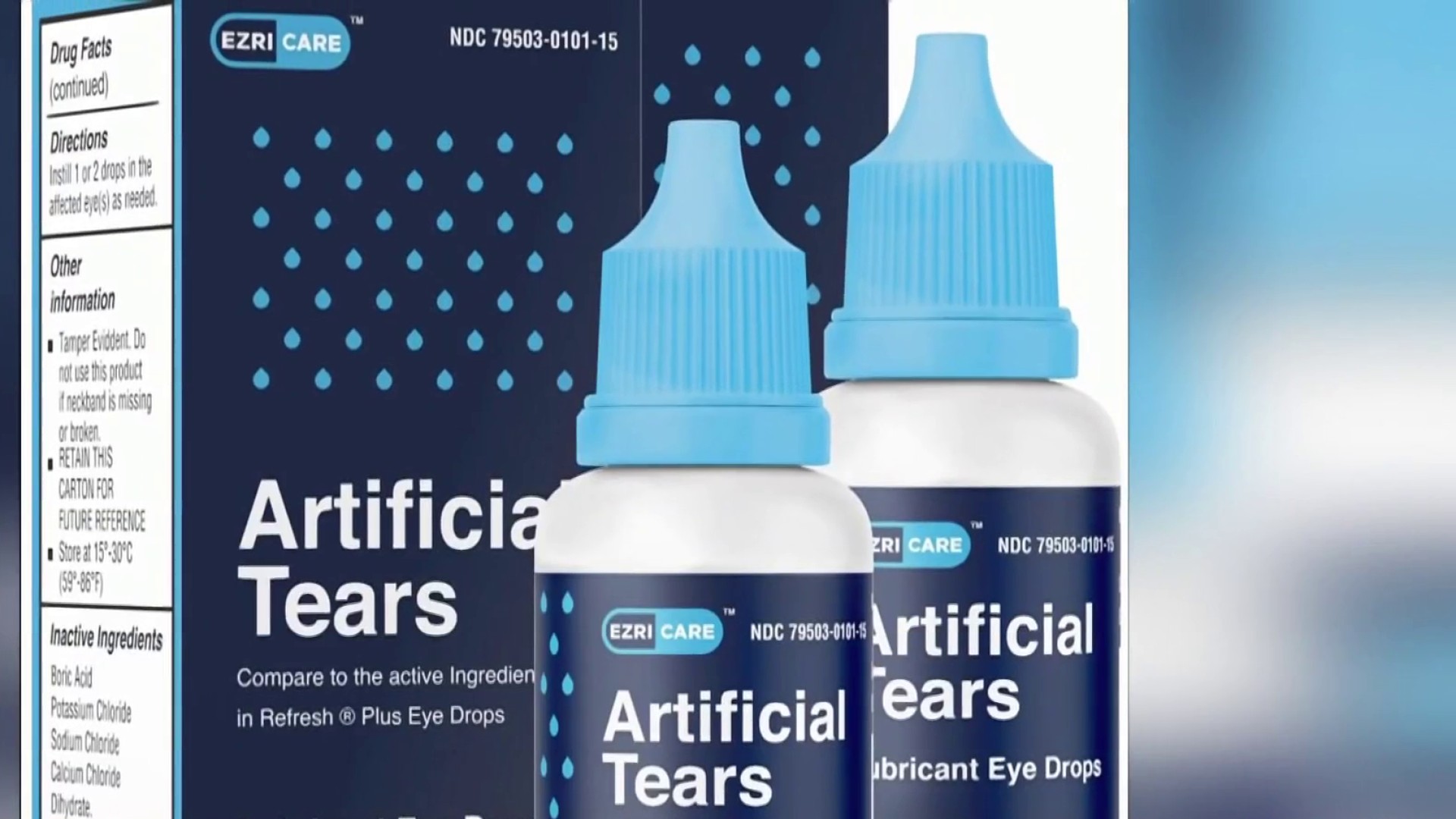 Although the Artificial Tears Drops are sold under the EzriCare brand, they are not manufactured by EzriCare. The Artificial Tears drops were formulated and designed by Aru Pharma Inc., and the product is manufactured in India by Global Pharma Healthcare PVT LTD.
EzriCare Artificial Tear Drops Linked to Serious Bacterial Infections
In January 2023, the Centers for Disease Control (CDC) began investigating a sudden series of over 50 bacterial infections in 12 different states that appeared to be related to the use of over-the-counter eye drop products. The reports from the CDC included infections of the cornea, intraocular fluids, respiratory tract, and urinary tract infections.
Through its investigation process, the CDC determined that the source of these infections appeared to be the EzriCare Artificial Tears product. The CDC performed chemical analysis testing on previously opened bottles of EzriCare drops and quickly identified that they contained a bacteria called Pseudomonas aeruginosa.
Pseudomonas aeruginosa is commonly found in damp environments such as soil and water. Pseudomonas aeruginosa bacteria frequently cause infections in humans, most commonly in the lungs, blood, or other areas inside the body. What makes Pseudomonas aeruginosa particularly dangerous is that the bacteria constantly evolve to develop antibiotic resistance.
Pseudomonas aeruginosa is one of the most multidrug-resistant types of bacteria. Testing has shown that these bacteria resist a host of routine antibiotics. In 2017, Pseudomonas aeruginosa caused 2,7000 deaths among hospital patients in the U.S.
The current outbreak of the Pseudomonas aeruginosa bacteria resulting from the use of the EzriCare and/or Delsam Pharma Artificial Tears began in May 2022 and has been linked to 12 states, so far: California, New York, Florida, Texas,  Colorado, Connecticut,New Jersey, New Mexico, Nevada, Utah, Washington, and Wisconsin. The CDC has isolated the specific strain of Pseudomonas aeruginosa and identified it as Verona Integron-mediated Metallo-β-lactamase (VIM) and Guiana-Extended Spectrum-β-Lactamase (GES)-producing carbapenem-resistant Pseudomonas aeruginosa ("VIM-GES-CRPA"). This is a particular strand or a particularly dangerous bacteria.
Infections from Eye Drops Cause Serious Injuries and Death
The bacteria infections linked to the contamination of EzriCare Artificial Tears eye drops have been severe. The Pseudomonas aeruginosa found in the EzriCare artificial tears drops is highly resistant to most antibiotics, making it very difficult to treat.
Individuals who used the contaminated eye drops have developed severe infections in the cornea and intraocular fluids. These infections have resulted in permanent vision loss or vision impairment. The bacteria in the Ezricare eye drops has caused other individuals to develop urinary and respiratory tract infections. There was at least one case where the infection caused by the eye drops progressed to sepsis (an infection of the bloodstream) which caused death.
How Did the Eye Drops Get Contaminated?
It is unclear how the EzriCare Artificial Tears eye drops became contaminated with Pseudomonas aeruginosa. The CDC performed laboratory testing on previously opened EzriCare drops bottles from various production lots. Some bottles came from reported infection victims, and others were obtained from non-infected consumers.
The testing of these bottles confirmed the presence of the Pseudomonas aeruginosa bacteria in the eye drops. Advanced analysis of the bacteria strain found in the EzriCare bottles was performed, and the bacteria strain in the bottles matched the bacteria strain detected in victims of the outbreak. This evidence conclusively established the EzriCare eye drops as the source of the infections.
All eye drop products, including the EzriCare Artificial Tears eye drops, are preservative-free, giving this bacteria room to run.
Assembly Line Mistakes
The bacteria contamination most likely occurred during manufacturing, such as on the assembly line or at the manufacturing facility.
The CDC reported that its testing could identify "the presence of the outbreak strain in opened EzriCare bottles with different lot numbers collected from two states." The CDC isolated the outbreak strain from 13 sputum or bronchial washes, 11 cornea swabs, seven urine samples, two blood samples, 25 rectal swabs, and four other nonsterile sources.
What did Walmart and Amazon Know About Global Pharma?
EzriCare has disclosed that its Artificial Tears eye drops are manufactured by Global Pharma, based in Tamilnadu, India. Global Pharma manufactures many popular brands of other-the-counter healthcare products from its manufacturing facility in the Chennai region of Southeastern India. Global Pharma has problems. Last month, the FDA added the company to its "red list, " indicating problems with the manufacturer. What got them on this list? Global Pharma failed to comply with FDA manufacturing requirements and ignored FDA requests. This may be important in any EzriCare eye drops infection lawsuit because what did EzriCare, Walmart, and Amazon do when they learned of these problems? Did they bury their heads in the sand?
EzriCare Eye Drops Infection Lawsuits
Although the exact nature and cause of the bacteria contamination in the EzriCare eye drops is still being investigated, EzriCare will be liable for injuries caused by the contaminated eye drops. In the U.S., tort law holds product manufacturers and retailers strictly liable for injuries caused by manufacturing defects in their products. This means that negligence is not necessarily required.
EzriCare will have direct liability for all injuries linked to infections caused by contaminated EzriCare eye drops. The EzriCare Artificial Tears product was sold at major retailers such as Walmart. This means that Walmart and other retailers where the product was sold will also have liability for injuries caused by the eye drops.
Settlement Value of Contaminated Eye Drops Lawsuit
The settlement compensation of product liability lawsuits involving injuries caused by contaminated EzriCare eye drops will depend primarily on the nature and extent of the injuries caused by the infection. Based on the reports on infections provided by the CDC, some of the injuries caused by the contaminated eye drops have been very serious. At least one person has died, and many more have been hospitalized. The CDC report indicates that those with eye infections may have suffered permanent vision loss or impairment.
Our lawyers estimate that a contaminated eye drops lawsuit involving permanent vision damage or impairment would have average settlement compensation in the range of $200,000 to $1,000,000, depending on the extent of vision loss or impairment.
Below are summaries of prior settlements and verdicts in cases involving vision damage or other injuries related to bacteria infections similar to those linked to the EzriCare eye drops.
Lussow v Brinker Int'l (Illinois) $950,000: A woman suffered salmonella bacteria infection from contaminated food at a Chili's restaurant near Chicago. She was hospitalized but suffered no permanent injuries. The case settled for $950,000.
Schmidlin v Sutton (Ohio) $250,000: A 54-year-old man suffered a Pseudomonas aeruginosa infection in his prostate and testicle, resulting in surgical removal of his testicle. Infection was allegedly caused by contaminated medical equipment during a medical procedure. The jury awarded a $250,000 payout.
Shellum v Fairview Health (Minnesota) $3,174,507: A female in her late 60s suffered an eye infection from Pseudomonas aeruginosa bacteria resulting in total blindness in her left eye and surgical removal of the eye. She sued the hospital for failure to maintain a sterile environment, and the jury awarded $3.1 million in damages.
Wojcik v Aerc of Michigan (Michigan) $90,000: A 63-year-old woman suffered permanent vision impairment from an orbital fracture caused by a slip and fall on the sidewalk near an apartment building. The jury awarded $90,000 for the vision loss.
What do these Pseudomonas aeruginosa bacterial infection cases tell us about possible jury payouts and settlements in the eye drops lawsuit against ErziCare? It tells us that the injuries can be severe, and juries will award those injuries.
Keep in mind that speculation on settlement payouts is wildly premature. But it is question victims have – and should have. So we should answer those questions with what our lawyers think and know today. We may also have a good comparable for settlement value when the Elmiron lawsuit settles or gets a verdict in the next few months. We will update settlement payout predictions as this unfolds.
Contact Us About a Contaminated Eye Drops Lawsuit
Our firm accepts cases from anyone who suffered severe injuries due to an infection caused by EzriCare eye drops. Contact us today at 800-553-8082 for a free case evaluation, or get a case evaluation online.