As the number of paraquat lawsuits continues to grow, a motion was filed last month asking the Judicial Panel on Multidistrict Litigation (JPML) to create a new Paraquat MDL class action for the consolidated handling of all future Paraquat cases in federal courts.
This motion is a very clear indication that the Paraquat lawsuits are building steam and could develop into a new large-scale mass tort.
Studies Link Paraquat Exposure to Parkinson's Disease
Parkinson's disease is a neurologic condition in which nerve cells in the brain deteriorate, leading to severe physical debilitation and sometimes mental impairment. The exact causes of Parkinson's are not fully understood, but various studies have linked the disease to exposure to chemicals and other materials.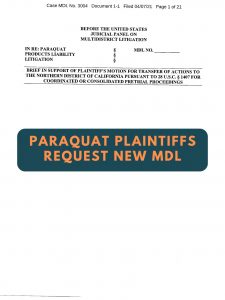 Over the last decade, a number of scientific studies have established a causal link between prolonged exposure to Paraquat and the development of Parkinson's disease. Paraquat is a commercial herbicide that is widely used in the agricultural industry. Paraquat is an incredibly toxic and dangerous chemical that is sometimes ingested by farmworkers to commit suicide. This toxicity has led many countries to ban the use of Paraquat. In the U.S., however, Paraquat is legal for use by licensed farmers.
In 2011, a large study involving the U.S Department of Agriculture and other federal agencies reported that farmworkers who regularly used or were exposed to Paraquat were 2 times as likely to develop Parkinson's compared to a control group.
The results of this study were followed by a number of other studies and reports finding a clear connection between chronic Paraquat exposure and Parkinson's disease. According to Dorsey Ray, professor of neurology at the Center for Human Experimental Therapeutics at the University of Rochester in New York, the "evidence linking paraquat to Parkinson's disease is probably the strongest of any pesticide commonly used."
Motion for Paraquat MDL Class Action
Following the release of the various studies establishing a link between Paraquat and Parkinson's, a number of former agricultural workers have filed product liability lawsuits alleging that their Parkinson's disease was caused by Paraquat exposure.
Last month, one of these Paraquat plaintiffs filed a motion with the JPML asking the Panel to form a new Paraquat MDL class action in the Northern District of California.
The MDL motion identified 14 Paraquat lawsuits pending in 6 different federal courts across the country. The motion cited common questions of law and fact among the Paraquat lawsuits, which made them particularly appropriate for consolidation in a new MDL.
The primary defendants in the Paraquat lawsuits are Syngenta (a Swiss agrichemical company) and Chevron Phillips Chemical Co. (a subsidiary of Chevron Corp.). Syngenta is the manufacturer of Paraquat and Chevron Phillips Chemical had a license to make and sell Paraquat products in the U.S. under the brand name Gramoxone.
Both companies have maintained that Paraquat is safe and vowed to "vigorously" defend the lawsuits against them. However, neither company is likely to oppose the current motion for the formation of a Paraquat MDL.
Paraquat Trial in Illinois
Next month, one of the earliest Paraquat lawsuits to get filed is going to trial in St. Clair County, Illinois. The case, Hoffman, et al. v. Syngenta, is scheduled for trial starting June 1, 2021, in St. Clair County Circuit Court. The results of this trial are eagerly anticipated and could have a major impact on the future course of the Paraquat litigation.
If the jury in this Illinois case gives the plaintiffs a big, headline-grabbing victory, it will almost certainly lead to a wave of new Paraquat lawsuits.
Contact Miller & Zois About a Paraquat Lawsuit
If you worked on a farm or lived near a farm where Paraquat (Gramoxone) was regularly used, and you have been diagnosed with Parkinson's disease, you may file a Paraquat lawsuit and receive financial compensation. Call our Paraquat lawyers today for a free consultation.